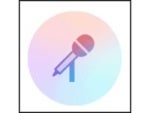 When you're browsing your iTunes library, trying to choose what music to listen to, there are several ways to do this. If you've made playlists, you can look in the sidebar and pick one of your favorite mixes, or choose a smart playlist based on your favorite music. If you're an album-only person, you can switch to Albums view, then scroll until find an album you like. It's easy to do this if your music has artwork, because you can spot your favorites at a glance.
But perhaps you want to scan the artists in your library to see if there's one who grabs you, or perhaps to find an old favorite you haven't listened to in a while. You switch to Artists view, and, if you're a visual person, you're lost. In the latest version of iTunes (and in the iOS Music app) most of the artists' names are illustrated by the same drab microphone graphic.
It wasn't like this before. Here's what Artists view looked like in iTunes 12: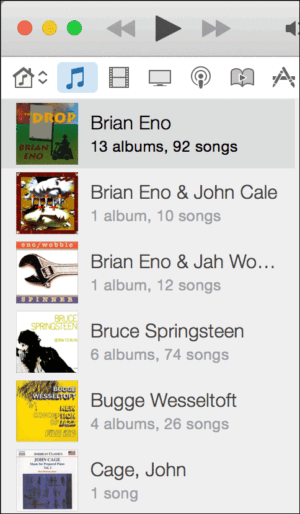 In the above, every artist has an illustration. Some were photos pulled from the iTunes Store, but if none were available for the artist, iTunes used artwork from one of their albums in your library. There were problems with this: you weren't able to choose which album was used, and the one that iTunes selected might not have been the best visual reminder of that artist. But at least there was something.
In iTunes 12.5 and the iOS 10 Music app, I see artist photos for perhaps 10 percent of my music. And it's not a question of whether the music is purchased or ripped, or whether it is locally stored or comes from Apple Music. These artist photos all come from Apple's database, which is used for Apple Music and the iTunes Store. If anything, I'd expect Apple Music tracks to show more artist photos, but on my MacBook, where I have only music from Apple Music, the number of artist photos is about the same as on the large iTunes library on my iMac, where the majority of music is ripped from CDs.
When there are artist photos, they're often no help in identifying who they represent. Take a photo of a band and shrink it to a small circle, and I defy you to tell who it is. Here's a shot of a number of group photos, with the names blurred; there's no way you'd be able to know who's in these photos.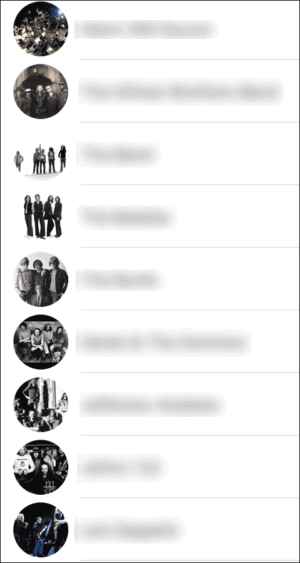 iTunes and the iOS Music app should make choosing and playing music easy. iTunes 12.5 has simplified many of the app's interface elements, with larger text and much bigger album artwork. But artist lists seem to have been forgotten in this redesign. While it wasn't ideal before, since you couldn't choose which album was used to illustrate an artist, the current display makes Artists view difficult to navigate. Sure, you can spot an artist's name in the list, but the visuals made it even easier. It's not much to ask to be able to choose an image for artists in this list instead of seeing a long column of microphones.