Howard Robertson can't get a piece of software he uses to run in macOS Sierra:
The guys who make the program are not recognized developers for Mac. However, I have used this app for years (it's required for work). How can I install it with the new restrictions on installing apps in Sierra?
The kind of app Howard's referring to is one that's "unsigned" by its developer. That means that while it's legitimate software that can launch in macOS, the software maker hasn't gone through the steps to be active in Apple's developer program, which costs $99 per year, and obtain a cryptographic certificate.
When an active developer creates an app, Apple uses that certificate and its own encryption data to "sign" it, which allows a user to know that the app hasn't been modified between when the developer created the app and when it reached the user. This reduces the chances of malware. Apple has information about the developer and can revoke the certificate if they engage in malicious activities, preventing their apps from running on Macs in the future.
Not all unsigned software is dangerous. I've seen plenty of simple utilities designed by side-project programmers who simply don't want the minor expense and associated hassle of signed apps. If you know the app developer well enough and download the app directly from a site under their control using an https connection, then you have a decent amount of certainty that it doesn't contain malware. And less well-known software is also less likely to be intercepted and re-released with malware inside, too. (Don't accept and run randomly provided or discovered unsigned macOS apps, though.)
In Sierra, Apple removed an option in the Security & Privacy system preference pane that used to let you opt out of Mac App Store (MAS) only or MAS plus signed app security and choose to run any downloaded app. But you can still launch such apps.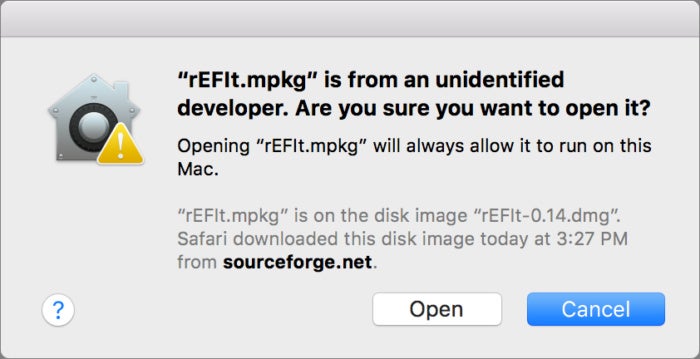 Find the app in the Finder.
Right-click the app.
Select Open.
Sierra pops up a prompt warning the app is from an unidentified developer. Click Open to continue.
That choice is stored with the app, so you won't be asked again until you install a new version.
Ask Mac 911
We've compiled a list of the most commonly asked questions we get, and the answers to them: read our super FAQ to see if you're covered. If not, we're always looking for new problems to solve! Email yours to mac911@macworld.com including screen captures as appropriate. Mac 911 cannot reply to email with troubleshooting advice nor can we publish answers to every question.