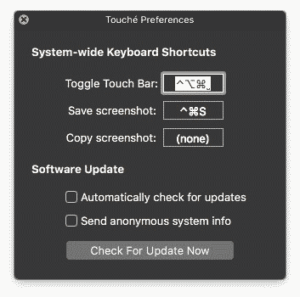 The new MacBook Pro's Touch Bar is, as Macworld's Susie Ochs puts in the video of her review, "pretty slick." But you don't have to shell out any money to get a Touch Bar on your Mac. Red Sweater's Touché is a free app ( donations accepted) that simulates the Touch Bar on your Mac's screen.
Before you install Touché, you need to have you Mac updated to macOS Sierra 10.12.1. Now, it has to be a specific build of macOS 10.12.1, the build with Touch Bar support, which is build 16B2657. I tried to install Touché on a 2014 15-inch MacBook Pro running 10.12.1, but it wasn't that specific build and it didn't run. Fortunately, you can download the update and install it.
Touché runs like any app, and you can use a keyboard shortcut to toggle it on or off the screen. Touché will show the controls for any app written with Touch Bar controls, which means that right now, only a few Apple apps work.
For example, if you use Touché with Photos, you can access the Touch Bar controls, as you can see in the video clip below.
If you press the fn key on your Mac keyboard, Touché, like the Touch Bar, displays the functions keys (as shown below).
When you use Touché with Messages, you get quick access to emoji.

You probably won't use Touch Bar are a regular user-interface utility. When it's on-screen, it duplicates controls that are already found on the apps you are using. Mostly, Touché is a tool for software developers, but it can also be used by anyone considering a new MacBook Pro—it gives an idea of how you might use the Touch Bar. It's also a great way to show the Touch Bar graphically, since you can take screenshots instad of taking pictures with a camera.