At a Glance
Expert's Rating
Pros
Original photo mapping concept
Instant image posting from your iPhone
Quick, stable performance
Easy and fun to use
Cons
Server-based app could run into bandwidth issues
Our Verdict
Best Prices Today: Streetography
With travel photos—and even everyday snapshots—location is almost always the defining factor that stokes visceral memory. For anyone walking around with an iPhone, location services are your best friend, and paired with Streetography (free on the iTunes Store), a new map-based photo-sharing app for iOS, you can drill down to the visual essence of a place through on-the-ground images.
The app's interface places photos directly on a map, superimposed on defined boundaries of blocks, neighborhoods, and cities in a uniquely satisfying real-time and space perspective. Using only gestures, you can drill down from region to city to street and back out for an instant, ground-level view. Derived from a combination of its own research, third party, and government sources, Streetography's maps assume an organic feel.
Because the app is new, some places are not yet supported, but the company is intent on a full build-out of worldwide locations. The app's social component lets you comment, like, and follow both images and photographers.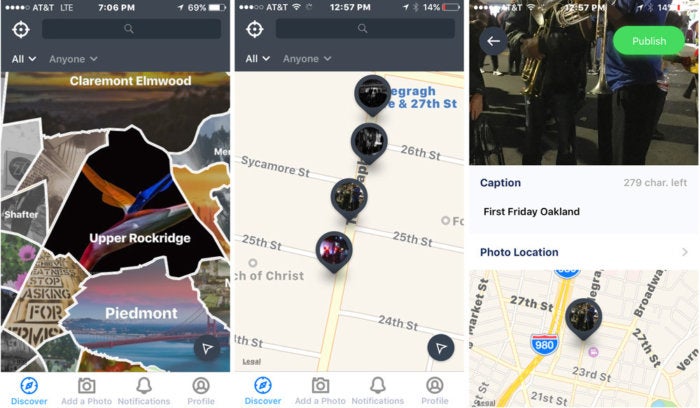 The images seen on the map differ from typical travel guides for the United States and Canada, as well as parts of the United Kingdom, France, Ireland, Australia, and Russia. Since images are user generated, they resemble a crowd-sourced visual blog as opposed to classic attempts at storytelling. That works because it's distinctive, letting you see a place through the minds' eye of others on the scene. The app's developers are busy adding neighborhood, block, and city boundary support for hundreds of additional cities, including Shanghai, Johannesburg, Berlin, Rio de Janeiro, and Havana.
While the app is ostensibly a resource for professional photographers to find cool places to visit and shoot, it also serves tourists and newcomers in finding the hot spots in town. As a hobbyist, however, I see Streetography as a way to represent my own neighborhood and anywhere I visit to friends, family, and any interested party.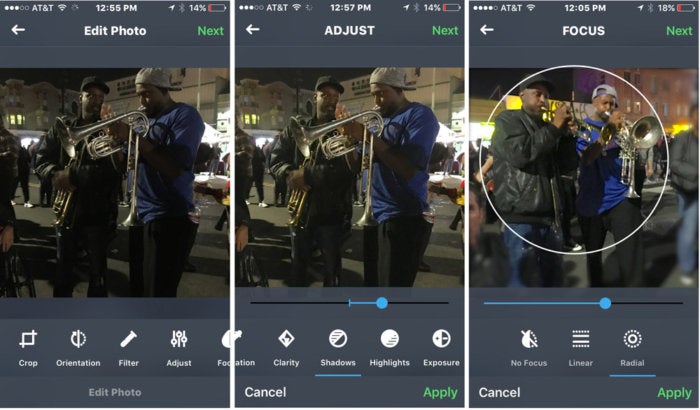 The app opens to a map of the world, where you can view various hot spots, places where the most photos have been shot. At launch, the app was populated with photos from the 500px online photo sharing community, and you can continue posting photos from your account there, or post your own photos from the Streetography app or your Camera Roll.
There are plenty of options for viewing images, too: You can see all photos on the map, or filter by latest, this month, your own shots, those you have liked, or people you follow. Tapping on a photo brings you to a new pane with additional information about that specific picture, including the name of the photographer, location, and exact block and city.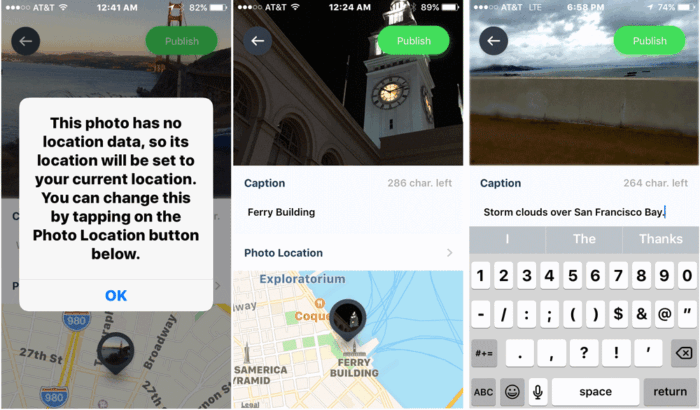 If you shoot photos directly within the app, or access photos from your Camera Roll or Photo Stream, a complete set of editing tools lets you crop, switch orientation, add focus, and adjust for exposure, shadows and highlights and clarity. You can also add a caption if you want, and then publish. Your images will show up on the map almost immediately.
If your photo doesn't have geolocation data, the app will fix it to your current location, letting you correct it yourself. You can also note photos that you think are mapped to the wrong location.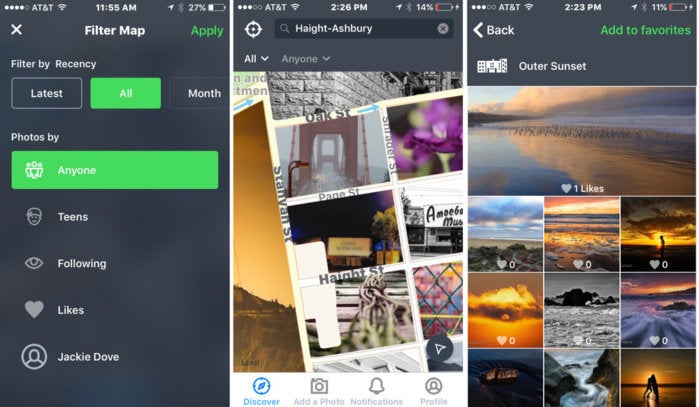 Bottom line
Streetography offers a distinctive take on location photography because it features an alternate interpretation of place as opposed to the more literal Google Street View. While Google's app serves it own purpose, Streetography co-exists nicely with it because by nature it is more interpretive and original.
For a brand new app, Streetography has abundant and polished features that are fun, informative, and easy to use and contribute to: It offers instant gratification. While the app does work via a server, which might present bandwidth problems, I did not experience any issues in testing. I was impressed by the app's smooth performance.
Best Prices Today: Streetography