Free-to-play games often look appealing, but it's difficult to know at a glance whether the business model is insidious and fun ruining, or reasonable and worth pumping a few bucks into. With Freemium Field Test, we'll take a recent free-to-play iOS game, put it through its paces, and let you know if it's really worth your time (and money).
Gameloft's Asphalt racing series plodded along for nearly a decade, releasing several entries that were fine but never quite great—and then Asphalt 8: Airborne bucked that trend to a rather startling degree. The 2013 release finally launched the series into the upper echelon of mobile racers, delivering the best arcade driving experience on iPhone and iPad, plus it sold for only $1 at launch. Just a couple months later, it was turned into a free-to-play game.
Three years later, it's still the best of its kind, but Gameloft is back with a fresh take: Asphalt Xtreme. It actually ditches most of the titular roads and finds you instead whipping through mud and dirt and across ice, sand, and water, plus you'll use monster trucks, mud buggies, pickup trucks, and rally cars instead of the sportier rides seen in Airborne. It's just as fast, fun, and attractive, but what about that free-to-play model?
The pitch
Asphalt Xtreme doesn't try fixing what wasn't broken; instead, the new racer simply shifts the action to fresh terrain and swaps in varying vehicle types. If Asphalt 8 felt like the mobile equivalent of the brilliant Burnout series on consoles, Asphalt Xtreme is MotorStorm, the now-dormant PlayStation series that let you pick one of several different kinds of rides and battle it out in canyons, jungles, and arctic terrain.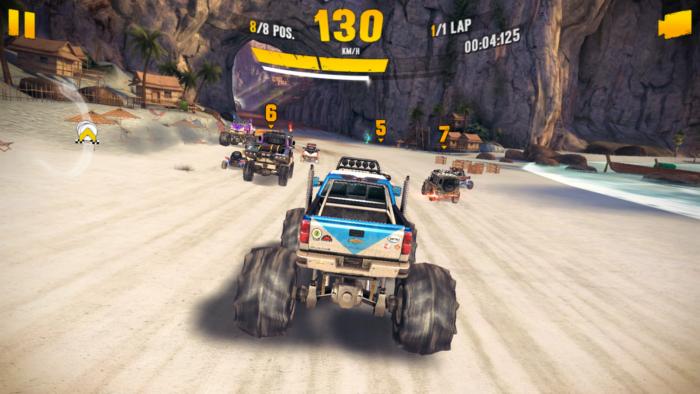 Indeed, you can pick a buggy and try to outrun a monster truck, although I don't advise getting too close to those towering tires. The multi-vehicle battles offer a lot of variety and opportunity to specialize in the kind of ride that matches your racing style, and top brands like Ford, Dodge, Predator, Mercedes-Benz, and others are represented here. And as with Asphalt 8, Xtreme is easily one of the most impressive-looking games on the iPhone today—it's polished and speedy, looking much like a console game on a smaller screen.
Like its predecessor, Asphalt Xtreme also has an incredible wealth of gameplay. It's absolutely massive. You'll find hundreds of events in the career mode, along with special mastery series with hundreds more challenges for each vehicle type. Xtreme also has live eight-player online races, as well as limited-time events that let you battle for leaderboard placement to win special perks—such as a monster truck based on the legendary DeLorean DMC-12 (not dressed up in Back to the Future kit, sadly).
With only a handful of courses, distinctive as they may be, you'll end up playing a lot of similar-feeling races if you dig deep into the game. Even so, all of these events provide a steady sense of progression as you move through the career, unlock special perks, and upgrade your ever-expanding set of rides over time. It's important to emphasize "gradual," however, otherwise you might be tempted to spend big to speed up that process.
The catch
Asphalt Xtreme is a Gameloft game, so unsurprisingly, it's tied up in a tangle of freemium elements. I bought Asphalt 8 when it cost a buck and enjoyed how straightforward it was at launch, and while the initial free-to-play move was pretty smooth, the approach seems a little more complicated and convoluted every time I revisit. Just now, I loaded up Asphalt 8 and had a full-screen video ad pop up while browsing the menus. That's terrible.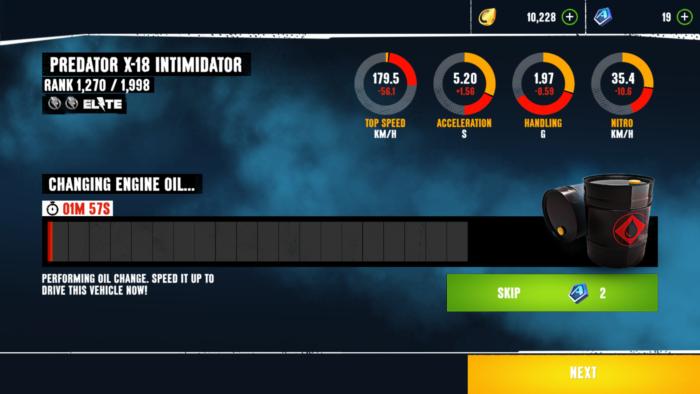 Luckily, Xtreme doesn't have pop-up ads, although Airborne's evolution suggests that might not last forever. It also doesn't have a universal energy or gas meter to limit your play time, but each car requires an oil change after a few races, which means you'll spend some credits for the oil and then wait for the job to complete. You can switch to another car in the meantime, or spend either credits or premium tokens to speed things along. Real Racing 3 has a similar system, and it's not terrible, just a necessary and consistent annoyance.
Elsewhere, Xtreme puts a lot of focus on parts, which you'll earn in a number of ways. You'll get a free crate of parts cards every four hours and another once daily, while more are rewarded after winning some events. Otherwise, you can buy big bundles of parts cards using tokens, with the promise of super-special items within. It seems silly to assign values like "rare" and "legendary" to things like car parts, but hey, card games are super hot right now.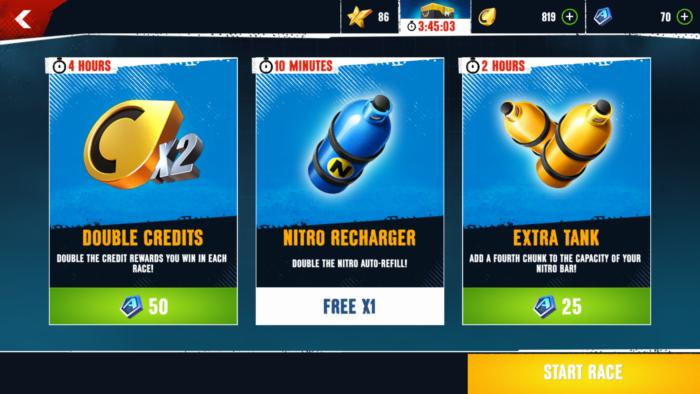 Between the free boxes of cards, daily play bonuses, and all of the different types of events, Asphalt Xtreme does reward you frequently in small bits—but it also offers a lot of ways to buy some larger progress leaps. You can buy credits in packs ranging from $2 (35,000 credits) to $100 (2.65 million credits), with the same price extremes available for tokens (ranging from 50 to 4,000 tokens, respectively). Xtreme also sells packs of higher-performance cars in bundles ranging from $3 to $40, and offers varying promotional and starter bundles as well.
You can also purchase power-ups for use in races, both online and off, and between that ability and paid upgrades/unlocks, the competitive balance here is pretty well tossed aside. That's not as big of an issue in the career and other single-player events, where the A.I. opponents tend to scale up in skill incrementally over time, but spending big can give you a massive advantage online. Likewise, not spending big can help keep you in the back of the pack.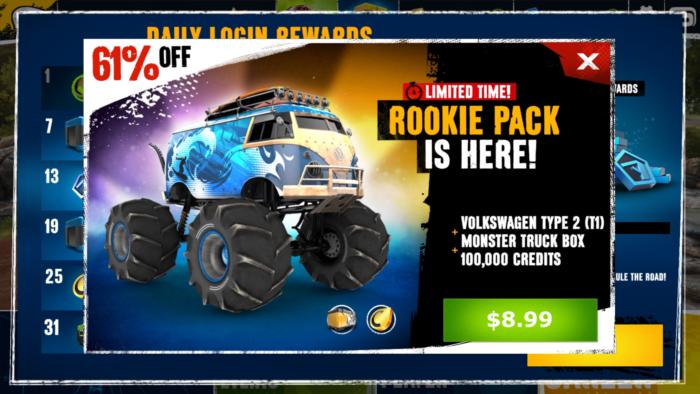 I spent a bit of money, but admittedly, I didn't specialize at all. The Car Mix Pack ($11) gave me more options across the entire range of rides, but none seemed like huge improvements over the couple cars and trucks I already had. And then I dropped $5 on some tokens to grab some upgrades and skip the timers on oil changes, but did so sparingly and on different rides. It would have made more sense to pump that money into enhancing one or two cars, but hindsight is 20/20 when it comes to freemium spending.
The verdict
In any case, I doubt I'm willing to spend enough to compete with some of the racers I've encountered online so far, but that's more of an honest realization than a complaint. Truth be told, I can't find much to seriously grumble about with Asphalt Xtreme.
Yes, it has a web of freemium elements and minor barriers to contend with, but that's part and parcel with free mobile games today—and ultimately, Asphalt Xtreme hits heights that most other free-to-play games can't hope to compete with. I've said this with past Gameloft titles, but despite any criticism you heave their way, the publisher pours on the production values into games like this and Modern Combat 5, making them tough to ignore.
Granted, if I check back in a year and Asphalt Xtreme is loaded with pop-up ads and the competitive balance is totally skewed, then my recommendation could be tempered. Right now, however, it's well worth tolerating the small, simmering annoyances to enjoy this impressive racer.