At a Glance
Expert's Rating
Pros
Easy-to-use Mac firewall for outgoing network activity
Real-time network monitor
Selectively block applications, processes from making remote connections
Cons
Trial version expires quickly (24 hours)
Individual blocked applications can't be temporarily turned off
Our Verdict
Best Prices Today: Radio Silence 2.1
Although macOS looks deceptively simple to end users, anyone who's launched Activity Monitor may be shocked to discover just how many helpers, daemons, services, and other processes actually run behind-the-scenes, helping power your favorite software. Such background tasks often feed off available internet bandwidth, consuming precious memory at the same time.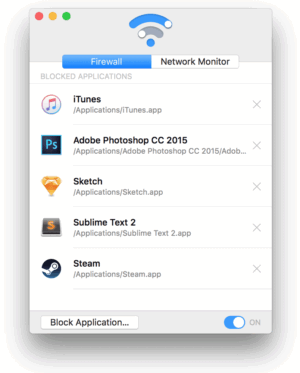 If you'd like to curtail this kind of covert background activity, there's an inexpensive, well-designed, and easy-to-use Mac utility designed to not only keep tabs on which apps are beaming signals back to the mothership, but also selectively block them from doing so.
Firewall buddy
Four years ago, Macworld reviewer Brendan Wilhide praised Radio Silence as "perhaps the easiest firewall [he's] ever used" and like fine wine, this Mac Gems utility has only improved with age. Radio Silence 2.0 ($9) loses none of its simplicity, but sports a flatter macOS Sierra-inspired UI, along with a network monitor that sheds light on everything that uses your internet connection to "phone home."
At this point you may be thinking, "macOS ships with a built-in firewall in System Preferences, so why do I need Radio Silence?" The answer is simple: Apple's software is designed to monitor incoming connections, while Radio Silence is designed to do just the opposite, keeping tabs on applications or other software communicating with remote servers outside the user's control.
After installation, Radio Silence automatically runs in the background when the Mac is started. There's no menu bar icon or other visual indication it's working. Double-clicking the app opens a window where you can block or monitor apps, and Radio Silence continues running even after this window is closed.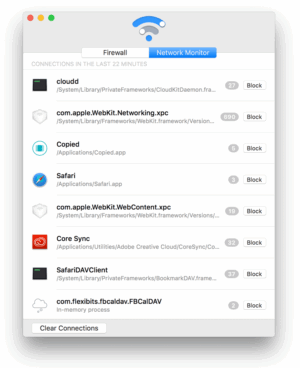 Despite lurking in the background, Radio Silence doesn't impact system performance in the least. A free, fully-functional trial version is available, but be sure to clear your schedule, because the software expires 24 hours after installation. If you need more time, just shell out the $9. The developer backs up this excellent utility with a 30-day, "no-questions-asked" return policy. (Not that you'll need it.)
Silence is golden
Like the original release, Radio Silence 2 selectively blocks outgoing connections by adding selected applications to a blacklist. This is now done from the Firewall tab, and once added, the blockade takes effect immediately. It's handy for parental control over a shared computer; I added iTunes to the list, which then blocked the ability to stream Apple Music songs that hadn't been previously downloaded for offline playback.
There's no way to whitelist blocked applications on an individual basis without removing them from the list, a feature I hope will be added in a future update. However, a toggle switch in the bottom right corner allows users to temporarily turn off the firewall on a global basis.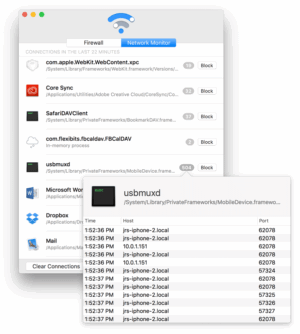 The second tab, Network Monitor, offers real-time feedback about what's going on under the hood. Some of this information may seem startling at first; processes like usbmuxd, which handles communication between iTunes and iOS devices, initiate thousands of outgoing connections in a relatively short amount of time, for example. (Fear not, this is normal behavior.)
Active processes are displayed as a number in Network Monitor, and clicking one shows the time, host, and port being used for each connection in the list. To silence the host application or process, simply click the Block button to add it to the blacklist. It's worth noting, however, that a block affects the entire application. There's no way to micro-manage multiple connections from the same source.
Bottom line
For less than 10 bucks, Radio Silence 2 is an indispensable Mac utility to monitor outgoing network activity and selectively block applications from phoning home to the mothership.
Best Prices Today: Radio Silence 2.1