At a Glance
Expert's Rating
Pros
Easily download YouTube videos by copying and pasting URLs
Browser bookmarklet streamlines download process
Download entire playlists at once (paid license only)
Cons
Free version limited to two downloads, one at a time
Priced same as competitors with more features
No native browser extension support
Audio files download as 256Kbps MP3 only
Our Verdict
Best Prices Today: Airy 3.1
No one likes to sit through ads while watching YouTube, but judging from the marginal revenue Google has made from YouTube Red subscriptions, consumers appear unwilling to pay for ad-free streaming or offline playback of content they're used to watching for free. But there may be another reason: It's just too darned easy to download videos.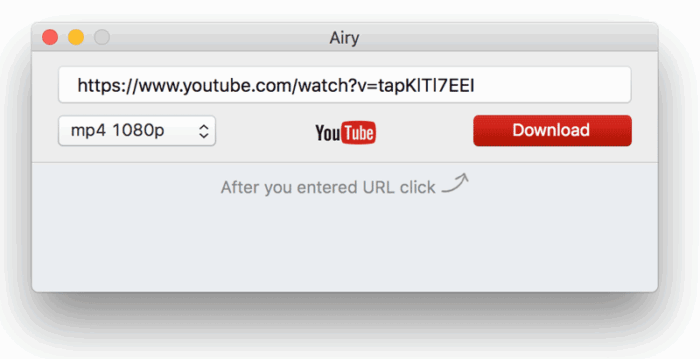 YouTube downloader
Airy ($20) is a small utilit that makes it easy to download otherwise inaccessible YouTube content. After logging into your account, copy and paste a URL from the YouTube website, select the desired format and resolution, click Download, then choose where the file should be saved. Airy takes care of the rest.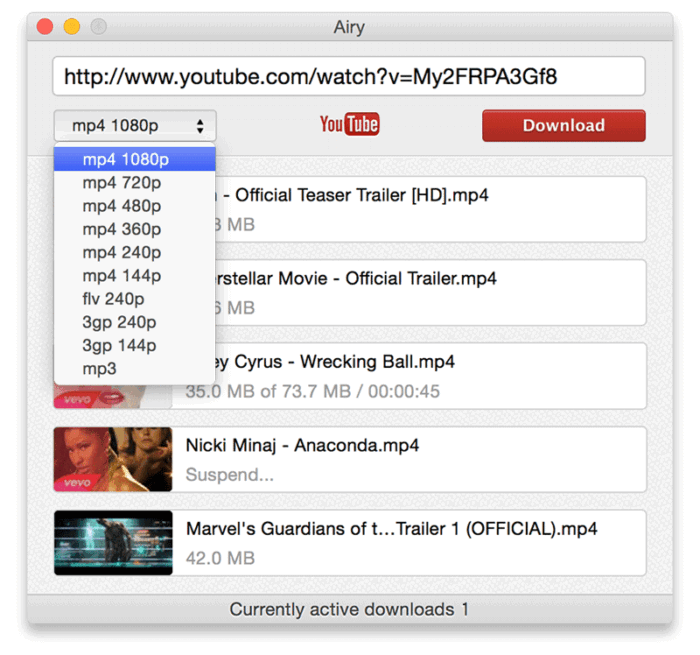 There's also an "Open in Airy" bookmarklet, installed by selecting "Integrate into Browser" from the application menu, which streamlines the process for videos already open in your preferred browser. It would be nice to have proper Safari extension support, but this down-and-dirty method gets the job done.
Most videos can be downloaded in MP4 or 3GP format in a variety of resolutions, all the way up to 4K files for the former when available. Music video fans will love the MP3 option which extracts the audio track only, but there's no way to select the desired bitrate. Everything downloads at 256Kbps.
The fine print
The free version of Air has a limit of two YouTube video downloads, one at a time. Purchasing a full license allows users to queue up an unlimited number of videos, or even download entire playlists at once, one after another.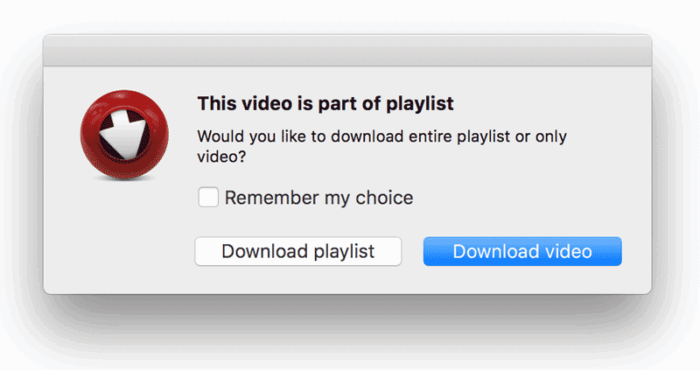 Airy is straightforward and easy to use, but the exact same functionality is already baked into the developer's $20 Folx 5 Pro download manager, making it a better value. Softorino's YouTube Converter is also available for the same price, with compelling advantages like the ability to transfer files directly to iOS devices, Vimeo support, and higher-quality M4A encoded audio.
All these download utilities have one gotcha in common: Google doesn't want you transferring videos in the first place. YouTube Terms of Service clearly prohibit the downloading of most videos, and the day may come when the search giant finds a way to block Airy and competing software so they won't work at all.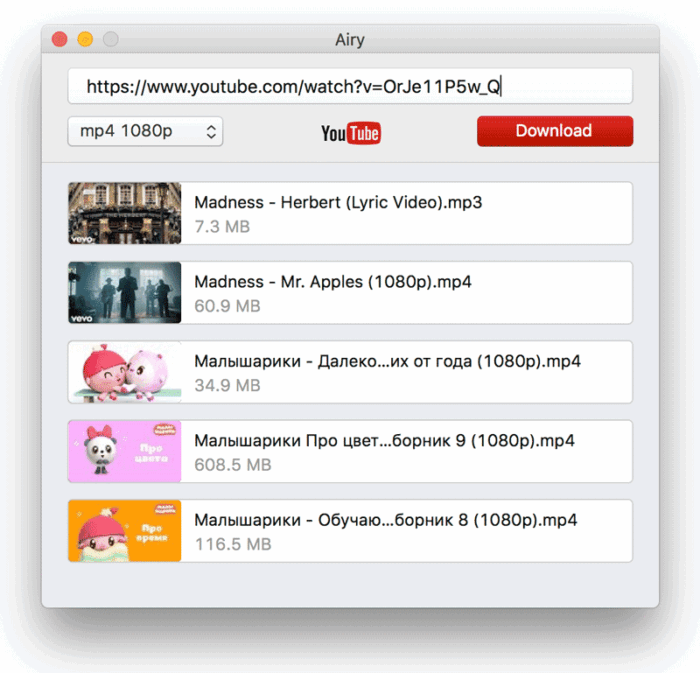 Bottom line
Airy is a straightforward, easy to use YouTube downloader that gets the job done, but for the same money there are more capable utilities with better features.
Best Prices TodayAiry 3.1