Fitness trackers are some of the best devices you can buy yourself or a loved one—if you think either of you will find activity-tracking useful. There's no reason to buy a gadget that will just sit in a drawer. But if you're on the hunt for the best fitness band, there are three things to consider: price, style, and the type of activity you want to track.
You don't need to spend hundreds of dollars to get a high-quality fitness tracker, but you might not want to spend more than $100 on one, either. And there's no point buying a band that doesn't suit your personal style, because you'll never wear it. Don't run or swim? A waterproof running watch is the last thing you need.
So here are the best fitness bands you can buy right now, taking into account looks, price, and what each is best at tracking. We'll keep updating this guide as new products are released.
Update 5/8/18: We've updated this guide with information on Nokia's updates to the Withings Activité Steel HR (which includes renaming the device to the Nokia Steel HR.) You can read our full review here.
Best all-around fitness tracker
Fitbit Charge 2
Fitbit is the reigning leader of the fitness-tracking market, and for good reason: The company makes feature-packed fitness trackers at a range of price points. The new Fitbit Charge 2 is a solid, affordable band that takes all of the features from its predecessor, the bestselling Charge HR, and elevates them.
Here's what you need to know: In addition to basic step-tracking, the Charge 2 offers continuous heart rate-monitoring for the most accurate activity stats, automatic exercise-tracking so you don't have to lift a finger before starting your workout, sleep-tracking, silent alarms, 5-day battery life, and a mindfulness feature called Relax that helps you focus your breathing. All of that is packed into a somewhat bulky package (my least feature part of the Charge 2), but the new tracker lets you accessorize by swapping in more stylish bands for the default sport option.
Then there's the new OLED display, which is four times larger than the Charge HR's tiny screen and offers more info at a glance than its predecessor. You can tap the display to toggle between step count, mileage, and calories burned, and also view call, text, and calendar notifications. The tracker isn't swim-proof and it lacks built-in GPS, so it's not the best tracker for swimmers and runners, though it does connect to your phone's GPS if you bring both devices for a run.
The Fitbit app, where the Charge 2 logs your data, is one of the best fitness apps around. The app graphs your activity and sleep stats and allows for easy food- and water-tracking. The social challenges, which let you compete with fellow Fitbit-using friends, are a great motivator. The app's lone downside: It's not integrated with HealthKit, so it won't read or write data to the Health app database. That's not a dealbreaker for most, but something to keep in mind. (Read our full review.)
Best fitness tracker for iPhone users
Apple Watch Series 2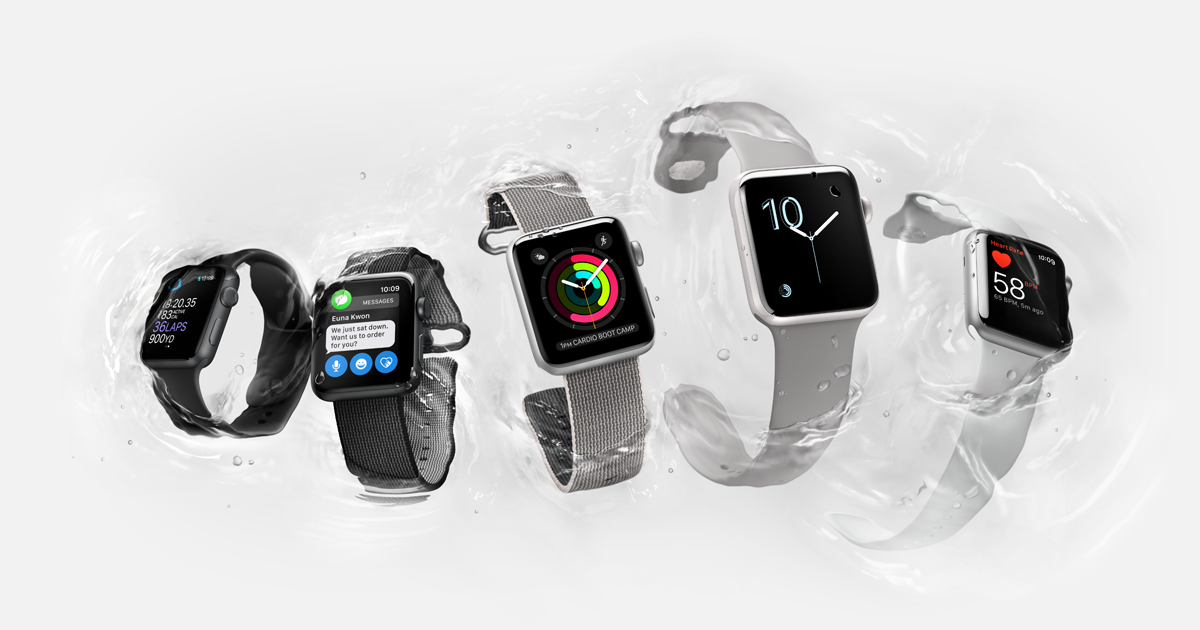 If you're deeply wed to the Apple ecosystem of devices and software and have money to spare, then the Apple Watch Series 2 is the best fitness tracker you can buy. I've been wearing one almost every day since the device debuted 18 months ago, and the Series 2 is a serious upgrade from the original. While many people focus on the Apple Watch's apps, notifications, and its potential as an iPhone replacement, I've always argued that the device's best use case is health-tracking. The water-resistant Series 2 doubles down on that by adding GPS and swim-tracking to its already long list of fitness features.
You can launch the Workout app from a complication on the watch face and choose from 12 workout presets, from swimming or rowing to biking or running. The Activity app graphs your data and shows you how far you have to go to meet your daily goals for exercise, calories burned, and standing. With on-board music storage, you can even sync Apple Music playlists directly to the watch and use a pair of Bluetooth earphones for a truly minimalist workout experience. Activity-sharing in watchOS 3 means I can encourage my friends to achieve their fitness goals, and vice versa.
I mainly use the Apple Watch as a fitness band, but it handles lightweight iPhone features like a champ, too. If I want to map my way to a destination, send a text message, check my calendar, or even hail an Uber, I can just open the app on my watch. No other fitness tracker compares. But the Series 2 comes with a high price tag for all those features, which is why it's for iPhone devotees only. The Series 1 is $100 cheaper, and while it lacks GPS and water-resistance, it has all the other fitness features that make the Apple Watch worth buying.
If you want a fitness tracker that can stand in for your iPhone in a pinch, the Apple Watch is the best—and really the only—option. (Read our full review.)
Best fitness tracker that looks like a watch
Nokia Steel HR
Most activity bands look very obviously like activity bands, but there's another genre of fitness gear that records your steps and sleep without being so obvious about it. These hybrid smartwatches look just like ordinary analog timepieces, and a few, like the Nokia Steel HR, also sport discreet digital screens.
Of the bunch, Nokia's watch—once formerly known as the Withings Activité Steel HR—is the most successful at combining an analog design with digital elements. Not only does the Steel HR have a subdial that shows the progress made toward your daily step goal, but it also comes with a small round digital display at the top of the watch face to show other snippets of info, including your heart rate.
While the accuracy of the Steel HR's tracking isn't on par with well-known rivals such as Fitbit, it still provides insight into your daily activity. Nokia has also made a few touchups to the watch's case, tracking algorithms, and charger, which improves the experience. (For more details, check out our review.) With a 25-day battery life and water resistance up to 50 meters, you'll be hard-pressed to find another hybrid watch that combines this feature set with such classic looks—and a moderate price tag.
Most stylish fitness tracker
Fitbit Alta HR
Fitbit does a lot of things really well, but making fashionable fitness bands is not one of those things. Or at least it wasn't, until the Fitbit Alta debuted in spring 2016. After failing to impress with the Apple Watch-like Blaze smartwatch at the beginning of 2016, Fitbit followed up with the Alta, which puts on a stylish twist on the signature Fitbit look. Now the Alta has been upgraded with continuous heart rate-monitoring, which opens up a suite of sleep-tracking features that make this a must-buy.
The Fitbit Alta HR nails the basics—automatic and accurate step counts, workout-tracking, and sleep analysis—while looking like a slim wristband you wouldn't be embarrassed to wear from the gym to the office to a dinner date. You can easily swap out the Alta's sport band for a nicer leather or metal option, like a slimmer version of Fitbit's Charge 2 device. The sleep-tracking features are insightful for insomniacs, and the 7-day battery life is even better than the first-generation Alta's 5-day promise. (Read our full review.)
The Fitbit app is the backbone of the Alta HR, graphing your activity and sleep and motivating you with social challenges. It lacks HealthKit integration, which can be important for iOS users who want all of their health data in one spot, but the Alta HR's features and price point are so good that it's tough to dock Fitbit any points for that oversight.
Best budget fitness tracker
Withings Go
If you want a no-frills fitness band that tracks basic stats on the cheap, you'd be hard-pressed to find a better option for under $100 than the Withings Go.
The $80 Go is almost deceptively bare-bones. The band has an always-on e-ink display, similar to a Kindle, that shows how much progress you've made toward your daily activity goal. It automatically tracks walks, runs, swims, and sleep without any work on your part, then syncs and analyzes all of that data in the Withings Health Mate app. The band is resistant to sweat and water (up to 50 meters) so you can wear it in the pool or the shower without fear.
This super simple activity tracker is also incredibly versatile. If you'd rather wear a high-end watch on your wrist, you can take the Go out of its band and clip it to your belt, put it in your pocket, or attach it to your key ring. The band will offer more accuracy, but it's nice to have other options.
Most fitness bands at this price point lack a display and can't track swims, so those are two points in Withings' favor. The Go also promises 8-month battery life for a truly set-it-and-forget-it activity-tracking experience. If you're just getting started with fitness bands, Withings Go offers a solid entry-level experience. (Read our full review.)
Best fitness tracker: All of our reviews
If you're curious about other options, below is a list of all the fitness trackers we've reviewed. We'll keep evaluating new ones as they hit the street, so be sure to come back and see what else we've tested.
Note: When you purchase something after clicking links in our articles, we may earn a small commission. Read our affiliate link policy for more details.