Apple's desktop and mobile operating systems provide a full suite of applications that allow you to do most of what you want without downloading any additional apps. You can browse the web, send and receive email, manage calendars and contacts, and much more, all with the stock apps included in macOS and iOS.
But on macOS, you have the choice to not use those apps. Say you want to use Microsoft Outlook instead of Apple Mail; you can make this change, and when you click a link to send an email, Outlook will open. Or if you want to use Chrome instead of Safari, the same thing will happen: URLs you click will open in Google's browser.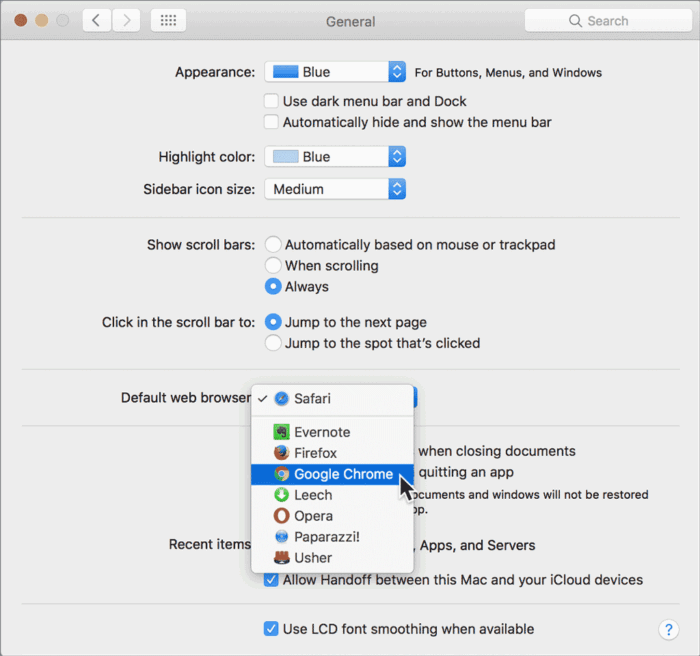 You can even change the default app to open any specific file type on the Mac. Say you work with plain text files, but have a text editor you prefer over Apple's TextEdit. You can change this so every time you double-click a .txt file, it opens with your selected app. To do this, select a file, press Command-I, then expand the Open With section if it's not already expanded. Click the popup menu and select the app you want to use, then click Change All.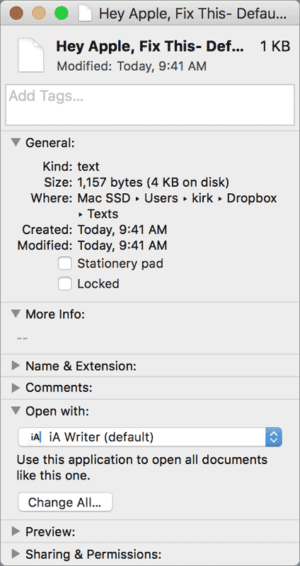 But iOS offers no such option. If you tap a URL, it opens in Safari. If you tap a link to send an email, it opens in Mail. The default calendar is Apple's Calendar app. And so on. You may not want to work that way and because Apple doesn't give you any choice, you're stuck with workarounds: using share sheets to open a web page in a different browser; copying an email link or address to create an email; and so on.
You might subscribe to Google's or Microsoft's cloud ecosystems, either because you choose to or because your business imposes it. You'd save a lot of time if you could open new links automatically in apps such as Gmail or Outlook. (Yes, you can get and send email from these services in Apple's Mail, but the other apps may have features you want or need.) You may want to use calendar apps from these companies as well. And there are plenty of reasons to use Google Chrome instead of Safari; if you use it on the desktop, you may want to sync all your bookmarks and activity to be able to access the same information on your iPhone.
Personally, I'm quite happy with Safari and Mail, though I don't use Apple's Calendar; I use BusyCal, both on the desktop and on iOS. But I know lots of people who are frustrated by the complications of using a browser and email client they don't like on their iPhones and iPads. I also prefer Google Maps over Apple Maps; the latter is full of erroneous information, and is a lot harder to read.
We're at iOS 10, and Apple still hasn't allowed users to make these choices. It seems ridiculous that, with a mature operating system, we're still locked into Apple's default apps. It's not rocket science to make these changes; after all, there are protocols that funnel requests to specific handlers, the same way they do on the Mac. Let us choose the apps we want to use: It's time to let iOS users have the same freedom of choice as Mac users.