Yurick Vezina asks a seemingly reasonable question about deleting an iCloud shared album:
I'm the owner and I don't have the option to remove or add subscribers nor to delete the album! All the current subscribers are part of my family in Family Sharing; I don't have the option to remove them.
Apple documents this very, very poorly, like a lot of elements of Family Sharing, which is a method of pooling certain resources without sharing an Apple ID. Family Sharing has slightly improved since its introduction, but I have recommended against using it, as it has too few advantages and locks you into a set of irreversible choices with your accounts, media purchases, and app purchases. You can leave a family group, but you still wind up entangled.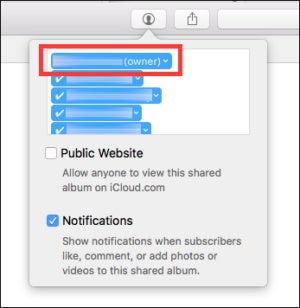 Sharing photos via iCloud is a good example of this weirdness. When you click the Shared item in the macOS Photos sidebar, the main view shows a list of folders, and a + button you can click to create a new shared album. With Family Sharing enabled, there's also a Family album. That album looks like just another shared album, but it's special: it has all the members of your Family Sharing group added; you can't add or delete members; and you can't delete the album.
Yurick had the right idea, though:
For now, the only thing I was able to do is to delete the photos that were in that album.
That's correct. Without leaving Family Sharing, the only action you have is to remove photos that you added. You should be unable to remove photos that other family members added.
Ask Mac 911
We've compiled a list of the most commonly asked questions we get, and the answers to them: read our super FAQ to see if you're covered. If not, we're always looking for new problems to solve! Email yours to mac911@macworld.com including screen captures as appropriate. Mac 911 cannot reply to email with troubleshooting advice nor can we publish answers to every question.