At a Glance
Expert's Rating
Pros
Quiet, click-free experience on a budget
Cons
Cheap-feeling build quality
Only available in black
Logitech Options software unavailable on Linux, Chrome OS, Android
Our Verdict
Best Prices Today: M220 Silent
I've had a love/hate relationship with mice over the years, with anything made by Apple reserved for special condemnation. (Worst offender: The infamous "hockey puck" mouse that shipped with the first iMac.) I made a habit of grabbing a new trackball with every desktop Mac purchase, until the heavens parted one day and Magic Trackpad landed on my desk.
That's not to say there haven't been good mice, or even a few great ones. Many have been manufactured by Logitech, a peripheral maker who continues to offer something for everyone, despite an occasionally spotty track record with Mac owners.
Quiet as a mouse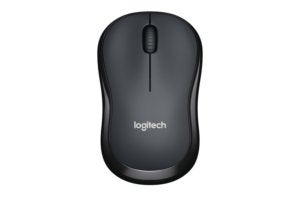 Two of Logitech's latest arrivals are the M220 Silent ($25 on Amazon and M330 Silent Plus ($29.99 MSRP; $22 on Amazon). As the names suggest, these are optical mice designed for users who loathe the noisy button clicks of traditional input devices, but desire a level of uncompromising mousepad-free precision.
At the lower end of the spectrum is M220 Silent, a petite, jet-black model weighing a mere 2.65 ounces. Only 3.89 inches high, 2.36 inches wide, and 1.54 inches deep, the M220 is a small step above stock mice shipped with many computers, thanks to the scroll wheel that doubles as a third button.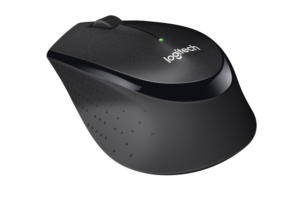 Although nearly the same size as the classic Anywhere MX ($59.99 MSRP; $31 on Amazon)—a more capable palm-friendly mouse I've kept around for years as a backup—you get what you pay for. While the M220 lives up to its name in terms of decibel level, the build quality feels a little on the cheap side.
If you want a larger mouse that fits better in your hand, for only $5 more the M330 Silent Plus offers a choice of two colors (black or grey/yellow) and a contoured, soft rubber grip all the way around. However, this model is exclusively intended for right-handed users. Southpaws should stick with the more ambidextrous M220.
Triathlon gold
For more discriminating users, Logitech also added the M720 Triathlon ($69.99 MSRP; $53 on Amazon) to its lineup. Only slightly larger than M330 Silent Plus at 4.5 inches high, 2.9 inches wide, and 2.0 inches deep, the black M720 is significantly heavier at five ounces, which gives it a premium feel.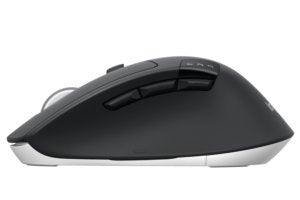 There are no fewer than seven configurable buttons on the M720, and all of them proudly click, which I happen to love. In addition to the main pair on top, there's a scroll wheel with tilt capabilities and two-position button for switching between smooth or click-style scrolling. There are two side buttons on the left edge, plus a third that allows you to quickly switch between three different paired systems; illuminated numbers display which is currently selected. Finally, there's a button hidden below where your thumb rests that can be configured however you'd like. (Like the M330, M720 is strictly for right-handed users.)
All three mice use the included Logitech's 2.4GHz wireless Unifying Receiver for connectivity within a 33-foot range; up to six accessories can be paired with a single USB dongle. On Mac and Windows, buttons are configured with the free Logitech Options software, which has improved considerably since the last time I used it; on M720, power users can even customize actions on a per-application basis.
M720 Triathlon also features Bluetooth Smart, which allows dongle-free wireless connectivity and support for Chrome OS or Android devices. (The Unifying Receiver also supports Chrome OS and Linux.) Out of the trio, the M720 is by far my favorite; not quite a Magic Trackpad replacement, but it's well-made and the customization options are a good match for macOS.
Bottom line
No mouse could ever pry the Magic Trackpad from my fingers, but Logitech's M720 Triathlon comes close. M220 Silent and M330 Silent Plus, on the other hand, are strictly for those who demand a quieter, click-free experience.
Best Prices Today: M220 Silent