On Monday, Apple decided to start the week off with operating system updates. The company released iOS 10.2, watchOS 3.1.1, and tvOS 10.1 to the general public.
Each update is available as an over-the-air download. Before installing the updates, it's a good idea to back up your devices first.
iOS 10.2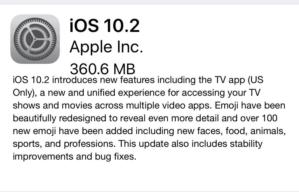 The main new feature in iOS 10.2 is the TV app, which allows you to watch content on your Apple TV. There's also new emoji, and redesigns of several current characters. The 360.6MB update also has the usual "stability improvements and bug fixes.
According to Apple, the iOS 10.2 update also:
Improves stabilization and delivers faster frame rate for Live Photos
Improves accuracy of groupings of similar photos of the same person in the People album
Adds new love and celebration full screen effects in Messages
Choose how to sort Playlists Albums, and Songs in Library [Music app]
Fixes and issue in which the wrong message would be selected after deleting a Mail conversation
Fixes an issue that could cause FaceTime participants to appear out of focus
watchOS 3.1.1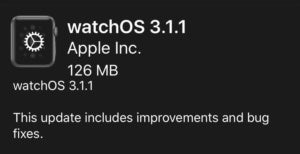 To update to watchOS 3.1.1, your Apple Watch needs to be in Wi-Fi range of your iPhone, charged to at least 50 percent, and connected to the charger.
Here's a partial list of what the update includes:
Fixes an issue that could prevent contact names from appearing in the Messages app and notifications
Fixes an issue that could impact ability to respond to notifications
Fixes an issue that may prevent the Activity rings from displaying on the Activity watch faces
Resolves an issue where the incorrect date could be displayed in the Calendar app month view
tvOS 10.1
This update is available for the fourth-generation Apple TV. It includes the new TV app, which provides a single point of access for your TV shows and movies. The content in the Apple TV's TV app syncs to the TV app on iOS, so you can watch your shows on the go.
The TV app's main screen is the Watch Now screen, which allows you to quickly navigate to the content that you are watching from other apps on the Apple TV. There's also a Library section where all your purchased content resides, a Store section for buying new videos, and Search.
Apple also released an update for third-generation Apple TV owners, tvOS 8.4.2. But you need to have a fourth-generation Apple TV and tvOS 10.2 to be able to use the new TV app.