Hello from Montana! I'll be traveling this gorgeous state for the next five days to prepare for a special two-part series on travel photography hardware, that you'll see here soon (It's a rough gig, but someone's gotta do it.) In the meantime, let's talk about luggage.
You likely have a mental list of everything you're going to take on your next business trip or vacation. But how much thought do you give to the pack you'll be carrying? The design and materials used in the bags you carry your iPhone, water bottle, passport, iPad, or MacBook around in are at least as important, if not more so, than all of that stuff. After all, if your luggage is poorly made or badly designed, it might not keep your belongings safe.
I won't claim to know which piece of luggage is best for you. But after years of testing bags and using every style of backpack under the sun, I've figured out a few must-haves to keep in mind when you're shopping:
Tough, hard-sided suitcases might look like a great idea, but for most people, lightweight, soft-sided luggage is the way to go. These bags are typically lighter than a conventional suitcase, easier to jam into an overhead compartment on a plane, and because they bend and flex, less likely to be damaged in transit by being bumped, smashed, or crushed.

Backpack straps make racing to catch a connecting flight or trudging over five miles of Spanish cobblestone to get to your hostel much more pleasant. Using the straps distributes the weight of your load over your whole back, reducing the chance of a travel-ending injury. If your luggage comes with a hip belt too, that's even better.

Having a few pockets in your luggage is great for organizing small items or keeping frequently used ones close at hand. But too many organizational aids built into a bag typically means less large spaces for jamming your clothes and other large items into. Make sure that you find a balance you can live with.
Everything else, in my opinion, comes down to personal taste, how much you feel comfortable spending on something designed to haul your other somethings around in.
Over the past few months, I've played around with gear made by SOG, GoRuck, Maxpedition, Arc'teryx, Triple Aught Design and Tom Bihn. Our Montana road trip required the best of what I'd tested, gear designed to be easy to use, durable, and tough enough to protect your electronics, clothes or anything else you value.
Tom Bihn Hero's Journey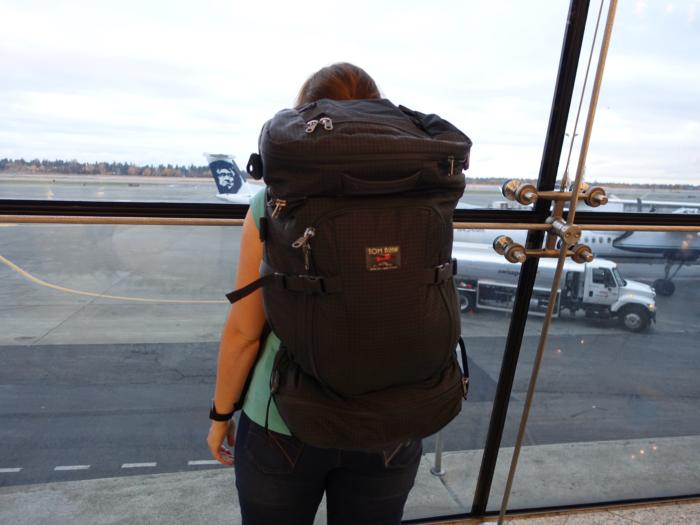 I've been using Tom Bihn's travel bags for years. They're tough, cleverly designed, and comfortable to wear, even when you're lugging around more than you think you can carry. So, a few months ago when a company rep mentioned a new travel bag was coming, I held up writing this column so that I could check it out. The hardware was definitely worth the wait.
Tom Bihn's Hero's Journey ($480) is a 2700 cubic inch/45 liter bag that can be carried cross body, toted around by its handles or worn as a backpack, thanks to an attachable hip belt and a set of stowaway shoulder straps. With the use of packing cubes, the spacious main compartment is easy to organize, thanks to a zippered door that runs the length of the bag. There's a compartment in the base of the bag for a sleeping bag or a set of extra shoes, and like any good travel backpack, it has top compartments to stash commonly used items like your passport, iPhone, or GPS.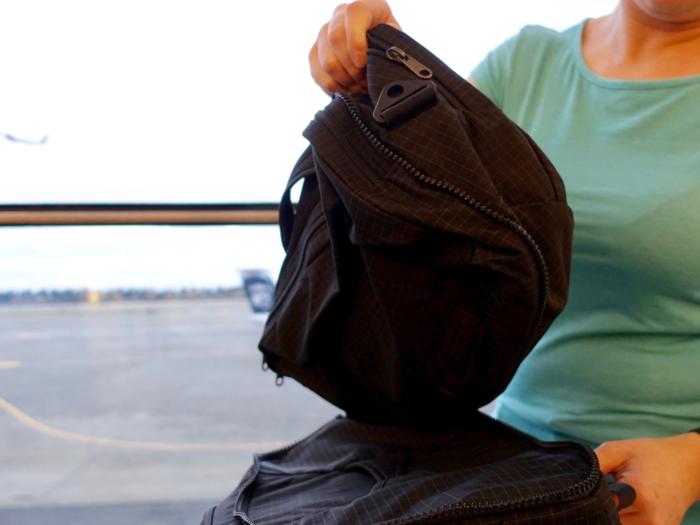 There's no need to carry all of your belongings while you go exploring, either. You can zip off a smaller bag from the top of the pack to tote a few essentials, while you leave your main pack at the hotel. This zipped-off section can be worn as a satchel, or even better, you can turn it inside out to find that it converts into a small backpack, complete with an elastic water bottle holder.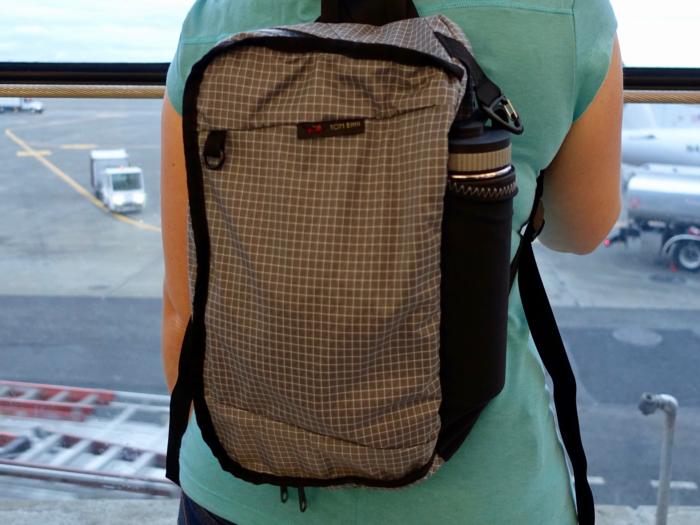 Oh, and Tom Bihn sells a pair of accessory side-pockets for the main pack too. This thing is just about perfect for road trips or hosteling. And like all Tom Bihn gear, it's designed to last a lifetime.
Arc'teryx Covert Case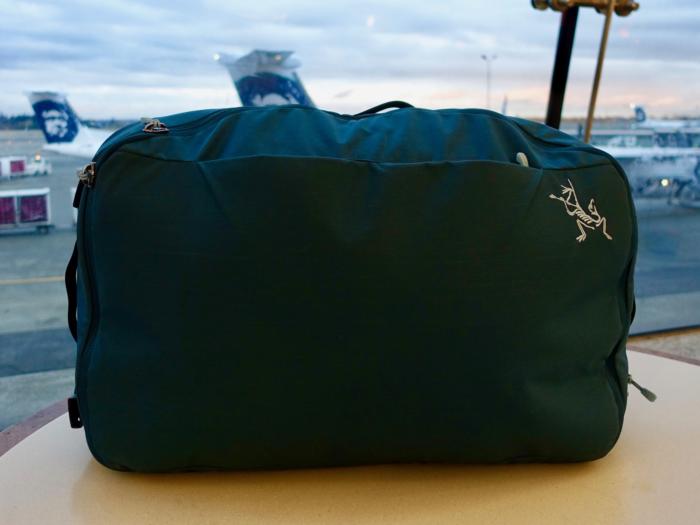 I hate luggage with a ton of built-in pockets because I like being able to adapt the bags I use to where and how I'm going to use them. That's why Arc'teryx's 40 liter Covert Case ($189, also on Amazon) is so cool.
It's the perfect size for sliding into most airline overhead compartments, but spacious enough to hold all of the junk I need to bring with me. On this trip, it carried enough clothes for five days, bathroom sundries, my winter jacket, hat and gloves, an e-reader, laptop, and a pillow—with enough room left over to cart a few bottles of Montana-made hooch back home.
Like the Hero's Journey, the Covert Case comes with a pair of clip-in backpack straps that make navigating airports a breeze. A pocket on the outside of the bag is great for frequently used items, and another just inside its zippered lid is ideal for stashing your car keys, and a slash pocket on the inside of the lid is just perfect for socks and underwear.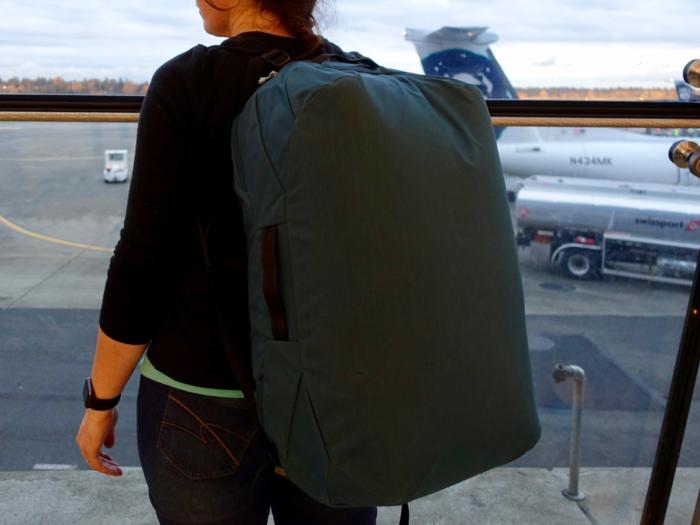 Oh, and because it's made from silicone-treated 500D ATY nylon, it's tough, looks good, and can repel a good amount of water dirt or snow before it anything inside of it will be affected.
Triple Aught Design FAST Pack Litespeed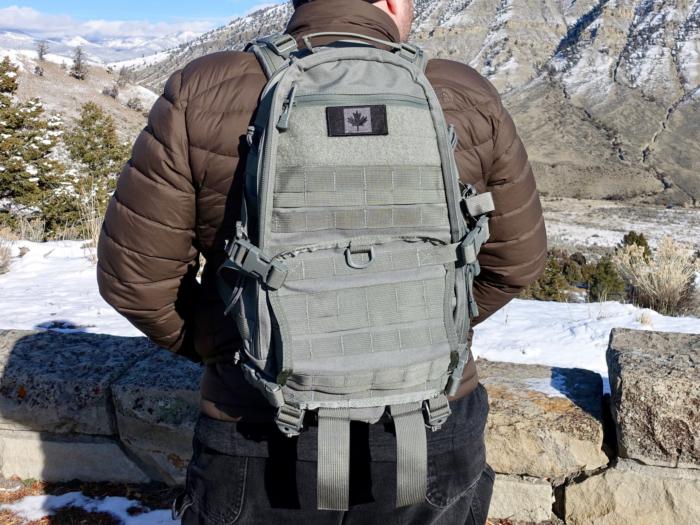 My regular travel bag for the past few years has been the GoRuck GR0–I prefer military-inspired backpacks as they tend to be water resistant, tough as nails, and well padded. But the GoRuck's wide, deep profile can make it a drag to slide underneath an airplane seat.
Triple Aught Design's comparatively svelte FAST Pack Litespeed backpack ($275) doesn't have that problem. It's built just as tough as my trusty GR0, but with a much slimmer profile. What's more, despite its smaller size, it's far more versatile. It comes with a huge amount of MOLLE/PAL compatible webbing for adding additional pouches and dividing panels to the inside and outside of the bag, compression straps, and close to 100 inches of removable paracord—together, they provide a ton of options to customize the FAST Pack for every trip. It's big enough to hold my winter jacket, a thermos, my e-reader, passport, 13-inch MacBook Pro and a ton of smaller items that I don't need to get my hands on right away.
Hill People Gear Heavy Recon Kit Bag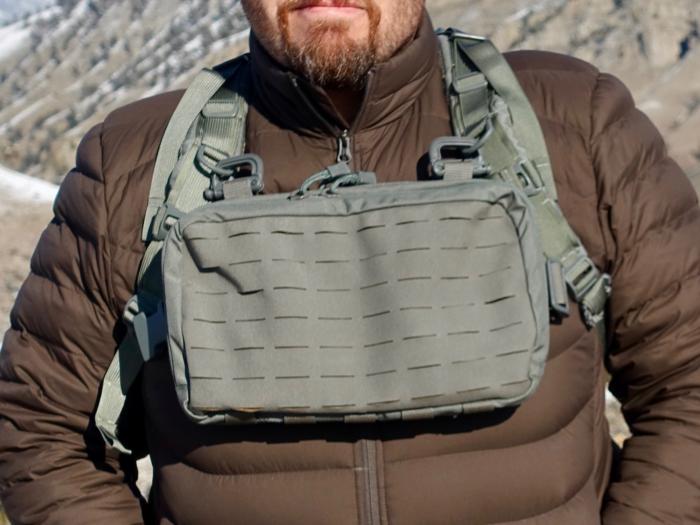 Carrying my camera gear, headlamp, iPhone, and other frequently used items in a pack can be a pain. So, to keep them easily accessible and, at the same time, distribute the weight of what I'm carrying over a greater area of my body, I've turned to Hill People Gear's Heavy Recon Kit Bag ($115). While it's intended for use by military, police and other tactical types, I've found that when I'm switching between cameras on the go, looking to check out a photo on my iPad, or need to reach for my handheld GPS hardware, it keeps everything exactly where I need it. The Heavy Recon Kit bag, at well under two pounds, is anything but. You can wear it it attached to its included hardness, or attached to the MOLLE straps of a backpack (like the FAST Pack Lightspeed) using a pair of carabiners.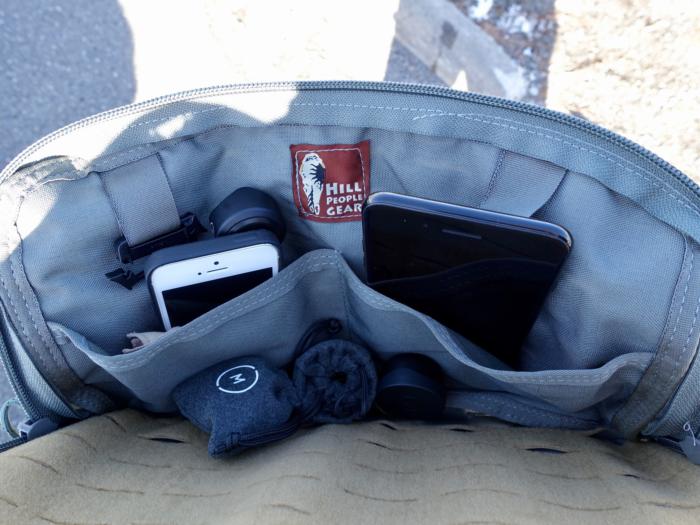 Its rear-zippered compartment is just big enough to hold my 9.7 inch iPad Pro and Logi Create keyboard case, while the Kit Bag's padded main compartment comes with ample space to hold a number of small electronic devices, energy bars or whatever else you might want easy access to.
Next time: In the first of a two-part series, we'll talk about how to take your travel photos to the next level.