If your iPhone is having issues, just turn to Apple's latest iOS app for support.
On Wednesday, Apple released its new standalone Apple Support app in the U.S. App Store. First spotted by TechCrunch, this iOS app lets you schedule appointments at your local Genius Bar or an Apple authorized retailer and chat in real-time with a support technician.
You can also find product documentation based on the devices that are registered to your iCloud account. That way, you don't have to spend time searching for the exact model name and serial number. Having that information upfront, on both the customer side and the technician side, makes it faster to get your queries answered.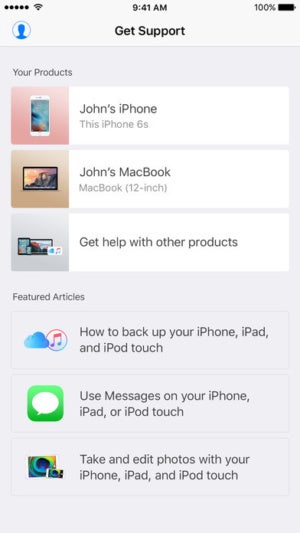 Previously, you were able to use the Apple Store app to get support and schedule appointments at the Apple store, but it was an afterthought. The Apple Store app was designed to make it easier to buy new products, whereas Apple Support seems better equipped to handle customer service and support.
Right now, you can start chatting with a technician via Apple Support in about 2 minutes. To speak with someone directly on the phone, you'll have to wait 10 minutes. You can also allow the Apple Support app to send you notifications when you receive a chat message from a technician or a reminder about an upcoming appointment at the Apple store.
Why this matters: Apple Support comes just before the busy holiday season—when lots of people are bound to unwrap new Apple products. This new app makes it easier for these new customers to get answers and see if their issues can be resolved from home, without having to go in to an Apple store. That gives Apple employees more time to handle issues that do require in-store support. You know, like those iPhone 6s unexpected battery shutdowns.