Your iPhone is the gateway to holiday memories with friends and family. The iPhone's camera, always at hand, makes it easy to capture and embellish great photos, while letting you unobtrusively mix in with holiday festivities. While most of the iPhone's default camera functions can be effortlessly committed to muscle memory, a few specific techniques can produce outstanding holiday memories.
Photograph the group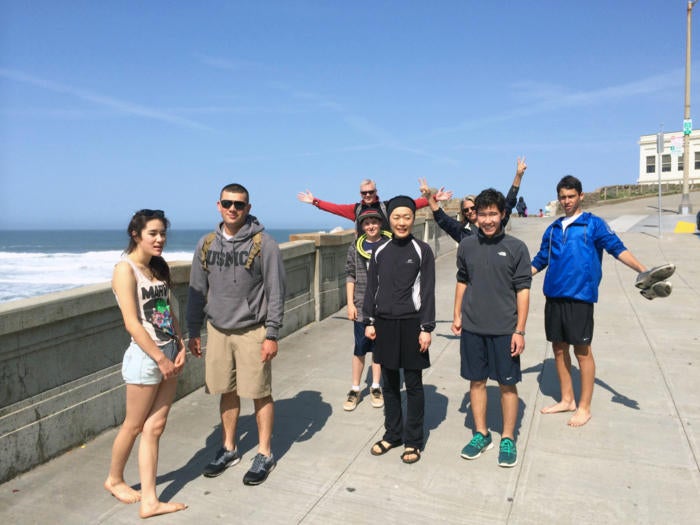 Unless you have a huge family or you're at a big event like a company party, you will likely be able to fit more partygoers into a single group shot than you think.
It's great if your subjects are involved in a group activity, because you won't have to pose them.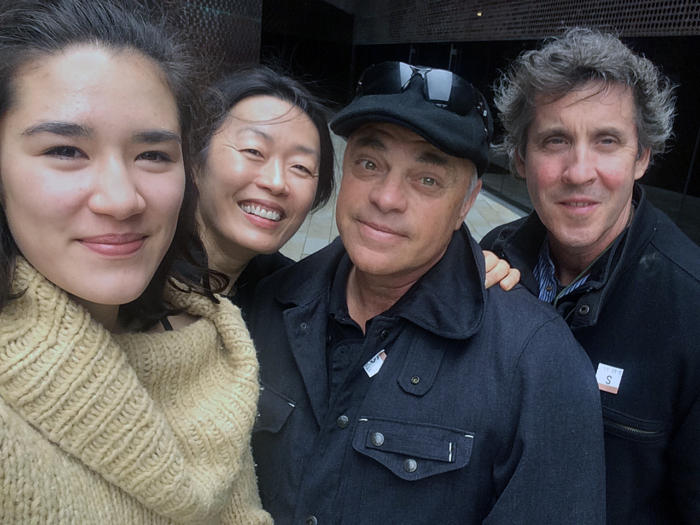 This crowd is wonderfully aligned and looking into the camera, but other groups, especially with kids, may not be so disciplined. For an unruly bunch, try holding down the shutter button for burst mode, and then choose the best one. That makes it more likely that everyone's eyes are open and generally looking toward the camera, and avoids stilted "say cheese" second and third takes.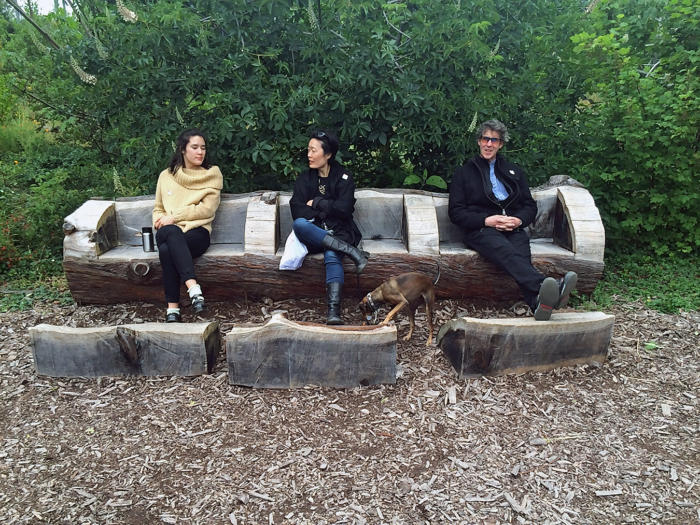 If you're in a moderate climate, try shooting outside during the day either before or after the holiday feast. Daylight shots make natural lighting easier and often show subjects in high energy or happy moods.
Change your position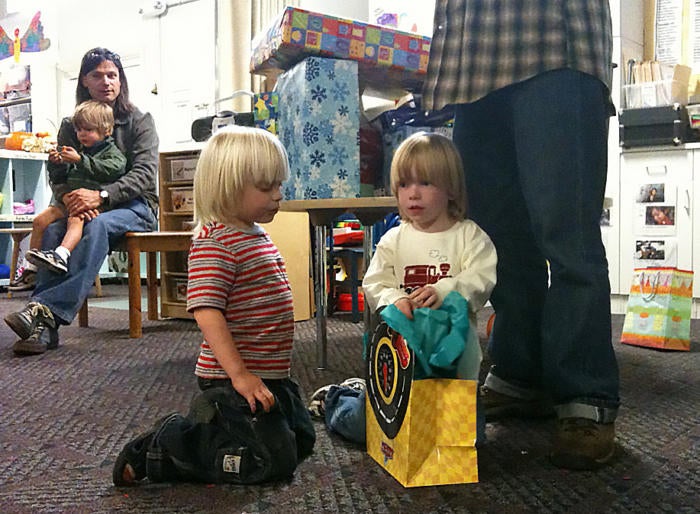 Generally, the most comfortable shooting position and perspective is the one you're naturally in, sitting or standing. But that doesn't always yield the best picture. The trick for some photos is to exit your own comfort zone and place the lens where your subject is. To photograph subjects smaller than you, like pets and kids, try moving your body down to their level, even if that means kneeling or lying on the floor or ground so that you are eye to eye with them.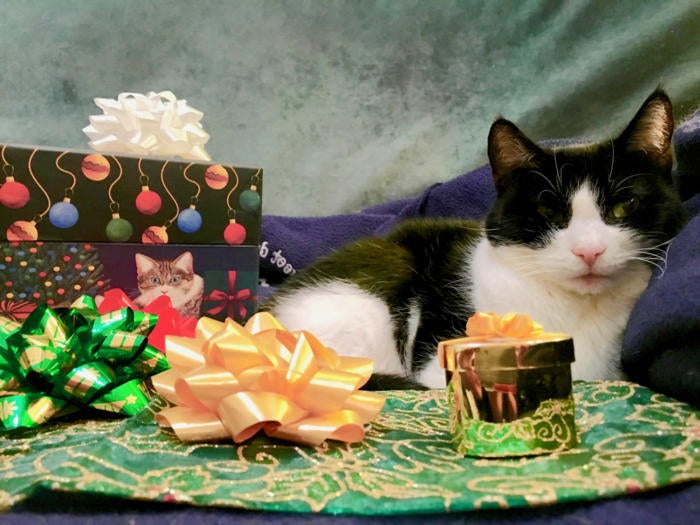 Changing the shooting angle lets viewers share a similar perspective as the subject, making the photo feel more personal. And it can make items, like toys, wrapping, or presents, look larger.
Add stickers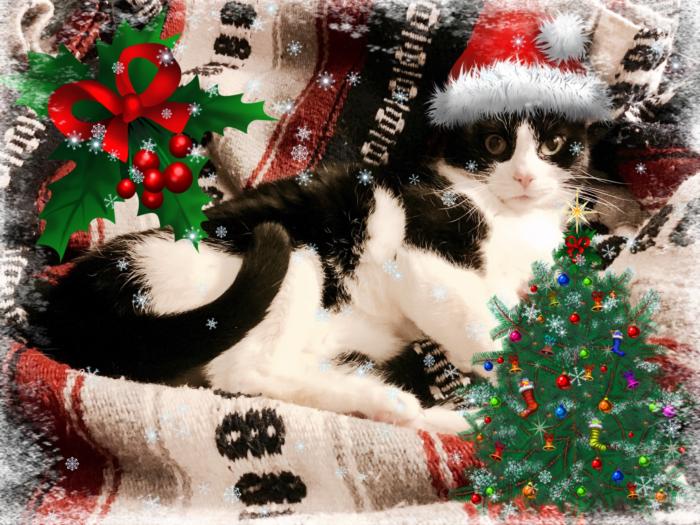 The overall holiday atmosphere is bound to be festive, especially when kids are opening their presents under the tree, but don't be afraid to push the spirit of the day even more.
The holidays are one of the few times you have permission to go nuts with Christmas silliness, so try out apps like Christmas Booth and Christmas Photo Booth 2016, two free but ad-based apps that let you affix stickers like Santa hats and beards, decorated trees, and ornaments, frames, and reindeer antlers to photos of your friends, family, and pets.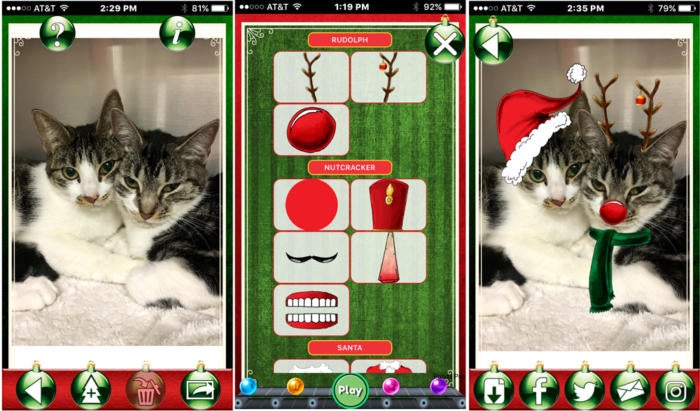 If you don't mind paying a couple of bucks, PicsArt Photo Studio lets you edit your photos to perfection, as well as add some high-quality holiday stickers of lights, stars, objects, ugly sweaters, holiday gift wrap, college frames, backgrounds, and more.
Brighten twinkling lights
No matter the natural lighting in your particular venue, the iPhone camera can highlight the job of pinpointing Christmas lights done. Just focus on the lights you want, press and hold the screen until you see the AE/AF icon (for exposure and focus) and then slide your finger up or down to adjust the overall scene lighting. Often, lowering the overall exposure a tad will accentuate and sharpen the lights.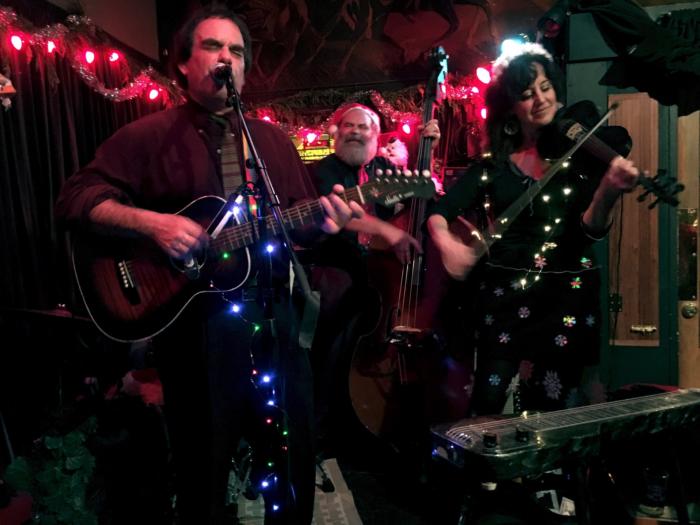 Tap the darker part of the image to prompt the phone to expose the darkest areas and brighten the shot. Tap the bright area to do the opposite. You don't have to directly touch the exposure meter (which looks like a sun icon) to alter brightness—a tap and slide anywhere on the screen will retain your original focus while adjusting exposure.
Try experimenting with focusing on something in the foreground to create a charming, out-of-focus look of Christmas lights in the background, or even shoot lights in HDR or with the Live Photos setting to give the tableau more punch.
Use advanced apps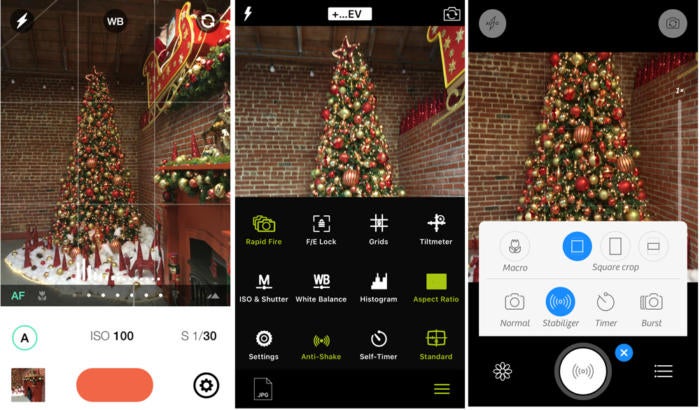 Your phone's native Camera app is all you need to capture a holiday scene or gathering most of the time. But if your inner control freak gets the better of you, don't hesitate to turn to advanced apps like Manual ($4), ProCamera ($5), and Camera+ ($3). They let you control shutter speed, ISO, white balance, focus, exposure bracketing, and more.
Lose the zoom
Beware the digital zoom. This gesture-based control in your iPhone's Camera app magnifies the scene onscreen, but can also mar the output. Resist the temptation to use the zoom because what you see is not what you will get.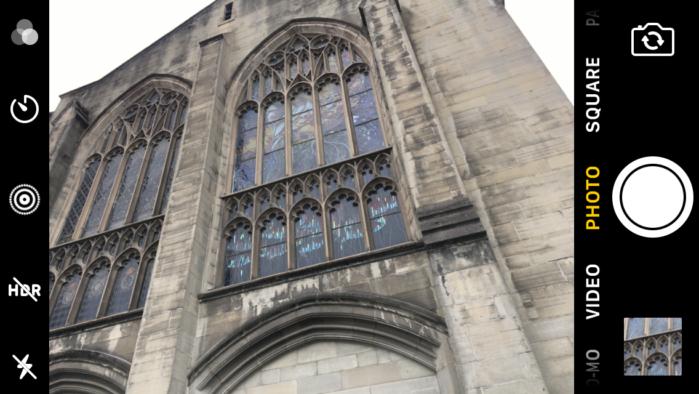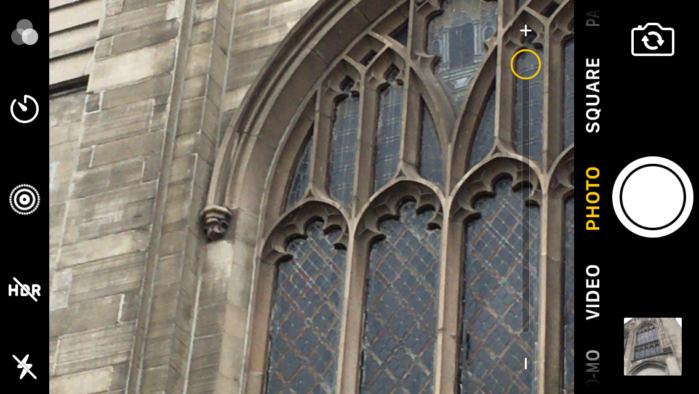 Sure, digital zoom seems helpful in the moment, but it actually diminishes photo quality because the phone is effectively cropping your image before you shoot, removing detail from the scene. Closing in on your subject with a digital zoom also enlarges pixels from the middle of the frame and diminishes both resolution and image quality. It's better to zoom with your feet, and get up as close as possible to the subject, or just crop your high-quality photo later.
Use Camera's creative settings
iPhones have some stellar built-in options such as HDR (high dynamic range, which debuted with the 4s) and Live Photos (iPhone SE, 6s, and 7), which significantly boost the depth and variety of your holiday shots.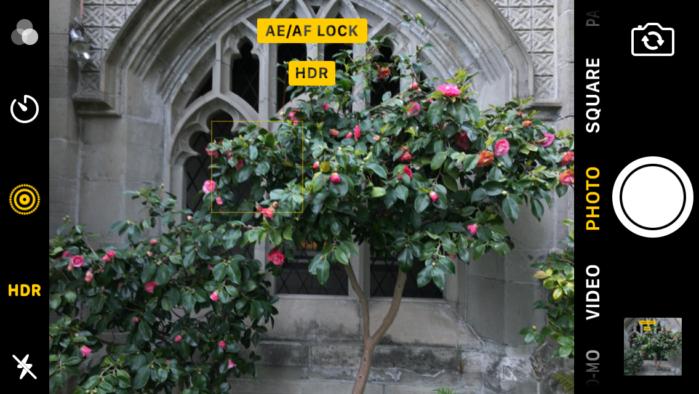 Live Photos records 1.5 seconds of video and audio before and after your shot to capture a little of the backstory behind the still. You can only see the live part if you tap and hold on your iPhone screen. Tap the bullseye icon in the top-center to toggle it on or off, but use this feature judiciously, since Live Photos take up more storage space than standard photos and not every shot benefits from audio/video accompaniment.
The HDR feature imparts a richer range of colors to your photo by giving equal exposure to both highlights and shadows, by combining three exposures into one finished photo. For holiday shooting, it comes in handy. Just be sure to hold your phone steady while you shoot.