At a Glance
Expert's Rating
Pros
Easy-to-use digital storefront for pro video plugins, effects
More than 350 affordably priced plugins (and counting) from 28 different developers
All plugins offer free 14-day trial with one-click purchasing
Cons
FxFactory 6 requires OS X El Capitan or later
Many plugins favor Apple pro video apps over Adobe CC
Application updates require restarting host software
Our Verdict
Best Prices Today: FxFactory 6
Video editing and motion graphics software are powerful tools for content creators, but for many professionals the "secret sauce" to their creativity isn't the host software, but rather the arsenal of third-party plugins added to the mix. But finding the right ones for your workflow can be a daunting and time-consuming task.
Wouldn't it be great if there was a one-stop shop for not only discovering new plugins, but giving them a test drive before making a purchase? As it turns out, one enterprising company has already made the dream of an "app store for plugins" a reality.
App store for plugins
FxFactory is the rare Mac application you'll rarely need to launch. On the surface, it's a storefront for pro video plugins from 28 different developers including Noise Industries, the brainchild behind the concept. The rest happens behind the scenes, with FxFactory responsible for installing and updating plugins for compatible host applications, including Final Cut Pro X, Motion 5, Adobe After Effects CC, and Adobe Premiere Pro CC. Not all plugins work with every host, and some are exclusive to FCPX—a welcome change, since rival Red Giant tends to favor Adobe.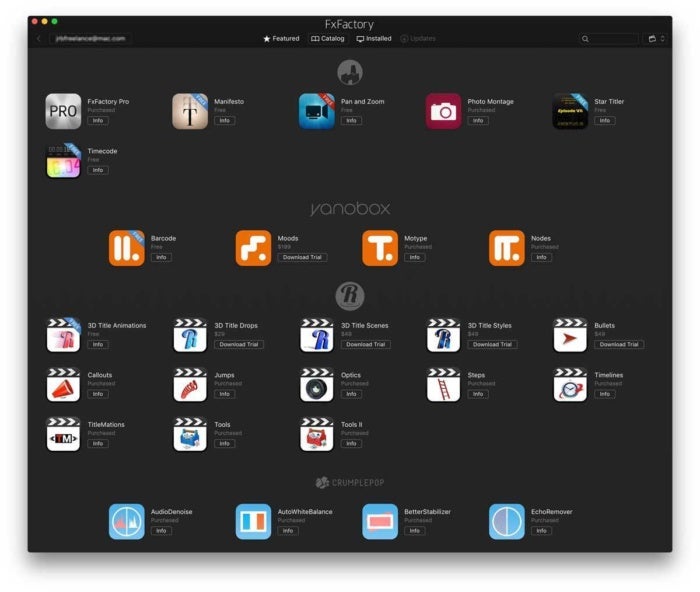 The core software is free to download (as are nearly 20 of the plugins), but the $399 Pro version includes with over 175 built-in effects of its own, including blurs, color corrections, distortions, generators, glows, halftones, tiling, transitions, and more. Using FxFactory is as straightforward as the Mac App Store; four buttons across the top provide shortcuts to featured new products, browsing the entire catalog (or only apps you have installed) and automatic updates, when available.
FxFactory's dark user interface nicely matches the aesthetic of modern video apps, and requires little maintenance beyond signing into your account. Each plugin has a detailed product page with demo and tutorial videos that show how each tool works, but a 14-day trial download is only a click away so editors can experience how the full version fits into their workflow.
The latest version, 6.0, delivers full support for macOS Sierra and OS X El Capitan, but Noise Industries maintains two previous versions for compatibility all the way back to OS X Lion 10.7. FxFactory can also be also used to disable plugins, repair permissions or other occasional issues, and clean up stray template files left behind.
Plugin paradise
With 177 standalone plugins in the current FxFactory 6 catalog (and more arriving on a regular basis) it's impossible to cover everything here, so I've rounded up a handful of recent additions worth a look. Most plugins are affordably priced at $49, with a dozen or so even cheaper; the most expensive is Dashwood 360VR Toolbox, an insanely comprehensive $1,199 suite of tools for processing and previewing 360-degree virtual reality content without leaving your favorite host software.
New to the lineup is EpiColor, a revolutionary automatic primary color correction plugin from Lemke Software. For only $99, this Final Cut Pro X and Motion 5 plugin simulates the human visual system to deliver natural, realistic results with minimal effort. EpiColor isn't a full-blown color grading solution—you simply drag and drop it onto a clip and the plugin does the rest—but there are a few sliders for manually tweaking saturation, color mood and intensity, brightness, or contrast.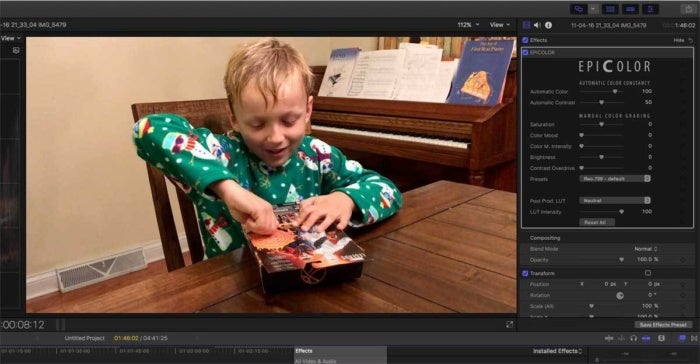 Scrappy plugin provider CrumplePop recently joined the FxFactory fold with four $99 plugins. On the video front, AutoWhiteBalance delivers decent (if not always accurate) drag-and-drop color temperature adjustment, while BetterStabilizer improves upon existing FCPX and Premiere tools. I was more impressed with EchoRemover and AudioDenoise, two easy-to-use audio plugins for cleaning up unwanted reverb and background noise.
FxFactory also offers title generators and transitions to add finishing touches to any video. Ripple Training's TitleMations makes it easy to add highly customizable animated titles without time-consuming keyframing. For stylish FCPX editing, Stupid Raisins' Fast Pop is a set of 46 fast-moving transitions, while Kingluma Flux creates high-energy pans and zooms with an organic look and feel.
Bottom line
FxFactory 6 is an indispensable digital storefront for any video editor or motion graphics designer, especially those in the Final Cut Pro X camp.
Best Prices Today: FxFactory 6