At a Glance
Expert's Rating
Pros
Better access to OpenType font features
Improved footnotes
Better graphics on Macs with Retina display
Cons
Buggy OpenType ordinals conversions
Best Prices Today: InDesign CC 2017
InDesign CC 2017 is Adobe's first full version number upgrade since InDesign CC 2015 three years ago. The improvements will be welcomed by users who use advanced OpenType fonts, use a Retina display, create footnotes, or open documents from a networked file server.
OpenType enhancements
Although InDesign supported many advanced OpenType features in previous releases, the controls for those features were deeply hidden in far-flung submenus attached to menus that are accessed from panels that may not be open. Gloriously, they are now brought into the full sunlight of InDesign's document interface.
To access advanced OpenType features such as alternate characters, fractions and stylistic sets, all you have to do is click on the tiny O badge that appears below a selected text frame or selected text. Here's how it works.
One character: To see alternates for a selected character, select only that character. Hover over the selected character to see its alternates appear below the character. Click on an alternate to apply it.
Fractions and Ordinals: To change the format of a typed fraction such as 3/4 or 5/8 to a true fraction, select the typed fraction and click on the O badge. Its true fractional form will display and you can click it to apply it. Use the same technique for ordinals such as 2nd, 3rd and 4th.

Selected text: To see alternates for a selection of text, select the text. Click the O badge to see that text with various combinations of alternates. Click on any combination of alternates to apply them.

Selected text frame: To see all the alternate options for the text in an entire text frame, select the text frame and click on the O badge. Click on any combination of alternates to apply them.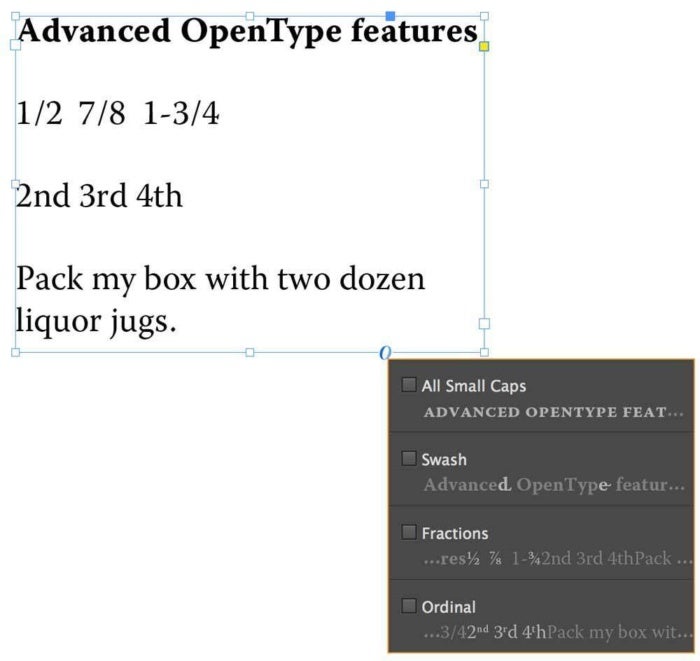 Stylistic Sets: Font designers often create pleasing combinations of alternates for you and collect them into what's known as a stylistic set. To see the stylistic sets available for all the text in a selected text frame, click on the O badge at the bottom of the text frame. (If the designer assigned names to the sets, those names will appear; otherwise, the sets are simply numbered.) To apply a stylistic set, choose it from the list that displays.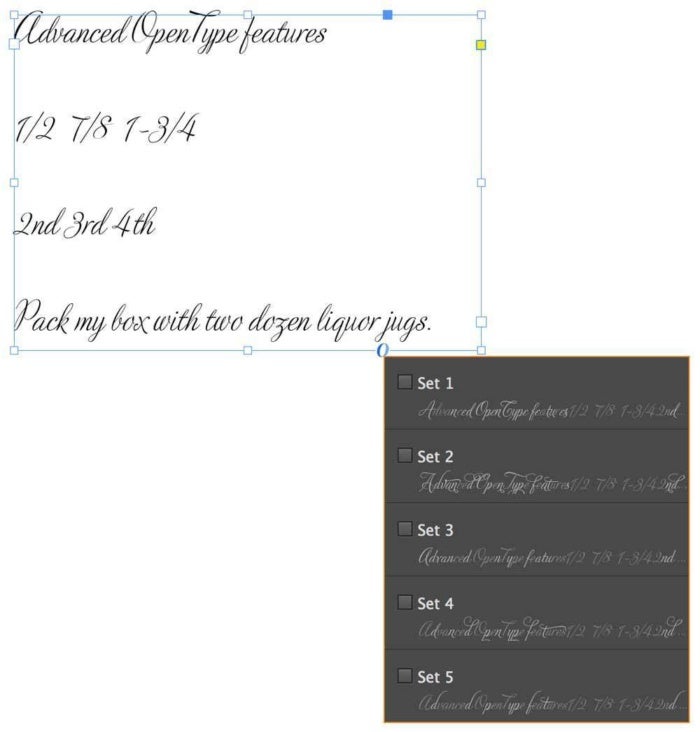 Performance
The new GPU Performance feature can improve image preview quality and the document preview quality during zooming and panning, if you have a Mac that supports a Retina display and the Mac has at least 1MB of VRAM. (Supported Macs include the iMac 4K, iMac 5K, MacBook Pro Retina, Mac Pro connected to a HiDPI monitor, and Mac mini connected to a HiDPI monitor.)
If your system meets these requirements, InDesign renders your document using the GPU instead of the CPU and sets the Display Performance to High Quality. To enable and disable this feature, click the rocket icon at the top of InDesign CC 2017's Options bar shown in the following screen shot.

When you click the rocket icon, InDesign displays the GPU Performance preferences window shown.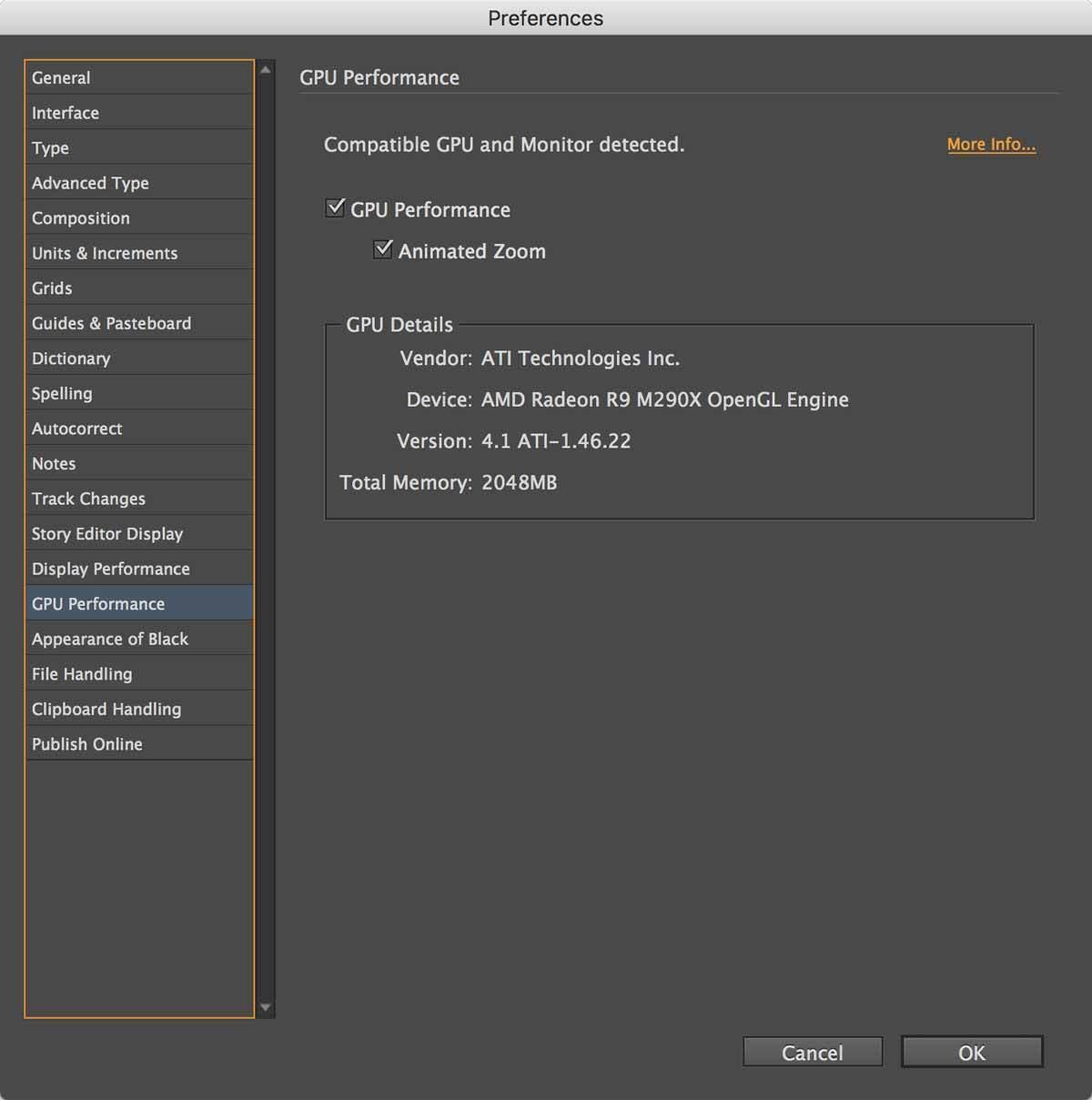 In my testing with GPU Performance enabled, graphics of all file types displayed more clearly than they did with GPU Performance disabled. Panning and zooming was also smoother. However, PNG files were slightly jagged compared with the same files viewed in QuarkXPress 10 or higher, as were rotated PSD and TIF files.
In previous versions of InDesign, if you opened a document stored on a network server rather than from your computer's hard drive and then you disconnected from the network for any reason, InDesign would crash. Now InDesign caches your document to your local drive so that you can work with the document even if the network crashes. When the network comes back, InDesign invisibly reconnects to it. If the network doesn't come back, you can save your document to your local drive.
Footnotes enhancements
In previous versions of InDesign, if you inserted a multi-column spanning headline in a multi-column text frame, footnotes from text above the headline would appear immediately above the headline instead of at the bottom of the column of text.
In version 2017, you can force those footnotes to appear at the bottom of the column. To change this setting for an entire document, choose Type > Document Footnote Options. To apply this setting to only the selected text frame instead of the entire document, choose Object > Text Frame Options > Footnotes > Enable overrides (span or not).
File format changes
Besides the updated features described above, this upgrade uses a new document file format that can only be read by users of version 2017 or higher. However, this shouldn't be a big issue for most users because Adobe's subscription model allows subscribers to download the most current version any time.
To share 2017 documents with users of InDesign CS4 through 2015, a 2017 user can choose File > Save a Copy and then choose "InDesign CS4 or later" from the Format menu. This saves a copy of the document in IDML format.
Bottom line
While the improved features are limited in scope, InDesign users will appreciate this upgrade if your documents use footnotes or you open documents from a networked file server. If you have a Retina display, you'll enjoy the far better graphics previews. And all users will enjoy exploring the long-hidden advanced features of some OpenType fonts.
Abobe InDesign CC 2017 is $20 per month. Adobe also offer access to all of its Creative Cloud apps for $50 per month, or $80 per month including access to Adobe Stock images.
Best Prices Today: InDesign CC 2017