The old saw says that no news is good news, but that doesn't always hold up. In the case of Mac desktops, it seems that no news is sometimes just…no news. On the other hand, if you judged it only by the criterion of media attention, this past week may have been the biggest for Mac desktops in several months.
There are plenty of questions about where the future of Apple's desktop line lies after the last year, which for the first time in recent memory featured no updates to the company's longest running product line.
As we approach the Mac's third-of-a-century mark, the world looks a lot different from the way it did when Steve Jobs introduced the computer. But that doesn't mean that the death of the Mac—or, at least, the imminent death of the Mac—is a foregone conclusion. Even in a world of iPhones, iPads, MacBooks, and Apple Watches, there are still plenty of reasons that desktops continue to appeal. But in order to put desktops back in the spotlight, it might require Apple to push back against some of its instincts.
Power plays
The most obvious advantage of desktop Macs remains performance. Even with the improved horsepower of the MacBook Pro—and, heck, even the iPad Pro—it's still hard to match the sheer performance that you can get, at least theoretically, out of a desktop Mac. All of the limitations and constraints that hamper Apple's laptop lines, like battery life, space, weight, and heat, are of less concern in a computer that stays on your desk and remains plugged into the wall.
In theory, that opens up the possibility of truly high performance machines. If anything, that's one reason for the frustration of the power user crowd over Apple's recent computers. On its laptop line, the company continues to solve for weight, thinness, and battery life, and for good reason: those are what most consumers want in a laptop. But some of those design decisions have rubbed off on the desktop line, such as the impetus to make the iMac super thin, or to redesign the Mac Pro as an objet d'art.
As the Mac shifts more and more to a power machine, the truck to the iPad's car, it may be time for Apple to take a step back and reconsider those design decisions. Does the iMac really have to be that thin to look good? Could some width be traded for performance? And while hiding away all the cables on the most recent Mac Pro made good aesthetic sense, accessing them by rotating the machine—when it's already plugged in to a bunch of cables—isn't necessarily a usability coup.
Go modular
At this late stage in the game, it seems likely this cry will fall on deaf ears. But when it comes to Mac desktops, there's really no reason that Apple shouldn't be designing its desktops with upgradeability and modularity in mind. Obviously, the trend line has definitely been moving towards Apple building machines that are essentially hermetically sealed, with little in the way of possible upgrades—most modern Macs won't even let you add more RAM after you buy them.
On a laptop, there's sense to it. Again, removing the niceties that let you upgrade or easily repair your MacBook cut down on overall weight and free up internal space. And laptops have come, to a degree, commoditized: most users probably didn't upgrade components even when such a thing was possible, instead just buying a new computer when the old one kicks the bucket.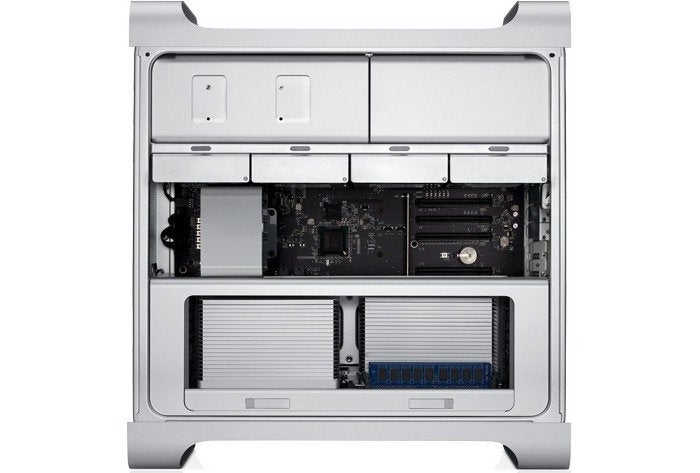 But we're talking about the desktop here. I'd bet that that people who are more likely to buy desktops are pro or power users who know their way around the inside of a computer—or at least might be interested in adding more RAM, replacing a hard drive, and so on. Apple more or less gave that a shot on the 2013 Mac Pro, whose memory, storage, and processor are all upgradeable, if not easily so, but the iMac and Mac mini have become only more limited as time goes by. (Oh, how I miss the days of the white iMac G5, where you could simply loosen three screws and pull the entire back of the machine off.)
Make desktops exciting again
Marketing and messaging play important roles too. Desktops aren't exactly the height of innovation these days. Many of the most impressive new technologies appear first on mobile platforms and while it's great when those—Retina displays, Touch ID, and so on—make their move to the Mac, it would be great to see more innovations start their lives on the Mac, as with the recent Touch Bar. But right now desktops lag all the way at the back—none of Apple's, for example, even feature new technologies like USB-C or Thunderbolt 3.
Overall, what the Mac desktop line currently seems to lack is vision—and recent articles about the internal state of Apple's Mac division—certainly suggest as much. While the product lines may not be as exciting to work on as the bleeding edge of iOS devices or even MacBooks, there are still plenty of people who'd greet the arrival of Mac desktop updates as a cause for celebration. And if the customers are there, Apple should be able to find people within its ranks who are at least as excited. Not unlike desktops themselves, improving the lot of iMacs, Mac minis, and even the Mac Pro is something that starts from within.