At a Glance
Expert's Rating
Pros
Excellent typing experience for a 9.7-inch keyboard case
Backlit keys make working in the dark a cinch
Keyboard can be paired with up to three different devices
Built-in loop for securing Apple Pencil
Cons
Weak hinge
Magnets are not strong enough to keep the lid closed or attached if the case is dropped
Kickstand creates a larger footprint than necessary
Heavy
Our Verdict
I've used Zagg's keyboard cases on all three of my iPads. The company's excellent (albeit heavy) Rugged Book is on my iPad Air ($149.99 MSRP; $85 on Amazon), as well as on my iPad mini 2 ($139.99 MSRP; $120 on Amazon).
The Rugged Book for the 9.7-inch iPad Pro ($149.99 MSRP; $99 on Amazon) is good, but not great. Because of licensing costs, Zagg didn't bother to bake a Smart Connector into the iPad Pro version of what is arguably my favorite keyboard case.
When Zagg announced two more new cases for the 9.7-inch iPad Pro, I said to myself, "Yes! Logitech's Create case finally has some competition!"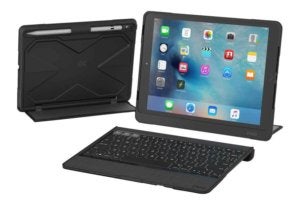 I'm sad to report that Logitech's excellent Create ($129.99 MSRP, available on Amazon) keyboard case still has no Smart Connector competition. I'm also bummed to report that where Zagg's new Slim Book Pro ($149.99 MSRP, $115 on Amazon) and Rugged Book Pro ($149.99 MSRP, available on Amazon) cases are concerned, the lack of a Smart Connector is a minor point. They're likely not the iPad Pro cases you're looking for.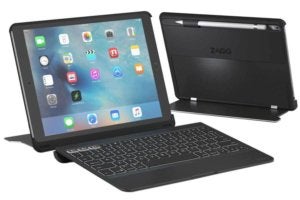 The good news is that both of the cases offer a reasonable amount of protection. With the Slim Book Pro, your expensive Apple slab will be swathed in enough rubberized plastic to keep it safe from being thumped around in your bag, being scratched up by your car keys (provided you transport it with the Slim Book Pro's keyboard cover attached) and the other casual abuse that even the most careful iPad users can accidentally visit on their device. Owners of the Rugged Book Pro iteration of the case can expect the same level of protection as Zagg's Rugged Book do: layers of polycarbonate, stainless steel and rubber work together to provide impact protection from heights as great as six feet.
But at 1.44 pounds for the Slim Book Pro and 1.41 pounds for the Rugged Book Pro, they're wicked heavy. One of the key selling points of the 9.7-inch iPad Pro is that it's lightweight, but still powerful enough to stand in for your laptop for many productivity tasks. Slap either of these cases on your 9.7-inch iPad Pro and you may as well have brought a laptop with you. In the case of Zagg's regular Rugged Book keyboard case, I was fine with the extra heft, as the case provided an incredible amount of utility and an excellent typing experience. I can't say the same for either of these new cases.
Hinges, kickstands, and magnets
Zagg's last generation Slim and Rugged Book cases sported strong hinges that allowed you to put your iPad in almost any position you could ever want. It made typing on a desk, airplane tray table, or your lap easy.
The hinge that mates the keyboard to the iPad on the Slim Case Pro and Rugged Case Pro aren't great. They offer no resistance to speak of; the two halves of the case would flop around unhindered, were it not for the presence of a metal kickstand built into the back of the iPad enclosure. This kickstand causes two problems. First, the footprint of the case, when used for typing, is increased by about 50 percent. That means less room on any surface you set up on. Second, as the hinge offers no resistance, the case has a tendency to flop open when closed, leaving your iPad's display to potentially get scratched or damaged. Zagg's argument for the kickstand is that it allows users to set the iPad Pro to watch, draw on or video chat with, without the need of the keyboard to prop it up. I can't help but feel that this is a step in the wrong direction.
It's also worth noting that the iPad case and the keyboard are mated together using only magnets. This makes it easy to take the two halves of Zagg's cases apart. But, should you drop your iPad in either the Slim Pro or Rugged Pro, speaking from experience, nothing in the universe will keep the two halves from blowing apart on impact, leaving the display of your tablet unprotected.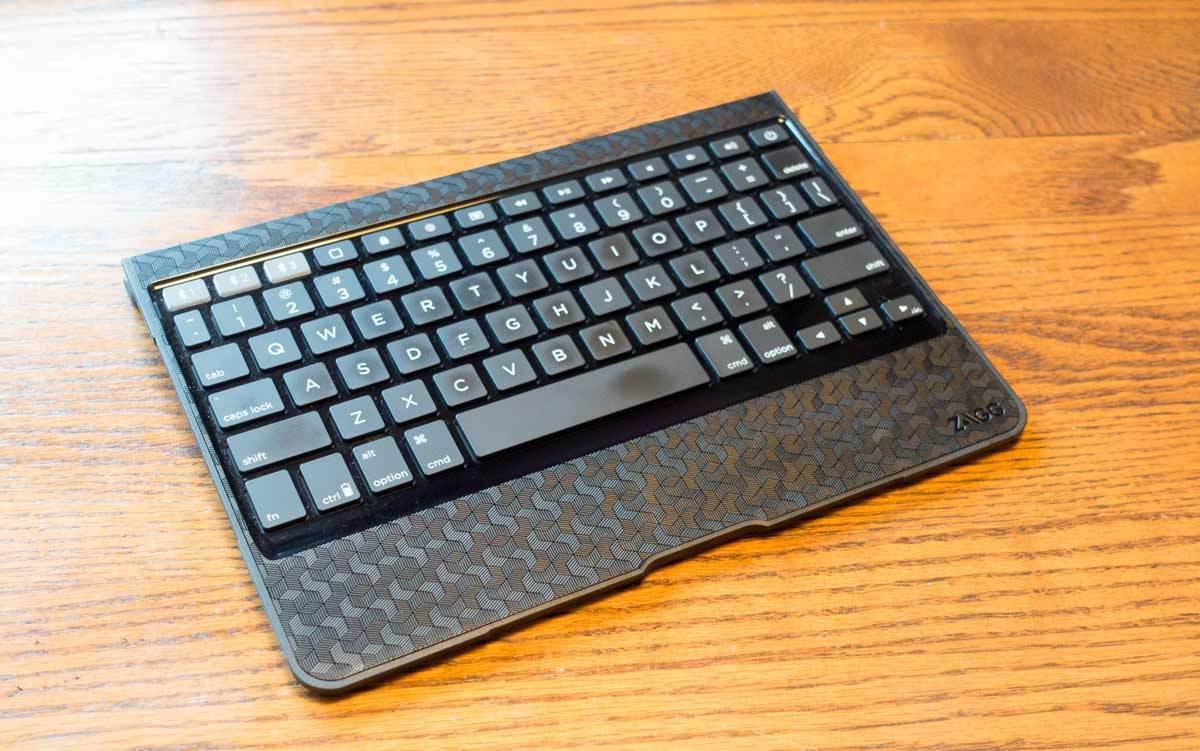 Keyboard
Designed to fit within the confines of a case fit to the 9.7-inch iPad Pro, the keyboard in both the Slim Pro and Rugged Pro offers a pretty good typing experience. The keys provide an acceptable amount of travel and are large enough with enough space between them to make touch typing possible. A top row of function keys provides access to a number of desirable shortcuts. And happily, the keyboards on both cases feature adjustable backlighting.
Interestingly, Zagg allows users to pair up to three devices with the keyboard of the Pro case. Switching between paired devices is easy, thanks to the three pairing keys at the top left of the keyboard. While I can't imagine anyone wanting to use the keyboard for input to their computer, it might make a nice accessory to a home entertainment system or gaming console.
Both versions of the case feature a loop for storing an Apple Pencil into. That's always a welcome feature.
Bottom line
With their Slim Book Pro and Rugged Book Pro cases, Zagg attempted to invent the wheel. Unfortunately, the experiment resulted in a high-speed blowout.