Fitbit's focus for 2017 is all about software, the company said at CES, and it's starting with a trio of app updates.
Fitbit has always been a social app, recognizing that competition and encouragement are key to sticking with a fitness routine. In March, the app will add a new Groups tab designed to help you find like-minded folks—fellow runners, swimmers, bikers, etc. Anyone can share articles or photos to a group, and those updates will show up in a feed.
"It's like a health and fitness-focused Facebook feed," Fitbit's Jamie Kelly told me at CES.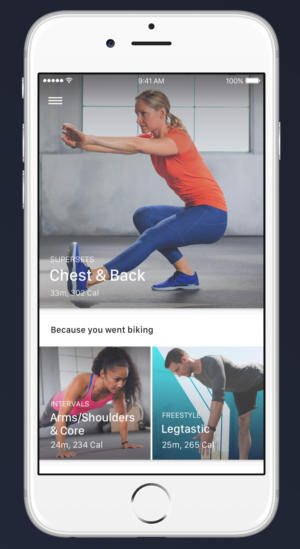 Next week, Fitbit users will be able to take advantage of guided goals. Right now, when you sign up for a Fitbit account, the app asks you if you want to get fit, lose weight, etc. Now those goals are more complex and personal, with short surveys designed to figure out what's most important to you and then serve up three recommended goals. For instance, if your goal is to get fit and Fitbit knows that you don't walk much during the day, it can encourage you to aim for more steps.
Those features are coming soon, but a deeper integration with Fitbit's personal training app, Fitstar, is already live. Fitstar just got a major redesign with new video workouts in a variety of languages. The most significant new feature is recommended workouts, which use the activity logged by your Fitbit to suggest specific workout videos in Fitstar, so your exercise routine is well-rounded.
Last year was huge for Fitbit hardware: The company released two brand-new devices and overhauled two others for a total of four fitness trackers at different price points with different features. Fitbit's Blaze smartwatch is about to get two features, cardio fitness level and the Relax guided breathing feature with haptic feedback, that Fitbit designed for the Charge 2 activity tracker. Those features will arrive via firmware update in February for existing Blaze owners.