At a Glance
Expert's Rating
Pros
Provides granular control over almost all facial features
Easy to use
Ability to try out paid modules before buying them
Free version has many useful features
Cons
Photos shot with the live preview feature often looked softer than adjusting existing images
Subscription model may put off some users
Our Verdict
Best Prices Today: Facetune 2
Despite their bum rap, selfies are more popular than ever, and portraits of friends and family dominate mobile photography. But getting subjects to look their best is a perpetual struggle. Too often, faces are captured at unflattering angles or in lighting conditions that accentuate their least attractive features. But no matter: Off they go to Facebook, Twitter, or Instagram where they remain in perpetuity. Light-hearted photo sharing can be a drag if you don't like the face you're presenting to the world. Facetune 2 1.1.1, an update of the original Facetune, takes facial feature fixes to a new level, either with live shooting or editing portraits already in your Camera Roll.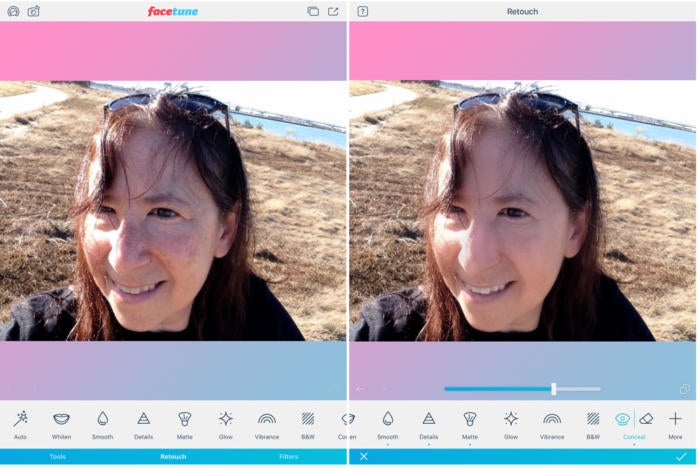 Camera Roll
Facetune identifies faces on any image you have and easily accommodates multi-person selfies in photos where faces overlap. Just tap and hold on a face until the app recognizes and places thin brackets around it. Facetune automatically sees faces that are looking straight into the camera, but sometimes it does not immediately identify faces that are turned slightly to the side, or two faces together. It does not acknowledge animal faces.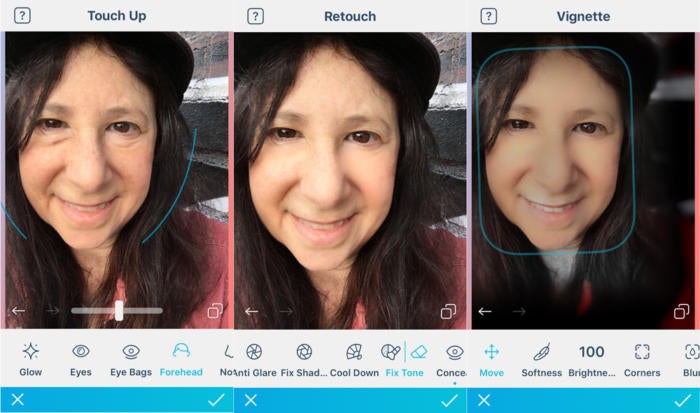 The free version's retouch controls, tools, and filters let you dive right into a multitude of enhancements: tap to whiten teeth, remove blemishes and wrinkles, smooth out skin tones, and blot oily shine. Face tools let you chisel a jawline or crack a smile, adjust brightness, contrast, color or sharpness, and add flattering rainbow light effects. A filters menu offers a slate of special effects, and more are available for free download. Disappointingly, the app does not have hair touch ups for gray, dark, or light roots. It also works best when photos are shot in decent or daytime lighting.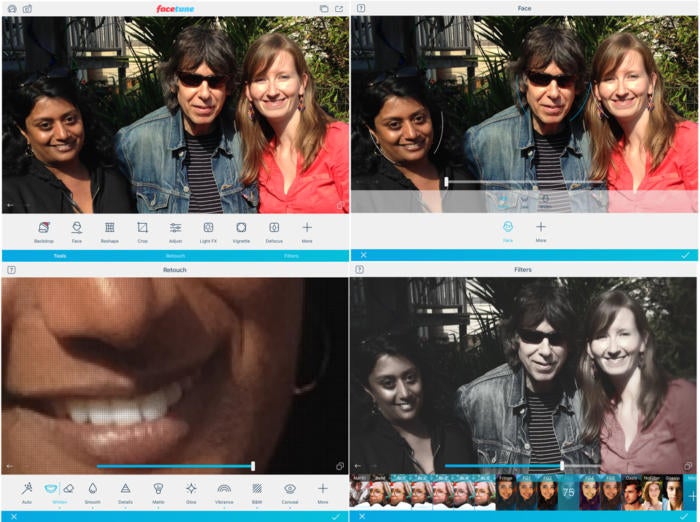 Via the settings panel, you can control whether or not to launch the app with the front facing camera and choose from three output quality levels. You can keep up to 10 images open simultaneously in the free version.
Intelligent shooting
Facetune gets even more intriguing when you shoot selfies directly with the app. At that point, the app's artificial intelligence features let you adjust slider settings and preview results before you take your shot. As you aim your camera at yourself, an augmented reality live image editing feature lets you smooth your skin, whiten your teeth, diminish the size of your prominent nose, and make your eyes and lips bigger and more appealing—on the fly and through the lens. This relies on what the company calls high-fidelity 3D facial modeling that aims to naturally integrate these improvements with your own features.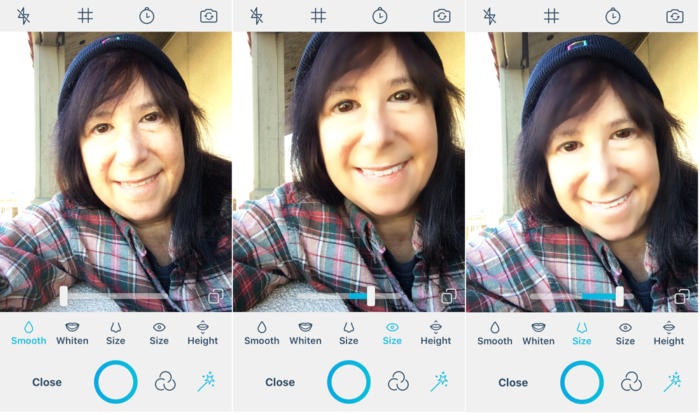 The app's Relight tool also uses intelligent tech to create realistic lighting effects from scratch or change the direction of the original light source, giving your photo a more engaging look or brightening a dark environment.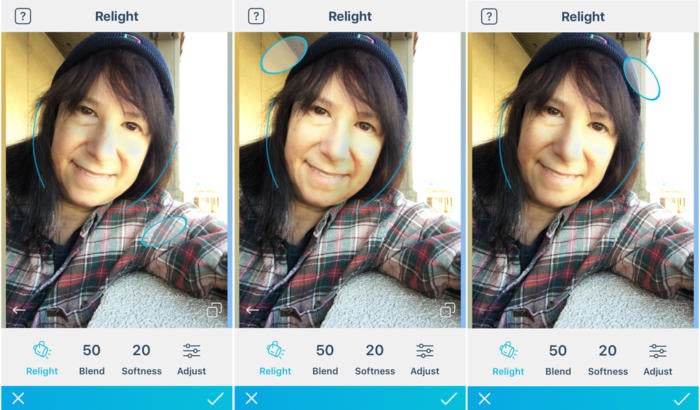 Overall, I was less enamored with the results of shooting with the live preview feature: I found the results hit or miss, depending on what and how much I tried to improve. Generally, skin smoothing and teeth whitening worked in small doses and better than nose slimming, lip, and eye enlarging. Overall, the resulting images tended to look softer than when I used the app to touch up existing photos.
Pricing model
It's impossible to talk about Facetune 2 without discussing its pricing model, which has an unusual (for a mobile app) subscription strategy. Facetune 2's basic version is now completely free, but a significant number of add-ons are available as in-app purchases for between 99 cents and $3 each, while the entire package is available via a $2-per-month or $10-per-year subscription. A one-time payment of $30 buys all the features permanently. Some of Facetune 2's signature features, like Eyes and Darkroom, are available only via subscription and not as in-app purchases, which means that the subscription is feature-based, not a mere convenience. The first generation Facetune app is $6.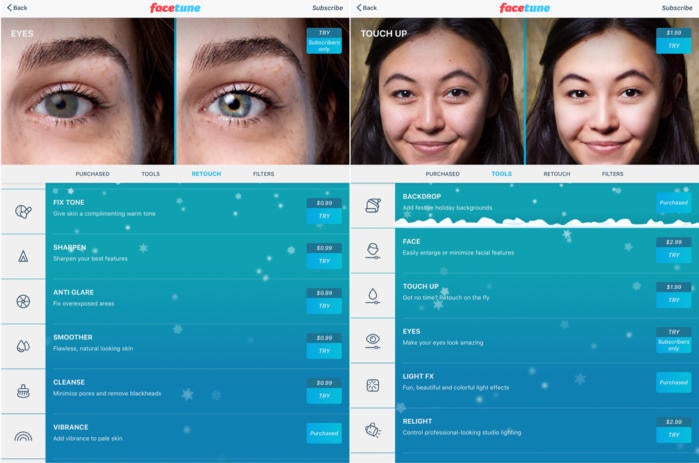 That pricing structure may not sit well with certain users, and there has been some pushback on the iTunes store review section. Here's the important thing for me: It is possible to use Facetune 2 completely free if you are not committed to having every single feature and control. Many important features come free, and even some of the add-ons—Light FX, Auto, Reshape, Vibrance, B&W, and the North and Belle filters—were free for download at the time of this review. That means you don't need to pay extra if you are fine with sticking to the built-in features and free add-ons.
That said, the subscription features offer added value depending on your subject, and the app makes them available for testing via its own model images—you must buy the feature to use it on your own picture.
In-app and subscription extras
Tools like Face, which lets you control the size and shape of facial features like eyes, nose, and lips, is a $3 in-app purchase. There's also a free Face tool that lets you adjust smile, jaw, and face width. Touch Up gives you a slider-based interface for controlling facial shine, eye bags, eyebrow thickness, cheek shape, and jaw line thickness. For $1, you can download Fix Shadow, which removes shadows caused by harsh lighting, or HDR Structure, which clarifies small details like skin texture and facial hair.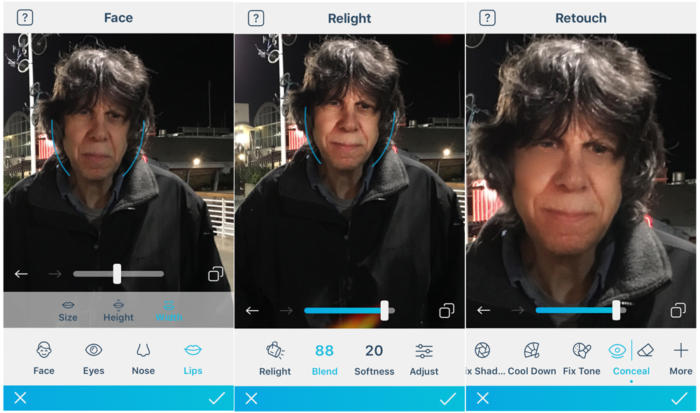 Right now, Darkroom and Eyes are the only two modules that require a subscription. The rest of the in-app features are available individually.
Bottom line
Facetune 2 1.1.1 makes it easy to beautify your visage, and the app's ease of use makes it fun to tinker with portraits. As long as users are careful not to go overboard and distort their natural looks, it's a great confidence builder for all kinds of social media portraits and family photos. The app worked well, and without rigid sequences, while multiple undos let you avoid time-consuming mistakes. The live preview feature is fun to experiment with, but I found its images often looked a bit soft; I preferred the results when editing existing photos. I suggest trying the free version first, especially if you already own the previous version: It may be all you need.
Best Prices Today: Facetune 2