Adam Finberg would like a call-blocking app in iOS 10 that would:
Allow all calls on your contact list to ring through.

Send all calls not on your contact list that are also not within designated area codes to go directly to voicemail.

If an incoming call is not within my nearby area codes that I designate, I don't want that call ringing through.
I've tested three call-blocking utilities in iOS 10, though there are many.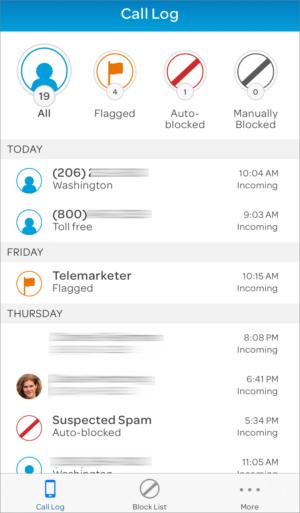 Hiya (free), the first released, has its own app, but also powers some of the cellular carrier's call-blocking apps and services. It uploads your contacts' phone numbers to whitelist them against its servers. ( Read its privacy policy about how it uses those numbers.) Hiya can be free because it collects user reports as part of the services it offers elsewhere.

AT&T Call Protect for its customers (free) works both as an app and a feature you enable on your AT&T account and is powered by Hiya's engine. It also uploads contacts and whitelists them.

Nomorobo is a long-established global blocking service with a $1.99 subscription fee for its iPhone app. However, it doesn't upload your contacts; you can whitelist numbers incorrectly blocked.
(T-Mobile offers a call-blocking Android app I haven't tested, Name ID, but it doesn't have contact whitelisting.)
You turn Hiya and Nomorobo and other iOS call-blocking apps on and off via Settings > Phone > Call Blocking & Identification. Apps from cell providers, like AT&T, happen at a higher level of the network, from what I can tell, and you work entirely within the app and your account to manage them.
On question 2, I'm not aware of any tool that offers area-code based filtering. That's in part because Caller ID isn't validated by the phone network: fraudsters and spammers can typically make any number appear as their Caller ID. They've gotten sophisticated enough to target their victims, too. Say your number is (212) 123-4567—I've gotten calls from (212)-123-####!
Ask Mac 911
We've compiled a list of the most commonly asked questions we get, and the answers to them: read our super FAQ to see if you're covered. If not, we're always looking for new problems to solve! Email yours to mac911@macworld.com including screen captures as appropriate. Mac 911 cannot reply to email with troubleshooting advice nor can we publish answers to every question.