At a Glance
Expert's Rating
Pros
Scans up to 30 photo prints at 300 dpi in 30 seconds (90 seconds for 600 dpi)
FastFoto software organizes and enhances photos with minimal effort
Can be configured for automatic import to Apple Photos
Cons
Expensive
Requires frequent cleaning of scanner bed
No wireless mode
Our Verdict
Best Prices Today: Epson FastFoto FF-640 High-Speed Photo Scanner
It's a tedious task to take your old photos in an album or box and convert them to a digital format by using a scanner. In recent years, mobile apps like Unfade, Photomyne, and Pic Scanner have taken some of the friction out of this process by automatically cropping, enhancing, and organizing prints. But those apps share a singular limitation: No matter how good the smartphone camera, it can't compete with a decent hardware scanner.
Photo scans fast
Epson's new FastFoto FF-640 ($650; available on Amazon) offers a higher quality approach, combining sheet-fed duplex color scanner hardware capable of 600 dpi optical resolution with Mac and PC software for organizing and enhancing photos in a single step, optionally restoring faded colors, removing red eye, or adjusting brightness, contrast, and saturation.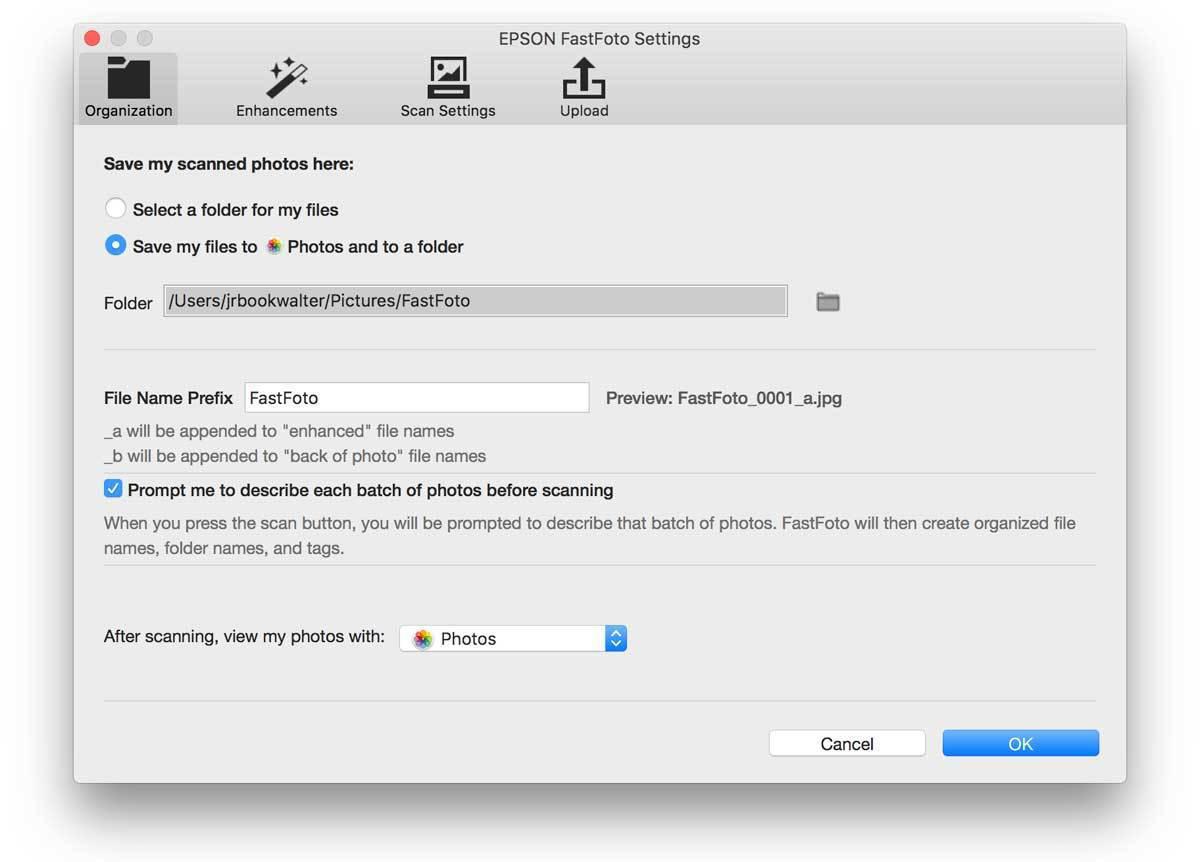 The scanner loads up to 30 prints at a time, churning through them in as little as one second each at the default 300 dpi setting. Preferring higher quality for digital posterity, I chose the 600 dpi option, which roughly triples scan times, producing larger JPEG files suitable for cropping or other manipulation. (TIFF, PICT, or PDF files can only be output from the included Epson Scan software, which lacks FastFoto's automated nuances.)
When you initiate a scan by pressing the blue button on the front, FastFoto prompts you to enter a year, month, and a brief description for each batch of photos. This information is used for the resulting filename, as well as storing tags and metadata to automatically organize scans into the proper date in your library timeline. You can even grab handwritten descriptions from the back of prints in a single pass; those are saved as a separate image.
After scanning, you can add more photos to the same batch or view results from the Finder, Preview, or Photos. As an iCloud Photo Library user, my favorite feature is how FastFoto can be configured to automatically import batches into Photos, so scanned images are then synced to all my devices within moments. Scans are also saved to the Pictures folder, so if you're all-in with Photos like I am, you'll want to manually purge these unwanted duplicates after each session.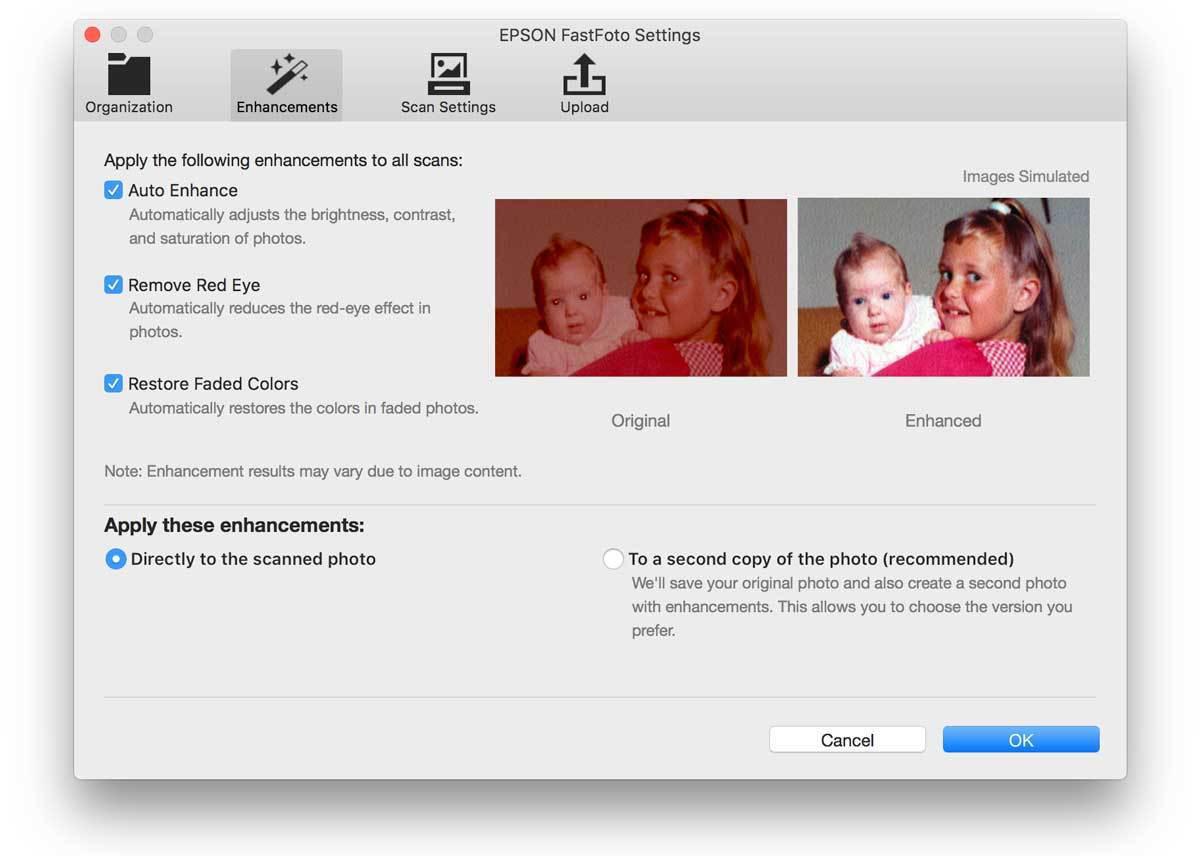 Budget compromise
With the FastFoto FF-640, scanning stacks of old prints is not only more fun, but can now be done in record time. Hardware and software is intuitive and easy to use — I never consulted the user manual even once — but there are a few things that make the experience a little less magical than it could be.
First is the price: At $650, the FF-640 is more expensive than the similarly-sized Fujitsu ScanSnap iX500 ($495), my favorite document scanner. (To be fair, photos are a weak spot on ScanSnap.) Epson's build quality isn't as good as the iX500; the FF-640 offers the same chintzy plastic construction as recent all-in-one printers like the WorkForce Pro WP-4530 (which I also own).
FastFoto also requires a wired USB connection to your Mac or PC. There's no wireless mode, which means no scanning to companion mobile apps or direct to the cloud; you can connect Dropbox and Google Drive accounts to automatically upload scans as they're made. The FF-640 also works as a decent document scanner for creating searchable PDF files from up to 80 pages at once from your favorite software or the included Epson Document Capture.
Cost aside, the FF-640's biggest weakness is the frequent need to clean the scanner bed. Even after wiping prints with the included cleaning cloth prior to scanning, the resulting images often displayed vertical white lines resembling scratches, which appear to be caused by residual dirt on the rollers.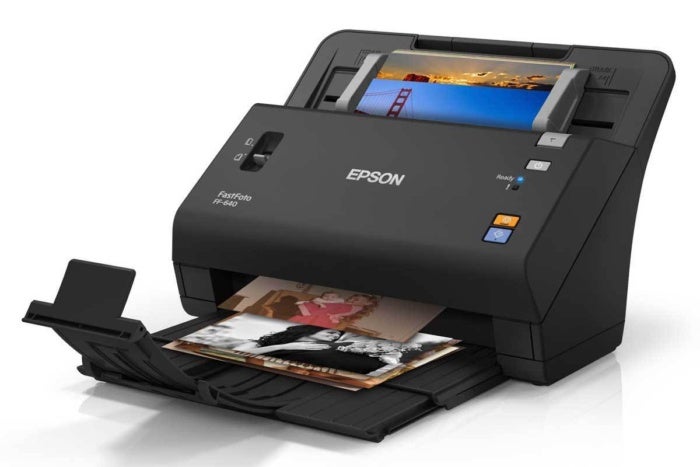 Bottom line
If you have boxes of old photo prints and can't commit to the time it takes converting them to digital, Epson FastFoto FF-640 makes the process effortless and fun, but you'll pay a premium for the convenience.
Best Prices Today: Epson FastFoto FF-640 High-Speed Photo Scanner