Every time a piece of big-name Mac software goes to a subscription-based model, reactions are mixed. TextExpander even reversed its decision, bringing back a stand-alone version of TextExpander 4 to sell alongside the subscription-only TextExpander 5.
Now MacPaw wants to make subscription-based Mac software popular by offering a bundled suite of apps for $9.99 per month. Setapp, its new subscription service, launches Wednesday. For a flat monthly fee, subscribers will get access to 61 apps at launch, including Cloud Outliner, Focused, Blogo, Pagico, RapidWeaver, Ulysses, Screens, CleanMyMac, and more. MacPaw will add more apps to the service over time, and they'll all be available ad-free with no in-app purchases or upgrade fees.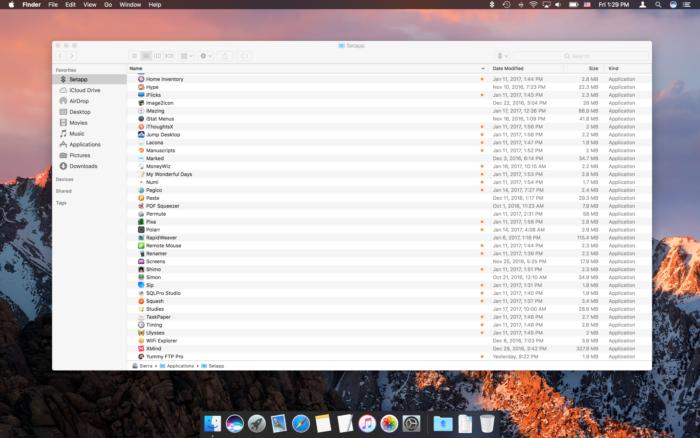 To use Setapp, you'll install a small app that puts a folder in your Finder. Inside you'll see all the apps available, and you can download them (which requires an Internet connection, naturally) and then use them offline for as long as you maintain your subscription. Apps you download via Setapp are updated automatically in the background.
MacPaw hopes Setapp will be an alternative to the Mac App Store that improves upon that experience for both developers and consumers alike. Developers can get around the Mac App Store's sandboxing restrictions, and don't need to invent their own workarounds, like offering a "lite" version in lieu of a free trial or requiring customers to pay full price for an upgraded app.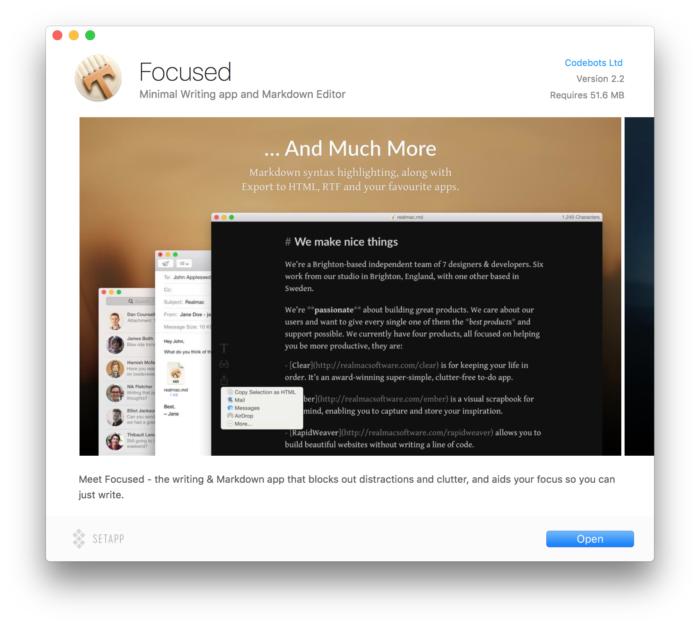 MacPaw says that developers will receive 70 percent of the Setapp revenue generated by their apps, based on how much customers use the app during each billing cycle. This incentivizes developers to keep their apps compelling, as does the "partner fee" that gives developers a slice of the remaining 30 percent "based on the lifetime value of each user they have brought to the platform," according the MacPaw.
MacPaw hopes that by cutting down on piracy and providing reliable monthly income, Setapp will let developers focus on, well, software development. "Setapp fills in the gap between consumers and small development studios that depend on repeatable income," said Iliya Yordanov, founder of SilverWiz which makes the personal finance app MoneyWiz, in a statement. "It makes it easy for developers to submit their apps, and easy for consumers to find, download and use them. Developers can focus on retention rather than rebilling, which puts emphasis on improving their products instead of seeking more ways to make money from customers."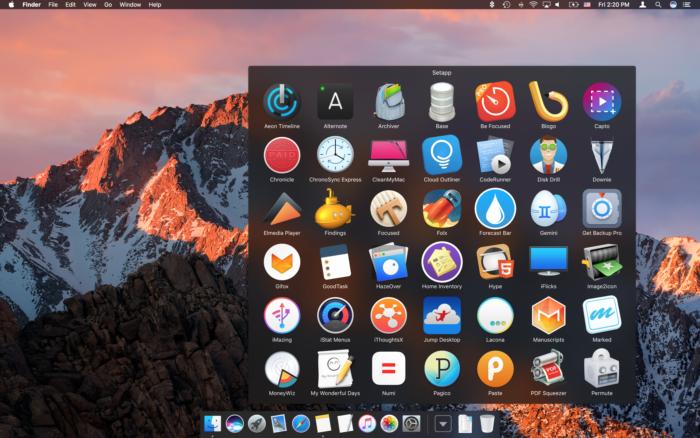 Mac users who want to try Setapp will need OS X 10.10 (Yosemite) or later, and MacPaw is offering a one-month trial of the service. The 61 apps included at launch are below, and MacPaw plans to add more, while keeping the $9.99 monthly fee the same. Be sure to read our hands-on with Setapp and find out what it's like to use the software.
Productivity
Aeon Timeline
Alternote
Be Focused
Blogo
Cloud Outliner
Findings
Focused
GoodTask
HazeOver
Home Inventory
iThoughtsX
Lacona
Manuscripts
Marked
Pagico
Paste
PDF Squeezer
RapidWeaver
Studies
TaskPaper
Timing
Ulysses
Yummy FTP Pro
Photography, video, and design
Downie
Hype
iFlicks
Image2icon
Permute
Pixa
Polarr
Utilities
Archiver
ChronoSync Express
CleanMyMac
Folx
Gemini
Get Backup Pro
Gifox
iMazing
Remote Mouse
Renamer
Screens
Shimo
WiFi Explorer
Developer tools
Base
CodeRunner
Simon
Sip
SQLPro Studio
Business and personal finance
Jump Desktop
Chronicle
MoneyWiz
Miscellaneous
Capto
Disk Drill
Elmedia Player
Forecast Bar
Flume
iStat Menus
My Wonderful Days
Numi
Squash
XMind