A reader sees Apple's direction moving far away from AirPlay, once a key advantage of its various OSes and networking systems.
Dave Macaulay is an extensive user:
I use AirPlay to stream music from my iMac's iTunes library. The iMac has an AirPort Extreme router sending WiFi to three AirPort Express routers. One AirPort Express is fairly new, while two are an older, original design. Each AirPort Express is connected to an audio receiver or to a Bose Wave radio. I also have an 4th generation Apple TV connected to one audio receiver.
Dave took the recent reports that Apple had apparently disbanded the AirPort product team as a sign that AirPlay might be on the way out, and wonders what to do when his routers die.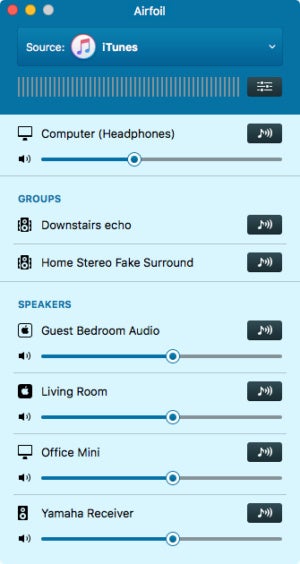 It's a real concern. Apple embedded AirPlay into just two of its own peripherals: Apple TV and AirPort Express. In the past, it licensed it extensively, and I have a Yamaha receiver from a few years ago with a very primitive AirPlay option—the screen display is hilariously bad. But the audio part works perfectly. A later model of the same receiver series omitted AirPlay.
However, you should be able to buy used AirPort Express models for a long, long time, as well as third-generation Apple TVs or even older models. eBay and other sites are rife with outdated, working devices that will serve this need.
Apple seems to have zero interest in eliminating AirPlay as a technology, because it's vital to their iOS/Apple TV connection. It can't sever it, or a number of apps, especially video-streaming ones, become useless. Apple might update and replace AirPlay with something else, but I would expect that to be years in the future.
Another long-term solution is using Rogue Amoeba's Airfoil, which has components that work with AirPlay, and others designed around its own streaming protocols. With Airfoil for Mac and Windows, you can stream any app to any (or multiple) AirPlay-compatible devices, and make a Mac and PC an AirPlay target.
The Mac and Windows app can also stream through its own protocol to versions that run in iOS, Android, and Linux. I've recommended as a cheap AirPlay bridge for people using an old iPhone or iPod touch that's no longer worth using in its own right, and setting it up as a network-to-audio-output bridge with Airfoil for iOS.
Ask Mac 911
We've compiled a list of the most commonly asked questions we get, and the answers to them: read our super FAQ to see if you're covered. If not, we're always looking for new problems to solve! Email yours to mac911@macworld.com including screen captures as appropriate. Mac 911 cannot reply to email with troubleshooting advice nor can we publish answers to every question.