Jeff Spivack writes in a story of terror:
My MacBook Pro (running El Capitan) woke us up at 6:30 this morning. It was playing YouTube videos all by itself. I don't think anyone had been using the computer in the past 24-36 hours, but I do leave it on and awake all of the time. When we had gone to bed, there were no YouTube videos playing.
Jeff says the video was playing in a Safari window, and he checked by holding down the Back button to see how many videos it had gone through—he found at least 20 URLs in the list! He selected the oldest item, and got an error at YouTube that the video didn't exist, and that page didn't appear in the history.
"Is my Mac possessed?" asks Jeff.
I have a few suspicions about what happened, and it's not your fault. YouTube added a "feature" around early 2015 that automatically starts playing the next video when the currently playing one completes. It's enabled by default and, I've discovered, it sometimes gets reset. I checked in Safari, and the switch is turned on, even though I know I turned it off in the past.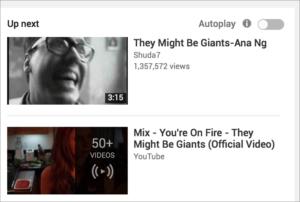 It's possible some background or forgotten window with an embedded YouTube video was paused and decided to wake up, reload, or start playing, which led right into an autoplay sequence.
Another thought has to do with the unpleasant fact that when you load what appears these days to be a static web page, the embedded ad scripts are constantly monitoring your activity and engaging in behavior. Some sites and networks will reload a page to fake new ad impressions after a few minutes. Others will auto-load or force windows to open after being idle. It's possible one of these triggered a YouTube window that, in turn, triggered a sequence of following videos.
Try closing all Safari windows and seeing if the ghost returns.
Ask Mac 911
We've compiled a list of the most commonly asked questions we get, and the answers to them: read our super FAQ to see if you're covered. If not, we're always looking for new problems to solve! Email yours to mac911@macworld.com including screen captures as appropriate. Mac 911 cannot reply to email with troubleshooting advice nor can we publish answers to every question.