In a time of political turmoil and polarization, you may want to keep friends, family, and colleagues with whom you have fundamental disagreements from seeing some of your routine social media postings, wherever they occur.
Some argue that compartmentalizing what you see and what you let others see increases polarization and an echochamber effect. They worry or insist that it will further distance people's points of view and make it less likely for some kind of grand reconciliation.
Others try to use the language of healing and security against people, accusing them of maintaining "safe spaces," being too easily "triggered," and acting like a "snowflake"—easily melted when exposed to challenging ideas.
My position is that given a space you're allowed to control, whether it's a Tumblr, a website, a Facebook or Twitter account, Instagram comments, or the like, you can make of it what you will. I rarely hear someone's home described as an acceptable safe space, even though I can legally control who comes onto or into my property. Online spaces should have the same integrity and choice.
If you find it useful to have everyone unfiltered and exposed, that's great. If you want to exclude ideas you find abhorrent and not let people you know and don't trust to hear your honest appraisals, that's also great.
For the latter position, you can take various measures at Facebook to control access. Twitter has a much different approach, but there are ways to deal with control there, too.
Facebook lists and posting exclusions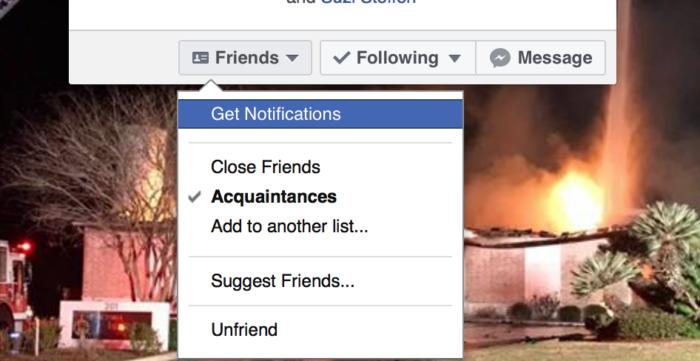 Facebook uses Friend Lists to help you organized people in segments of your life. Some of the categories are automated and some are prefab selections, but you can also make custom lists.
Many people have recently suggested a way to separate out people you trust and those with whom you want to keep as a Facebook friend for family, business, or other reasons, but don't want to see every post. Two of Facebook's populated categories are Close Friends and Acquaintances. Many people use Close Friends routinely, but Acquaintances is useful as an exclusionary choice.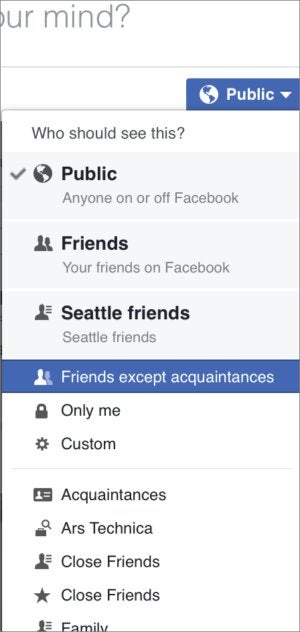 In a desktop browser, you can hover over someone's name in almost any view and then click on the Friends drop-down menu from which you can click on Acquaintance. Using Facebook's mobile website, you have to visit someone's profile, tap Friends, and then tap Edit Friend List and tap Acquaintances. (I don't have the Facebook iOS app installed for the twin reasons of privacy concerns and battery wasting.)
Now when you create a new post, click or tap the audience button, and then tap Friends Except Acquaintances. (If that option doesn't appear, click Show More.) One friend suggested using that for all personal and political posts, while occasionally posting items that are more anodyne to all friends. This makes your Facebook feed appear active to those you're more casual with.
I also took another, parallel approach. I created a Friend List that I specifically added all the people I trusted sharing certain kinds of personal news and political opinions with. This is similar to Friends Except Acquaintances, but because you have to add names to the list, you won't accidentally friend new people and have them see your posts marked Friends Except Acquaintances.
To create a Friend List in a desktop browser, find Friend Lists beneath Explore in the left navigation bar on the Facebook Home page. If it's not there, click See More at the bottom of the list. (While this is allegedly available in the mobile website, I can't find the link.)
Then at the top of the page, you can click Create List, give it a name and description, and click Create. On the resulting page, you can click Add Friends to List, and then scroll through all your friends to choose whom to add.
You can pick a Friend List from the audience drop-down menu after you create it.
Filting who sees you on Twitter

Twitter is a de facto broadcast medium, and the social part comes from the skein of who you follow and who follows you. You probably know about mute and block, which are active options you engage. Mute lets you suppress seeing tweets and reactions from someone, while block prevents them from seeing your tweets while logged into the blocked account and from interacting with your messages in a way that you can see them.
You can also opt to lock your account on Twitter. That preserves current followers and allows them to see your tweets, search for them, and react to them (but not retweet them), while requiring new followers to request permission, which you don't have to grant.
I've advocated the use of collaborative blocking tools and list that work within Twitter's rules, because you opt into the tools and have full control over how they work. I use Block Together, where I subscribe to a couple of lists that together sweep in a lot of people who routinely dogpile (join hundreds or thousands of people in tweeting nasty crud or outright abuse and hate speech at you) and harass people.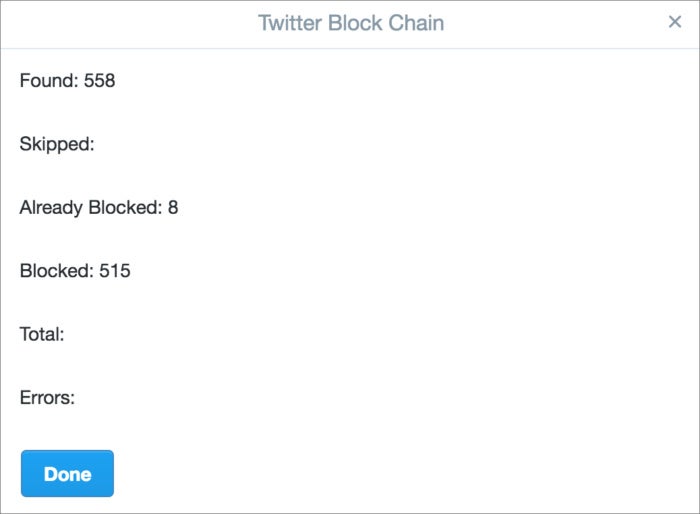 Someone recently recommended also using Twitter Block Chain, a free Chrome browser plugin. While I typically use Safari and Tweetbot for Twitter interaction, I've installed Twitter Block Chain and launch Chrome specifically to make use of its main feature.
The plug-in is designed to deter and deflect dogpiling by letting you navigate to a Twitter account's followers page, and with a single click initiating blocking all those followers except anyone you already follow, who remain unblocked.
Some people may find this too much "throwing out the baby with the bathwater." However, I've found that virulent accounts that seek me out to be unpleasant typically have a remarkably high hit rate among their followers of people I've already blocked. I've seen 10 to 30 percent of the followers of jerks, trolls, and worse have already been swept into my block bin. It's a strategic weapon, but it's so far helped reduce unwanted noise while keeping people who simply critique me able to do so.
As long as your account is unlocked, anyone logged into a nonblocked account or browsing Twitter without an account can still read any of your tweets, of course, and many trolls and harassers use screen captures (which technically violate Twitter's terms of service) to post your messages within their feed. But making it harder reduces the surface of attack, and is less compelling for a harasser's followers to, in turn, harass others.
Twitter hasn't yet cracked that larger nut of controlling access or tagging tweets for specific audiences only, but large-scale blocking tools have a real place in the unfortunate environment of 2017.