At a Glance
Expert's Rating
Pros
Available in seven different colors
Significantly louder alert melody than competitors
Works within 200-foot range
Apple Watch support
Cons
Non-replaceable battery; complete unit must be swapped out when battery dies
No adhesive material included
In and out of range notifications currently in beta
Our Verdict
Best Prices Today: Plus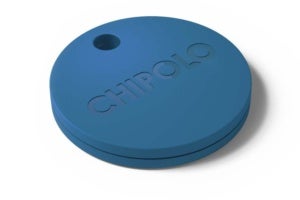 My wife tends to misplace things. Whether it's her keys, iPad, or iPhone, almost daily she's searching for something inside our home. With the iPhone, I solved this problem by gifting her an Apple Watch, but the other items remain a challenge.
I thought I had solved the problem of mislaid keys with Elgato's Smart Key, one of the early "find my whatever" gadgets. It worked well until the battery died, which seemed to happen frequently and without warning. Last year I reviewed TrackR Bravo, a similar device that also seemed to run out of juice prematurely.
Follow the melody
Like the devices mentioned above, Chipolo Plus is a small, lightweight disc equipped with Bluetooth 4.0 Low Energy that connects to an iPhone or Android smartphone. Open the app, press a button, then follow the sound to find whatever it's attached to.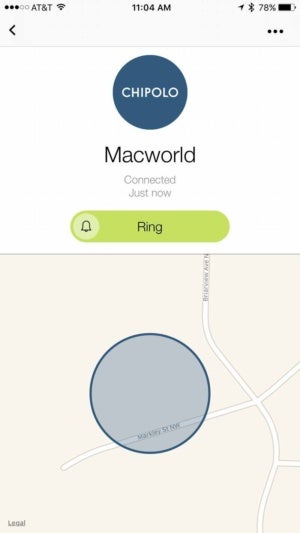 Only 1.5 inches wide and 0.25 inches thick, Chipolo Plus comes out of the box with a metal loop, ready to be attached to a key ring or backpack. The plastic casing is waterproof, with a battery that's supposed to last 12 months. Unlike competitors, this battery is not replaceable—when the year is up, users receive an email and notification prompting them to replace the entire gadget with a new one at a discounted price of $12. (The company handles the return, as well as shipping its replacement.)
That sounds less convenient than popping in a new battery, but Chipolo Plus has other advantages over rival products. First, the Plus is available in seven different colors to complement almost anything: Charcoal Black, Pearl White, Rose Quartz, Lemon Yellow, Mint Green, Ocean Blue, and Coral Red. Second, it's significantly louder, with a cute little melody that plays at 100 decibels.
My main criticism of TrackR Bravo was that its shrill alert wasn't nearly loud enough at 86 dB, and while an extra 14 dB doesn't sound like a huge improvement, in my tests Chipolo Plus was easier to hear. Up to nine Chipolos can be registered to a single account, although Bluetooth 4.0 currently limits active connections to just seven.
Cast a wider net
Chipolo Plus also benefits from an extended range of 200 feet, double the current Bluetooth LE limitation of 100 feet. Like the TrackR, Chipolo owners are also part of a crowdsourced network, so if another user comes within 200 feet of a lost device, you'll be notified with a pin on the map to help retrieve it quickly.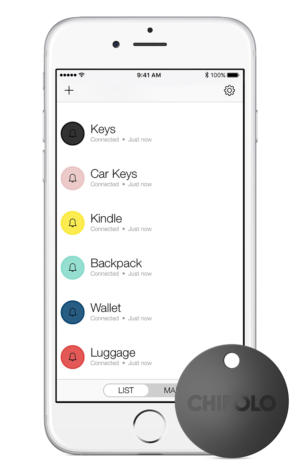 In general, Chipolo offers a whimsical approach to tracking devices. In addition to the rainbow of colors (three of which are exclusive to the company's online store), when you accept prompts for occasional firmware updates, the app challenges users to a casual game of Tic-Tac-Toe while you wait, a nice touch that makes the process feel like less of a time waster.
The app includes in and out of range notifications, a beta feature like the separation alerts found on TrackR devices. Although Chipolo can be stuck to most anything, the device doesn't ship with adhesive in the box, such as the 3M VHB included with TrackR.
Naturally, Chipolo also comes to the rescue when you can't find the connected smartphone. Double press on the disc and a pleasant ditty begins to play from your phone, even when it's muted or in Do Not Disturb mode. Chipolo works on Apple Watch, which can be used in place of the mobile app to initiate a lost item search.
Bottom line
Although the core functionality resembles competing trackers, the wider range and louder alert sound on Chipolo Plus make up for the inconvenience of a non-replaceable battery.