It's fair to say that, from a financial-results perspective, 2016 was rough for Apple. Sure, the company still made billions in profit on massive revenues, but Wall Street wants to see growth and the massive iPhone sales of 2015—when the company introduced the larger-sized iPhone 6 and iPhone 6 Plus—were just too big for 2016 to match.
But it's a new fiscal year, and Apple's latest financial results, announced Tuesday, suggest that the story of Apple in 2017 will be different. The company took a page out of its 2015 playbook, setting an all-time record for revenue, and provided guidance that it will likely show year-over-year revenue growth again next quarter. The company broke a bunch of other records, too–for Apple Watch, Services, and the Mac.
To be fair, Apple really does holiday quarters right. (Even the year-ago holiday quarter was a record.) It's the company's biggest quarter of the year by far, but that means there's that much more at stake. Bottom line: Apple's 2016 holidays were good. Here's a deeper dive into some of the other interesting things we learned as a part of Apple's regular disclosure of numbers and give-and-take with financial analysts about Q1 2017.
The iPhone might be unstoppable after all
Most of the sturm und drang about Apple's 2016 involved a fall-off in iPhone sales from the prior year. But the iPhone is still huge. In the holiday quarter of 2016, Apple sold more iPhones than ever before, and iPhone revenue comprised a whopping 69 percent of Apple's total revenue. (No other budget line could even manage 10 percent of the total.)
According to Apple CEO Tim Cook, iPhone 7 sales were greater than Apple's own internal expectations, and the company wasn't able to make the iPhone 7 Plus fast enough to meet demand until January, after the quarter had ended. According to Apple, the plus model saw "exceptionally strong demand," higher than in previous years as a part of the overall product mix, and set a record for the most Plus models sold in a quarter.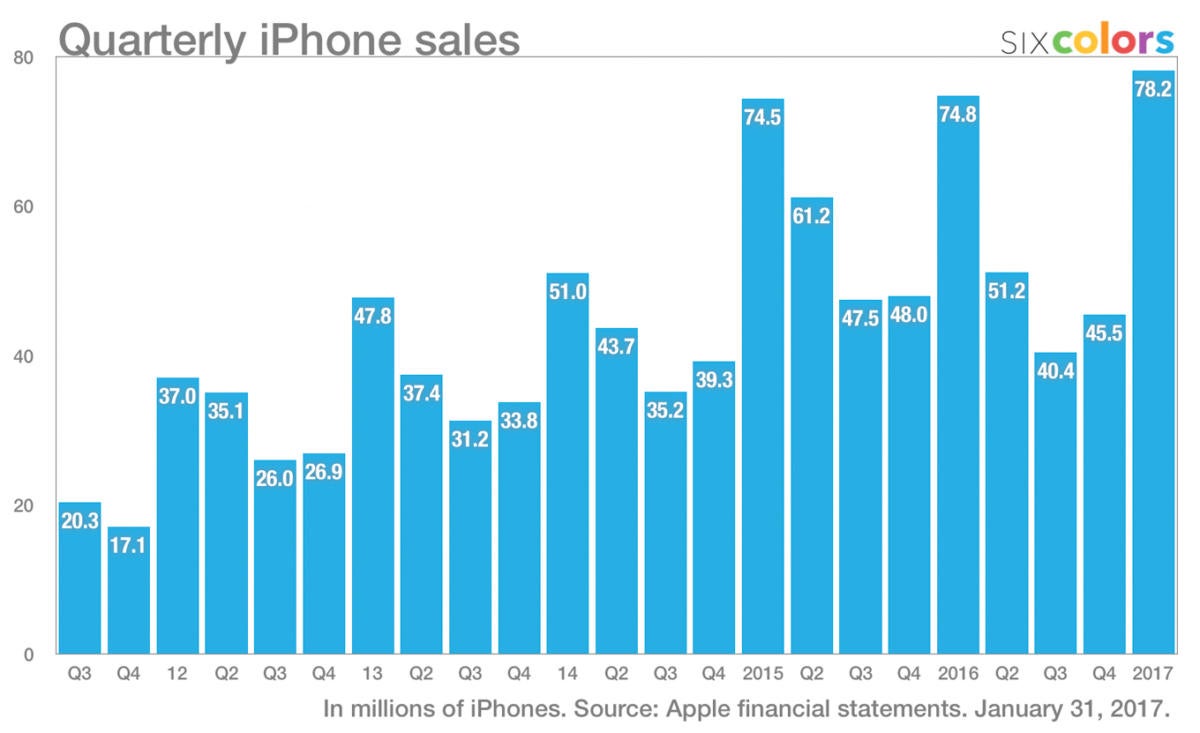 Perhaps buyers were motivated by the phone's two-camera system to step up from the smaller model. Regardless, it's a phone that costs more–and the average selling price of the iPhone went up last quarter.
With great success comes great fear about what comes next for the iPhone, of course. Apple suggests that year-over-year performance for the iPhone will be similar next quarter as it was for this one, which would suggest that iPhone sales will slightly improve year-over-year, but it won't be dramatic.
Services is a monster in waiting
Apple has been promoting its Services budget line, which includes the App Store, iTunes, Apple Music, Apple Pay, and iCloud, for a few years now, and given its impressive and consistent growth, that makes a lot of sense. The Services line set a revenue record during the holiday quarter, led by the biggest quarter for the App Store ever.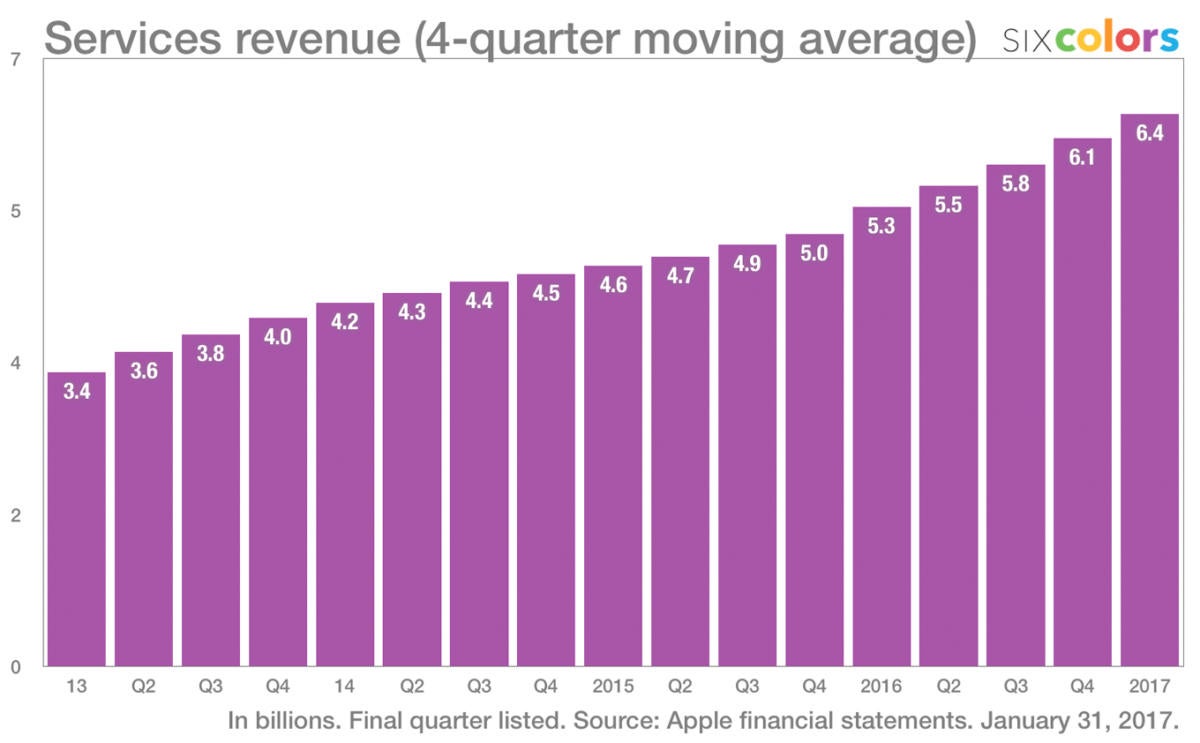 To put the $7.2 billion in Services revenue in perspective, that's barely less than Apple made on the Mac last quarter, and more than the iPad. Apple expects the size of its Services business to be the equivalent of a Fortune 100 company sometime this year. Apple's systems are driving 150 million paid customer subscriptions, which includes both Apple subscription offerings and third-party subscriptions via the App Store.
That's big, but look at the ambition here: As Apple grows the installed base of Apple products, it expects services revenue to keep growing. In the next four years, according to Tim Cook, Apple expects the Services line to double. That's huge.
Apple feels comfortable with its wearables
Apple doesn't disclose actual sales numbers for Apple Watch, so we're left to dine on the scraps of information that come out during these quarterly financial disclosures. This was a good quarter for the watch, though: Cook said Apple Watch units and revenue were all-time highs. What's more, Apple found the holiday demand for the Apple Watch so strong that the company "couldn't make enough."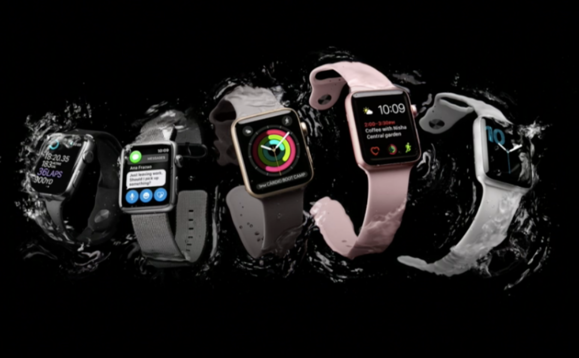 This is a hard time for the wearables market, with Fitbit laying off people and most smartwatches being considered busts. The Apple Watch may not be an enormous product for Apple, but it's clearly successful, and last fall's release of new software and new models helped goose sales to new highs.
But the Apple Watch isn't the only wearable on Apple's list: There are also AirPods, of course. Cook didn't say much about the AirPods, and I doubt very many of them even managed to ship during the quarter. I did find it interesting, however, that Cook discussed AirPods immediately after the Apple Watch, and then noted that Apple sees "huge growth potential for wearables." If you aren't considering AirPods as much a part of Apple's wearable-device strategy as the Apple Watch, you might want to think twice.
The MacBook Pro made a whole lot of money
Last fall's release of new MacBook Pros had about the effect you might expect: Mac revenues hit an all-time high. Because the MacBook Pro models are expensive, the net result was a major spike in the average selling price of the Mac. It led to this oddity: while Mac revenues were a record, Mac unit sales weren't.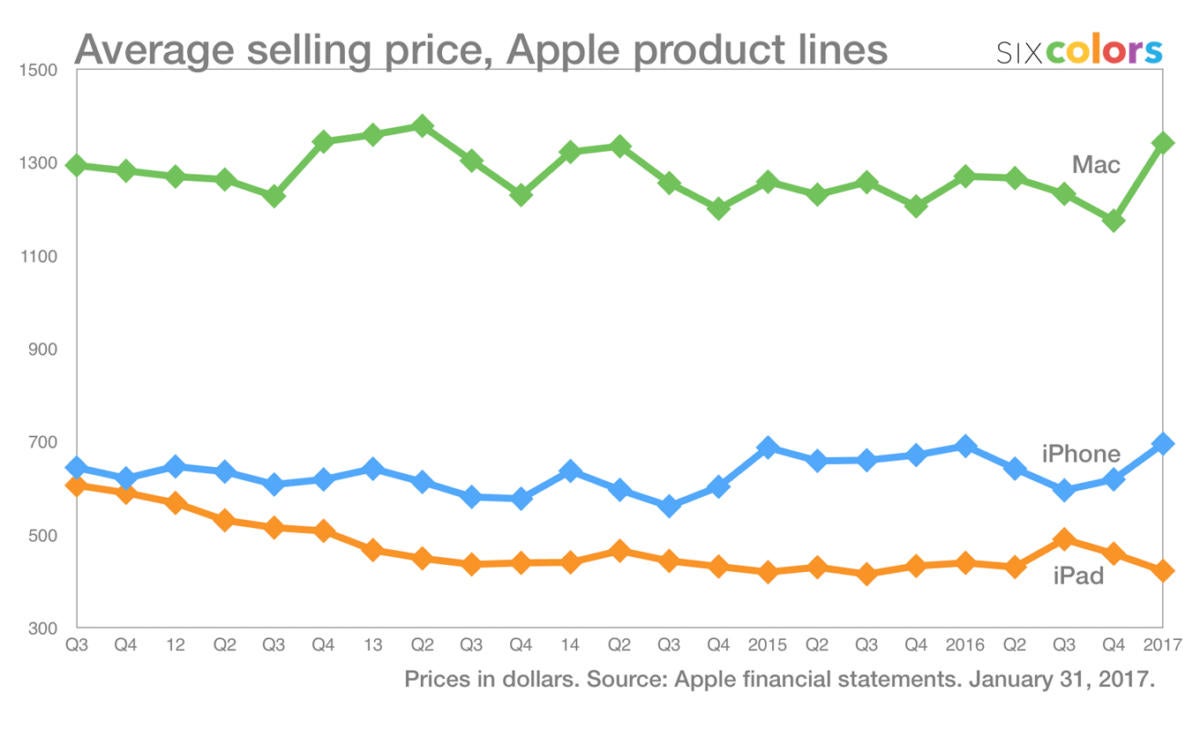 As I tweeted some of these results on Tuesday, I was surprised to find more than one angry person replying to the reports on Mac sales. By now it's no secret that a lot of people were unhappy with the details of the MacBook Pro launch, but I hadn't realized that some of those unhappy people were really excited about the prospect of watching the roll-out fail, as Apple reported bad Mac sales numbers that indicated that the market had turned its back on Apple's new laptops.
Nope. Didn't happen. Biggest Mac revenue quarter ever. Rightly or wrongly, I don't think Apple is going to look at this quarter's results and rethink its MacBook Pro strategy.
The iPad… exists
Another quarter, another disappointing result for the iPad, which was down a bunch year-over-year, with average selling price taking a big hit. Nope, the iPad still hasn't hit rock bottom. Given that only one new iPad model shipped all of last year–the 9.7-inch iPad Pro–maybe it's not too surprising that it wasn't a hot holiday item. I wonder if that's a flaw in Apple's strategy of selling older models as lower-priced options; people might be exited by a "new" iPad, even if it's made out of cheaper or older tech, but if all you give them is a discount on last year's model, will people be motivated to buy?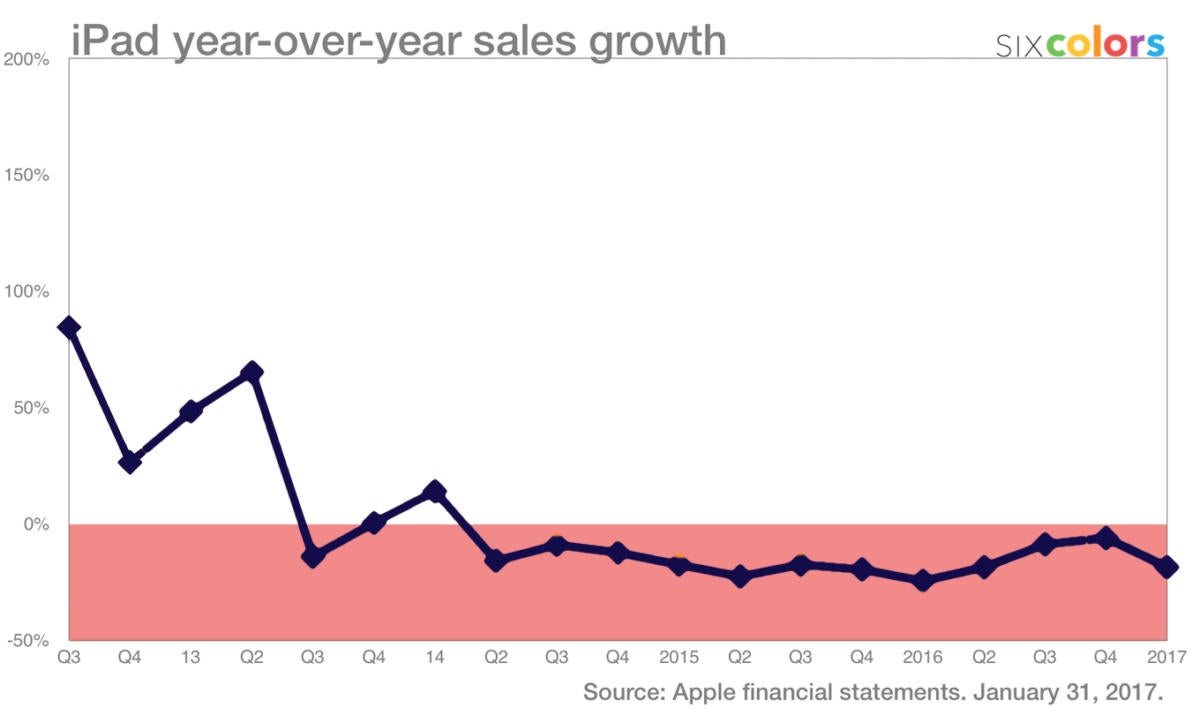 I don't know. Books could be written on the peculiar journey of the iPad. It's still dominant in the category of tablets priced over $200, which are the only tablets Apple is remotely interested in selling. But as a whole, the tablet market is just not there yet. Maybe we'll get some indication of where it is, someday. But all we know now is that things are still on the decline.
Editor's note: Charts are courtesy of Six Colors, and you can see a lot more of them here.