Compared to many people I know, I don't have a very large photo library. With about 1,300 photos, it takes up just under 6GB on my iMac. Many of my friends have thousands of photos and videos, and their libraries take up tens of gigabytes. But I don't have any young children, and I don't shoot a lot of photos when I'm out and about. (I do have two cats, one a kitten, who's been getting snapped lately though.)
I recently noticed that my iPod touch, which I use for listening to music and for testing iOS betas, was running out of space. The culprit was my iCloud Photo Library. Even though I had the device set to optimize iPhone storage and not download all my photos, it was doing the latter. It had apparently downloaded all my original photos and videos, all 6GB of them. On a 32GB device, which also contains apps and music, that's quite a lot of storage used up.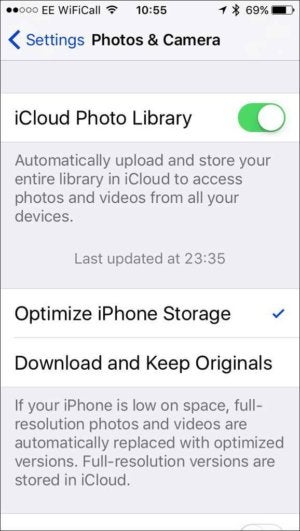 I decided I should turn off iCloud Photo Library on that device and delete all the photos. But you can't do that; at least not easily. If you turn off iCloud Photo Library, the device retains all the photos and videos. And while I could manually delete each one of them, that was a time-consuming process.
There's no way to mass delete photos on an iOS device. And if you use iCloud Photo Library, and you're running out of storage and need to cull the originals you've shot on a device, there's nothing you can do. iOS is supposed to "optimize" these photos, but this wasn't happening on my iPod touch.
It turns out that there is a way to accomplish this, but only if you have a Mac. (There may be third-party software that can also delete photos, both for Mac and Windows, but I haven't explored this.) You can delete photos, individually or en masse, using Image Capture, which is in your Applications folder.
Connect your device to your Mac, then launch Image Capture. Select the device in the sidebar, then select the photos you want to delete. If you want to delete all the originals on the device, press Command-A to select them all.
Right-click the selected photos, and you'll see two options: Import and Delete. If you don't have the photos on your Mac, you should import them first (though if you have iCloud Photo Library active on both the iOS device and your Mac, those photos will be in your library). If you want to delete the photos, go ahead and choose that option.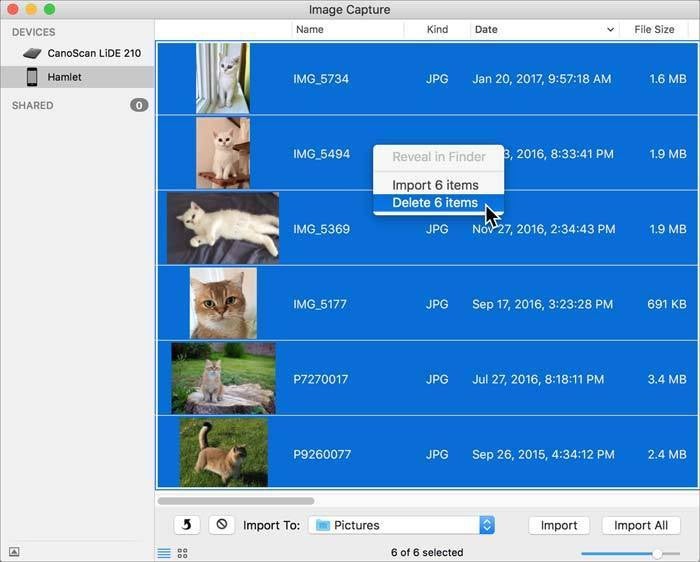 Note that when you delete photos with Image Capture, they don't get put into the Photos' app's Recently Deleted album, so you can't recover them. Make sure you've got copies of these photos before deleting them.
It's not that hard to use Image Capture to delete photos from an iOS device, but those iOS users who don't own a computer won't be able to use this tool. I understand that Apple doesn't want people to accidentally delete their photo libraries, but it shouldn't be too hard to provide an easier way to make space on an iOS device by deleting Photos. A simple Delete All Originals option in the Photos setting would help users easily reclaim space.