Smart Folders are a terrifically powerful and underused tool in the Finder. Select File > New Smart Folder, and you can create a set of criteria that produce the results right in the window for actions that include selection and deletion.
However, when you save a Smart Folder if you opt to leave it out of the Finder sidebar, it's dropped by default into a Saved Searches folder. That folder isn't linked by default anywhere. If you remember the name, a Spotlight search can find it again.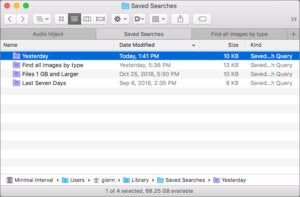 But you can also reach it by path:
In the Finder, choose Go > Go To Folder.
Enter ~/Library/Saved Searches
And there you are! You can double-click any item in that special directory. To modify the smart folder, click the actions (gear) menu and then Show Search Criteria. Save the changes by clicking the Save button.
Ask Mac 911
We've compiled a list of the most commonly asked questions we get, and the answers to them: read our super FAQ to see if you're covered. If not, we're always looking for new problems to solve! Email yours to mac911@macworld.com including screen captures as appropriate. Mac 911 cannot reply to email with troubleshooting advice nor can we publish answers to every question.