Paul Sedovic finally has enough storage on his laptop's hard drive by way of a new computer to keep all his images on the internal drive. However, when he went to import many thousands of images into Photos, some thousands failed with an error dialog labeled Unreadable Files. Next to each image appeared the label "Unable to get metadata."
Paul writes:
When I selected a few of these photos individually, I was able to successfully transfer them, but I know no practical way to move a few thousand photos one by one.
Paul isn't alone with this problem. People have reported a similar issue dating back to 2015, sometimes with an import from a local drive and sometimes when transferring images from a memory card.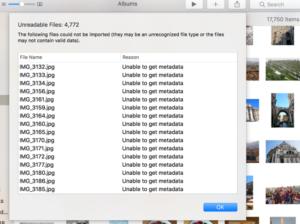 One possible explanation is that Photos is stressing the operating system's ability to decode information as fast as it wants it, and this could be a bug in how macOS handles images in general or just in the import module in Photos. When importing from a camera card, using Image Capture apparently makes the problem disappear.
You can't use Image Capture with a disk drive, however. Another solution others have found is to import in batches as small as 200 at a time. While this is tedious, it apparently works. Photos warns you if you try to import the same images twice, but given that Paul has already imported some, it could be truly tedious for figure out the overlap.
It may be simpler to delete all imported images and perform the entire import in small batches, starting with, say, 1,000 at a time, and then reducing into smaller sets by 100 at a time if that fails.
I'd suggest using Tags in the Finder to mark images in sets after you've imported them.
Select a set of images to import.
Mark them with a tag that you select to correspond to "trying to import." (Control-click the selection and choose Tag > color from the pop-up menu or choose File > Tag > color.)
Import the images into Photos.
If successful, mark the selection with another color that corresponds to "successfully imported."
Ask Mac 911
We've compiled a list of the most commonly asked questions we get, and the answers to them: read our super FAQ to see if you're covered. If not, we're always looking for new problems to solve! Email yours to mac911@macworld.com including screen captures as appropriate. Mac 911 cannot reply to email with troubleshooting advice nor can we publish answers to every question.