In my opinion, the best personal technology to travel with has a lot in common with a mullet—business in front, party out back. Take my iPad Pro, for example. Its portability and long battery life allow me to crank out articles, plan upcoming projects, talk to my editors, and invoice for my work while I'm on the road. But I can also use it to goof off when I've got free time…and sometimes even when I don't.
After spending a month using it for work and play, I feel that Sony's MP-CL1A Mobile Projector is just as deep into mullet country as my tablet is. It's a short-throw pico projector that's equally adept at pitching presentations in a boardroom as it as at throwing episodes of Better Call Saul up on your cottage wall to watch with friends.
Portable design
Remember the old days when gadgets were only available in a single color? No? Neither does Sony—you can pick up a MP-CL1A in either black or gold. Sized at around 3 by 6 by 0.5 inches, and weighing a scant 7.4 ounces, the MP-CL1A is small enough for any vacation or business trip.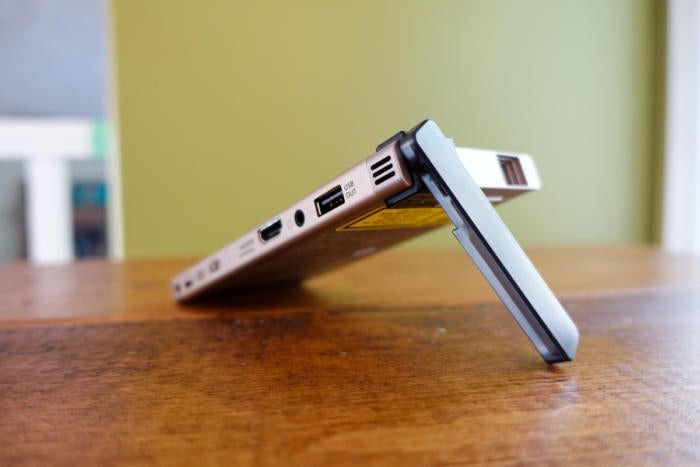 The accessories that the Mobile Projector needs are just as light as the device itself: a micro USB cord to recharge the 3,400 mAh battery, and an HDMI cable to connect it to your Apple TV, gaming console, MacBook, or iOS device. Before you ask, yes, you'll likely need a dongle to attach the projector to your iPad or iPhone or your laptop.
The MP-CL1A comes with a lens cover that doubles as an adjustable stand, allowing you to adjust the pitch of the projector's lens. In addition to HDMI, the MP-CL1A also supports Miracast and video streamed to it over Wi-Fi. The MP-CL1A's USB port allows you to use the projector's internal battery to charge your phone or tablet. But its stunted power reserve (more on that in a bit) makes doing so a less than desirable option.
The MP-CL1A comes with a weak-sauce single-watt speaker, which kind of sucks if you want to watch a movie. Fortunately, the Mobile Projector can connect to external speakers or headphones via Bluetooth or through its 3.5mm audio port. No matter how you kick out audio with the Mobile Projector, volume is controlled by a three-way rocker switch on the side. Pushing in on the volume rocker provides access to the MP-CL1A's options menu. To know which of the projector's functions you're meddling with, just turn it at a convenient surface: the MP-CL1A will project the menu for you to see.
Powerful performance
So, that's the nerd stuff. Let's talk about this thing's raison d'être: projecting stuff. The MP-CL1A uses a laser diode (so, don't go blasting yourself in the face with it) to create video and images with a resolution of 1920x720p. Under ideal viewing conditions, the Mobile Projector's color reproduction is a little more saturated than I'd like, but is still pleasant to watch—provided it's dark enough. The video it throws gets washed out to the point of being unwatchable in bright light. However, the MP-CL1A put on a pleasurable show in the dim light of a hotel room during the day with the curtains drawn, and in my living room before bed. And, on a particularly dark night in countryside near Victoria, British Columbia, I was able to watch Star Wars: The Force Awakens on the side of a friend's house with it.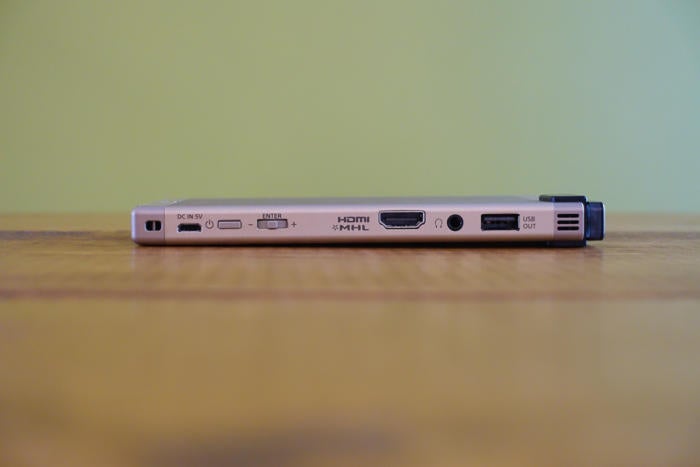 At a distance of about four feet, the MP-CL1A can churn out a 40-inch image. Pull it away from the surface you're using as your screen and you can achieve images of up to 120 inches in size—perfect for use with an inflatable backyard display. Within the range of these two distances and under optimum lighting conditions, you'll have nothing to complain about, as far as clarity of the image the projector can throw goes.
You don't even need a flat surface to display the MP-CL1A's picture on, either. I found that the projector's laser diode does a good job of keeping things in focus on uneven surfaces like vinyl siding and living room drapes. Even the door of your car will do as a display in a pinch. What's more, if you need to set up the MP-CL1A on an uneven surface or can't shoot the projector directly at your viewing surface, the device's interface makes it easy to adjust the away any keystone effect distortion you might experience.
Drawbacks
As great as this thing is for watching movies, its internal battery can only power it for about two hours. So you can forget about having a Lord of the Rings marathon, or even getting all the way through the first film, for that matter, unless you can keep it plugged into the wall while you watch.
The $400 price is also a huge investment to make for any one piece of hardware. But I figure that I'd spend that much or more on a decent 40-inch TV, and unlike a TV, the MP-CL1A can be slipped into my pocket and used almost anywhere.
Warts and all, this is a great piece of hardware. I'll definitely be keeping it in mind as I look to trick out my RV with a new entertainment center this fall.
Next time: We'll take a look at Omnicharge's versatile portable batteries.