Some of the questions I answer for this column are fairly simple, and only require a paragraph or two of explanation. But others are more complex. In this week's column, I examine just two questions. In the first, a user asks how he can easily sync only his most recent audiobooks. I explain how one can use a smart playlist and selective syncing to make this possible. The second question wonders why some Apple Music tracks are not only "no longer available," but also deleted from an iTunes library. I explain that Apple's not up to no good, but it's still not an ideal situation.
How can I sync my most recent audiobooks?
Q: My audiobook library is pretty large, and it is difficult to find my most recently downloaded or purchased titles. iTunes sorts audiobooks by name so I have to scroll like crazy, and visually search for a title. Is there an option to sort by most recently purchased or downloaded? It would keep me from having to scroll all over the place to find the titles to transfer to my iPhone, and delete old titles that I've finished.
From this question, I'm assuming that the reader wants to be able to see this sort order in the iTunes sync pane, when his iPhone is connected. Unfortunately, that's not an option, but I can offer a suggestion for a better way to view and sync audiobooks.
Start by creating a smart playlist, with the following conditions:
Match audiobooks for the following rules
Plays is 0
Limit to 25 items selected by most recently added
Match only checked items

Here's what this smart playlist does.
The first "match" rule tells iTunes to only find audiobooks.
The Plays is 0 rule tells iTunes to only include audiobooks that haven't been listened to in their entirety; in other words, all unlistened audiobooks will be added to the playlist.
You can limit the playlist to any number of items; that number depends on how many new audiobooks you have. You may only want, say, 5 or 10.
In the "limit" rule, sorting by most recently added means that iTunes will not only find audiobooks that you haven't listened to, but only those you've added recently, and will sort in that order, so the most recent will be at the top of the playlist.
"Match only checked items" means that you can uncheck any audiobook so it doesn't appear in the playlist.
"Live updating" means that the playlist updates as you add new items to your library, or as you listen to audiobooks to the end, at which time their play counts update.
You can then choose to sync this playlist instead of manually selecting books. Connect the iPhone to your computer, select it in iTunes, then click Audiobooks in the sidebar. Under Include Audiobooks from Playlists, check this smart playlist. At the same time, uncheck Sync Audiobooks at the top of the window so only those books in the playlist sync.
Before you sync, scan the playlist, uncheck books you don't want to sync, and it'll be a lot easier in a large library to always have your most recent, unlistened books on your iPhone.
You can also use a similar technique if you want to sync, say, your most recently downloaded movies and TV shows, the ones you haven't watched yet.
Why have my Apple Music tracks been deleted?
Q: I noticed recently that an album I had added from Apple Music was now dimmed in my iTunes library and would no longer play. I always download tracks as opposed to streaming them directly so I was curious as to why I couldn't play them. When I looked more closely, I saw that the iCloud Status for these tracks was No Longer Available.
I was sure I had downloaded these tracks, and when I looked in my Time Machine backup, I found that this was, indeed, the case. This means that iTunes deleted the local files. I can understand tracks being unavailable to stream if they are removed from Apple Music, but I was under the (misguided) impression that as long as you had a valid Apple Music subscription, you'd be able to play any tracks previously downloaded.
Record labels have the right to choose whether or not the music they put on the iTunes Store is "cleared" for streaming. This choice is available for each album, and also for each track. It's possible to not allow an album to be streamed, or to only allow one or two tracks of an album to be streamed. Labels can also change this at any time.
What's confusing is the fact that, as you say, tracks you have downloaded, and listened to, are suddenly unavailable.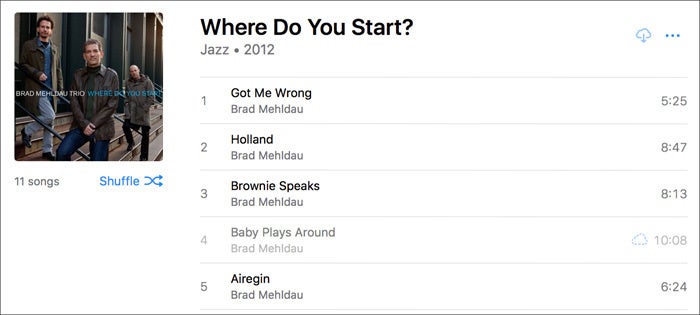 But this does bring up a broader point about renting music versus owning it. When you rent music, it can disappear at any time, and Apple removes those tracks from your computer (but not from your library). This doesn't happen often, but it happens; in my Apple Music library of 30,000 tracks, 355 of them are "No Longer Available." And if it's music you really like, you'll be annoyed.
You can find the tracks in your library that are no longer available with a smart playlist. Use the following conditions:
Match music for the following rules
iCloud Status is No Longer Available.

It's worth checking from time to time to see how much of the music you added to your library has disappeared. Apple is not being nefarious; they're just doing what the labels tell them to do.
Have questions of your own for the iTunes Guy? Send them along for his consideration.