At a Glance
Expert's Rating
Pros
Solid HIIT workouts with voice coach
Accurate heart rate-monitoring
Cons
Needs more personalization and broader range of workouts
Requires regular washing and charging
Our Verdict
This heart rate-tracking sweat band puts you through high-intensity workouts, but could use more personalization and exercise options.
Best Prices Today: Moov HR Sweat
Fitness trackers come in all shapes and sizes at a variety of price points, and they all have the same basic features: step-counting, sleep-monitoring, and exercise-tracking, with some unique traits just to keep things interesting. But few of these wearable devices are designed to really get your heart pumping, even the ones with heart-rate monitors built in.
Moov's new HR Sweat is a headband that promises to not only track your pulse accurately in real time, but also kickstart your fitness routine with workouts designed specifically around your heart rate. It's an intriguing premise that positions Moov to compete with chest strap makers like Polar. But does it get the job done? I put it to the test.
How it works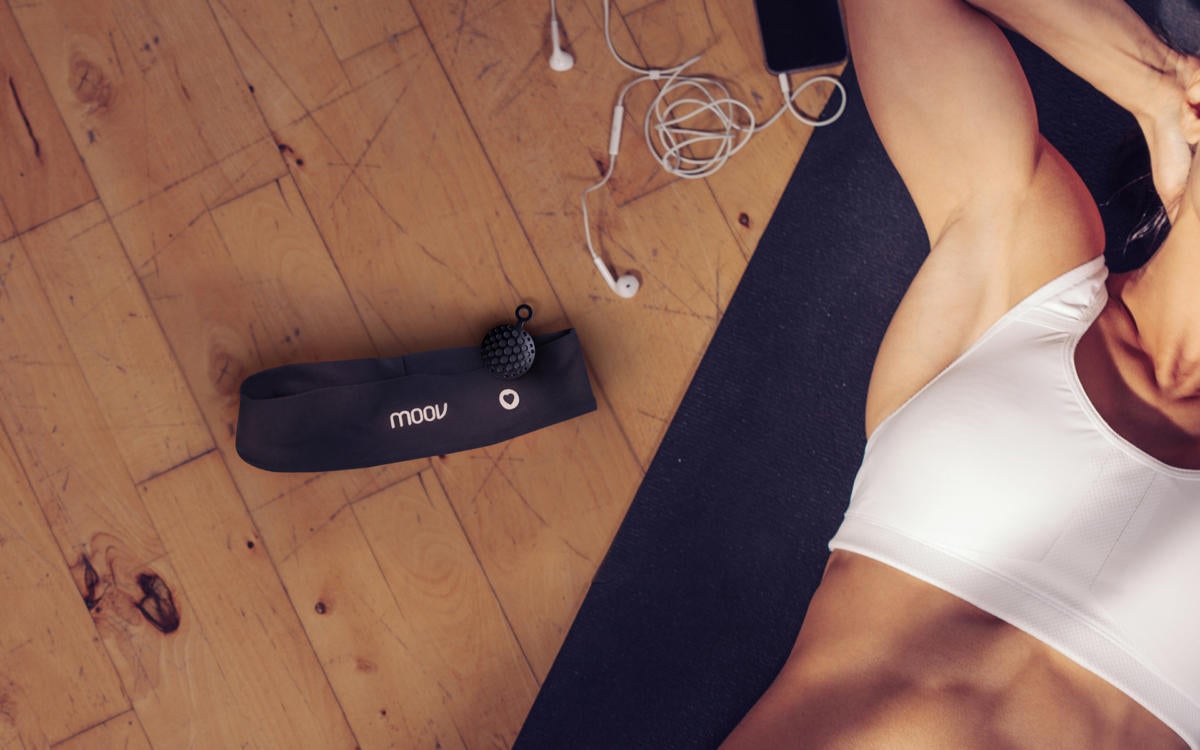 The quarter-sized Moov HR sensor slips into a silicone pouch attached to the HR Sweat headband. Once you slip the headband into place, you have to make sure the sensor is placed directly on your skin against your temple.
Actually pairing the Moov HR Sweat to your phone is a little unintuitive. You have to select a workout in the Moov app before you can connect the sensor to your phone, which threw me off. In the Activities tab, there's a new "Heart Rate Based" workout section, and you have to pick from four high-intensity interval training (HIIT) workouts or a running workout to connect the HR Sweat. You can only use one of Moov's heart rate monitors, either the sweat band or a chest strap called Burn, with these workouts.
After you pick a workout and connect the HR Sweat, the app will tell you if the sensor is placed in the optimal spot to detect a strong heart rate. You do have to tap it a few times to get the app to recognize the device, which looks weird in the middle of a crowded gym, just FYI.
After you've set up the Moov HR, everything else is going to happen in-app.
What it does
The premise behind the HR Sweat is that HIIT workouts improve your cardio fitness and help you burn more fat in less time. It's hard to know if you're actually in the fat-burning zone while working out without a heart-rate monitor. There are tons of other devices on the market that can continuously track your heart rate—like a chest strap or a wrist-worn fitness tracker with an optical heart rate sensor—but Moov thinks the head is a more convenient place than the chest and gets more accurate results than the wrist to measure heart rate.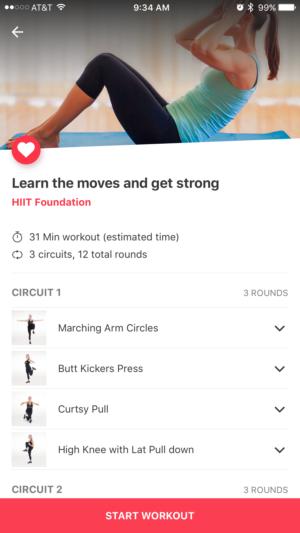 And the results were definitely accurate, though it took a few minutes into each workout for the device to get an accurate reading. Exhibit A: My wildly high 191bpm reading during a leisurely 3.7mph warmup walk.
What it doesn't do
The Moov HR Sweat tracks both indoor and outdoor runs, though for treadmill workouts you'll have to enter your mileage manually. I wasn't able to test the Moov HR outside due to freezing cold temps and a blizzard in New York, but Moov's spokesman told me the device does track mileage for outdoor running and will offer pace and distance both during and after your run.
There are currently just five HR Sweat-compatible workouts in the Moov app, though Moov plans to add more. The device also doesn't use motion to give you a well-rounded overview of your workout, though you can use the Moov Now device in conjunction with the HR Sweat to get a full picture—although who wants to wear two devices to track the same workout?
The pros
Where the Moov HR Sweat shines is the app's built-in vocal coach, which guides you through each interval with words of encouragement to boost your heart rate. HIIT workouts can be brutal, whether you're sprinting or doing rounds of half-burpees, so a little coaching goes a long way.
The five HR Sweat-compatible workouts currently available in the Moov app are solid. The intermediate and advanced running intervals definitely pushed me harder than I might have pushed myself, and I could feel the burn in the HIIT Foundation, a beginner-level circuit-training session, and the HIIT Cardio Blast, an intermediate workout. I also appreciated that there's a treadmill mode that you can toggle on for treadmill-specific coaching on indoor runs.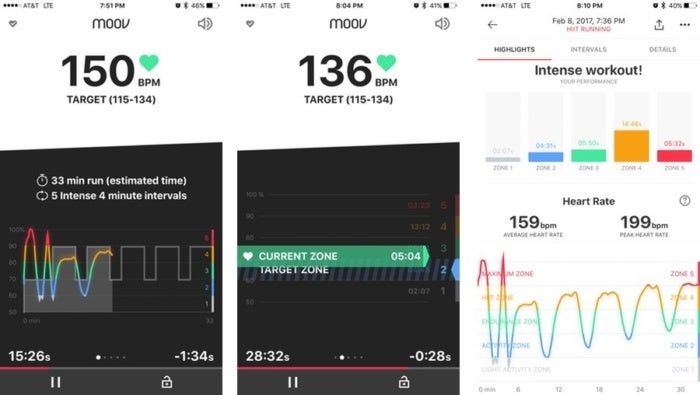 The circuit workouts, which are 30 minutes apiece and guide you through three circuits of four exercises, are video-based to visually guide you through each rep while the voice coach tells you to move faster. I preferred the running workouts because I could watch the rise and fall of my heart rate graphed in the app, which is both motivating and oddly hypnotic.
The cons
Putting a sensor in a sweat band is cool, but it feels gimmicky. I never wear a sweat band to work out, and putting on the HR Sweat feels out of character for me, like I'm suiting up for a jazzercise class circa 1986—especially because it doesn't just hold your hair back, it has to be placed directly on the forehead to track your heart rate.
The round heart rate sensor isn't actually embedded in the sweat band, instead fitting into a pocket that the band presses into your head. This isn't at all uncomfortable, but it does result in a round red temple indentation that, in my case, lasts for at least 30 minutes following a workout.
Slipping on a sweat band is easier than a chest strap, but like a chest strap, the Moov HR Sweat sits right on top of your sweaty skin. That means it needs to be washed frequently, unlike a wrist-worn fitness tracker.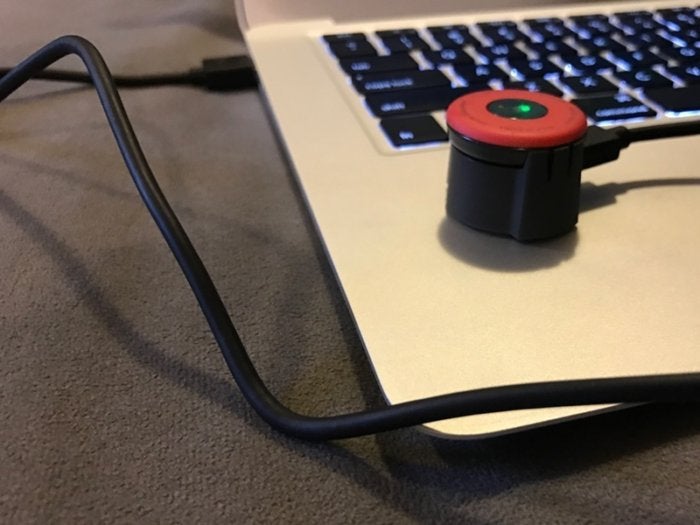 And the HR Sweat is yet another device in your life that needs to be charged frequently. It lasts up to six hours on a charge, which means you can get a week's worth of workouts before needing to plug it in, so it's not terribly inconvenient—just something to keep in mind.
Bottom line
My editor Jon Phillips loved the Moov Now, a sensor you can strap to your wrist or ankle to get motion-based personal training. The fitness coaching in the Moov HR is equally good. I wish Moov would combine the two devices for a single motion-tracking, heart rate-tracking, fitness-coaching device you can wear on your head, chest, or wrist.
Such a niche device was a little more compelling when the price tag was initially pegged at $60. The final price at launch this month is actually $100, which puts Moov HR in line with wrist-worn fitness bands you can wear all day, every day. If you want a device specifically to work out in and you have an extra 100 bucks, the HR Sweat is worth buying for the AI assistant's encouragement. But the Moov app needs a wider workout selection—cycling and swimming options, to start—and more customization, like a training schedule to follow so I know what workout to do on which day.
But those features could come with software updates, and the device can be used as a general heart rate-monitoring device with other apps via Bluetooth, though you won't get the vocal coaching without the Moov app. Moov HR Sweat isn't a must-have, but it has potential. The device is available to order now and starts shipping at the end of February.
Update, Feb. 13: This review has been updated to clarify the difference between Moov HR Sweat's indoor and outdoor run-tracking features.
Best Prices Today: Moov HR Sweat