At a Glance
Expert's Rating
Pros
Browse, play, or download nearly any video, no media server required
Automatically fetches metadata from TheMovieDB and The TVDB
iCloud sync, cloud streaming, and more (Pro only)
Cons
Pro features require annual in-app subscription
No way to manually edit metadata, thumbnails for home videos
Slow device-side metadata fetching
Our Verdict
Best Prices Today: Infuse 5.2
Before Steve Jobs first took the stage with iPad in hand, the best way to watch video on the go was from a portable media player like the Archos 605. Despite a clumsy user interface and bulky metal casing, this French-made device with a 4.3-inch LCD screen and 160GB storage would play just about anything you could throw at it.
One of its more intriguing capabilities was the ability to play VIDEO_TS files copied straight off DVD, which came in handy for watching TV shows without having to endure the un-skippable FBI warning and previews on each disc. Using the late, great Fairmount software, I copied multiple seasons directly to the 605 and played them immediately, no conversion necessary.
Video virtuoso
A decade later, iOS devices can finally perform a similar feat thanks to Infuse 5.2, the latest version of Firecore's jack-of-all-trades media player app. It's not just those unwieldy VIDEO_TS folders that work, but also full ISO, IMG, and .dvdmedia disc images as well.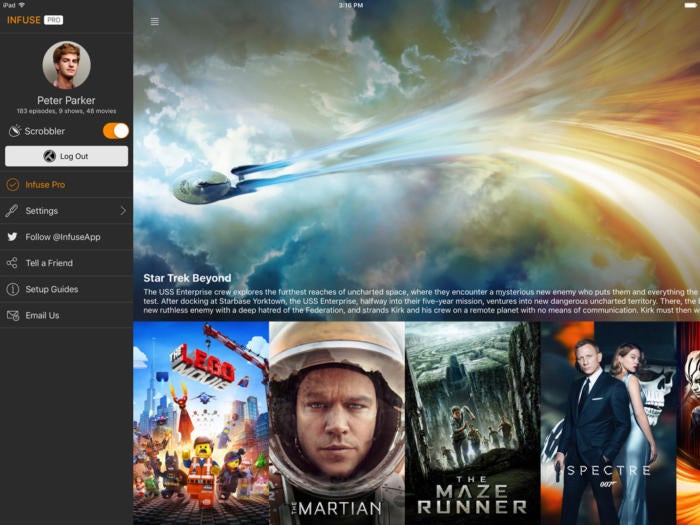 As you might imagine, playing such unsupported media isn't like using a real DVD player. For starters, there's no menus; Infuse loads the first title on the disc, then plays the rest in sequential order, one after another. It's not the slickest user experience, but if you've got folders of old disc backups lying around, you can now watch them without resorting to ripping a disc and lengthy encoding sessions.
Thankfully, playing archaic DVD media on your iPhone, iPad, or Apple TV is only one item in the Infuse trick bag. In addition to Apple-sanctioned MP4, M4V, and MOV formats, Infuse can play MKV, AVI, WMV, and a host of others, all with smooth hardware-based decoding in up to 4K resolution. It's also officially certified for Dolby Digital Plus and DTS/DTS-HD audio playback, a claim few other media player apps can make.
There are nearly as many ways to browse, play, or download these files: Users can import videos via AirDrop, web browser, iTunes File Sharing, other apps, FTP, network shares, or supported cloud services (currently Dropbox, OneDrive, and Google Drive). If that's not enough, you can even stream right from UPnP or DLNA-enabled sources like Plexi, Kodi, and PS3 Media Server.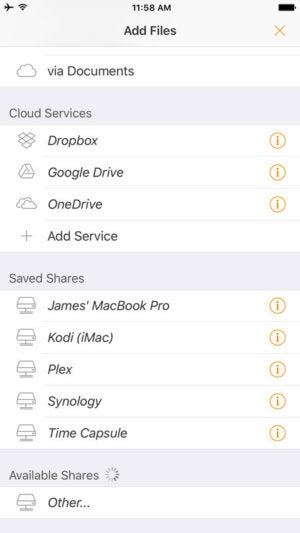 Go Pro
The release of Infuse 5 is something of a good news/bad news scenario. The good news is the app is now free, but most of the newest features are available only with a Pro subscription priced at $7 per year after the first 30 days. To be fair, that's per user, not device, and Firecore still offers a standalone Pro app for $13.
I don't have a problem with the subscription approach; for less than two cents per day, Infuse Pro offers additional video formats, HD-quality audio, AirPlay and Google Cast support, iCloud sync between devices, and cloud streaming, with more features like parental controls on the way.
Although Plex remains my media player of choice, I use Infuse 5 often to download or stream videos saved outside my media server. The minimalist user interface is intuitive and well-designed, and Infuse automatically adds cover art and metadata for movies and TV shows so they look great while browsing. You can even add subtitles in a few taps from OpenSubtitles.org.
Infuse isn't great at handling metadata for home videos, which occasionally produces unintentionally hilarious matches from TheMovieDB with no way to manually edit them or add custom thumbnails. Unlike Plex, metadata initially takes some time to fetch, since everything is done on the device side.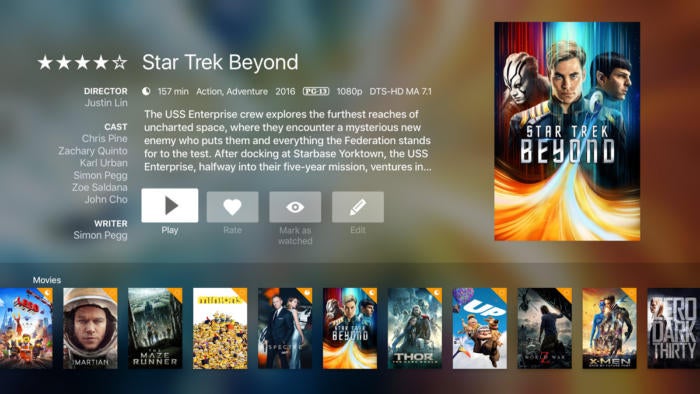 Bottom line
Aside from a few metadata limitations, Infuse 5 is the jack of all trades when it comes to playing videos on your iOS devices or Apple TV.
Best Prices Today: Infuse 5.2