Facebook wants be in your TV screen in 2017.
On Tuesday, the network launched new ways to watch videos on your iOS and Android device. You can now watch vertical videos in full-screen, autoplay videos with sound, and watch picture-in-picture while scrolling down your News Feed. In addition, Facebook confirmed the forthcoming launch of TV apps for Apple TV, Amazon Fire TV, and Samsung Smart TV.
Previously, all videos on Facebook's News Feed autoplayed on silent, and you had to tap on the picture to hear sound. Now, Facebook is giving you the option to autoplay videos with sound that fades in and out as you scroll through the video on your feed.
"As people watch more video on phones, they've come to expect sound when the volume on their device is turned on," Facebook wrote on its company blog.
If your phone is on silent, the videos will autoplay silently, however, and you can disable sound completely by unchecking the "Videos in News Feed Start with Sound" option in your Settings.
When watching vertical videos on your News Feed, you can now tap on it to watch full-screen. Facebook started testing this feature last year, and the company's begun rolling it out more broadly after receiving positive response.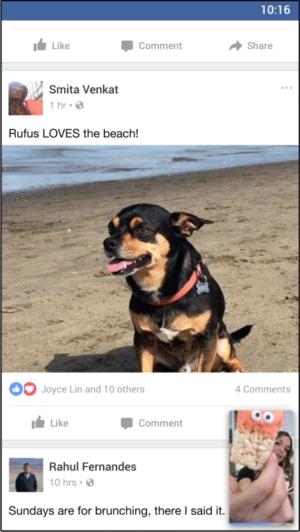 Facebook has also taken a page from YouTube and Vimeo by incorporating a "picture-in-picture" video-watching experience. If you're playing a video and continue to scroll down your News Feed, the video screen will minimize and be fixed permanently on the lower-right corner of the display. This way you can continue watching while browsing other posts on your News Feed.
You can even drag the minimized player to any corner, and Android users will get to finish the video even if they exit out of the Facebook app and go open another app.
Lastly, Facebook confirmed that it has developed a video app for Apple TV, Amazon Fire TV, and Samsung Smart TV, with more platforms to come, according to the blog post. This Facebook video app for TVs will let you watch videos shared by your friends, as well as watch live videos, saved videos, and videos you've uploaded on the big screen. A release date has not been announced.
"A lot of people when they're watching video on News Feed during the day will save it for later because they don't have time to watch that 3-minute video," Dan Rose, Facebook's VP of Partnerships, said during the Code Media conference. "Now it's easy to go on your TV if you want to do that at night."
Why this matters: Facebook's new video features on mobile and the launch of TV apps are all part of Mark Zuckerberg's plan to make Facebook a "video-first" company. Recently, Facebook has been pushing its live video feature, as well as incorporating video-sharing into both the Facebook mobile apps and Instagram.