Shay Levy has a 115GB Photos library, and has spent years marking faces and entering keywords. Shay is worried that this information will be lost when moving to a new Mac, even though they have iCloud Photo Library enabled.
Since iCloud doesn't sync face and keyword information, the option to just enable iCloud sync in the new computer is not an option for me.

So how should I solve this? I'm also hoping that I will not have to turn off the option to optimize mac storage on the old computer before moving the library since I currently don't have enough space for that. But maybe that's the only option.
Apple says keywords are synced, which I can confirm, as I have two Macs hooked up to iCloud Photo Library. (As noted many times, iOS Photos lacks the ability to view or set keywords, titles, and descriptions, which remains a baffling omission many years into iOS.)
For the moving part, two strategies should work, but without a new machine to test them on and a large chunk of time, I can only suggest them, and you'll need to check the outcome and have a pathway back to revert to where you were.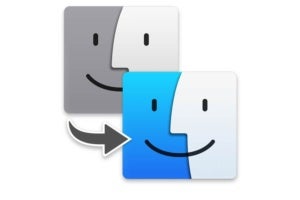 Best option: Use Migration Assistant (located in Applications > Utilities) when setting up your new computer, and this will transfer all settings, documents, and libraries, and should pick up the Photos Library status without additional work on your part. If all goes well, you won't lose any associations.
Runner-up option: Copy the Photos Library to the new Mac, and set it as the System Photo Library. Because the library contains all the associated settings, you shouldn't lose any of the face tagging you've done, but this is a matter of speculation.
Where a problem might emerge is in how finicky iCloud Photo Library is. In some testing I've done in the past, the entire sync state between my Mac and iCloud gets reset, resulting in what appears to be a full resynchronization of media that is unchanged in both locations. I have a gigabit internet connection with no cap or overage fees, which makes this problem trivial; if you have a regular broadband connection and a multi-gigabyte library, it might take several days or even weeks to get back into a full sync state.
Ask Mac 911
We've compiled a list of the most commonly asked questions we get, and the answers to them: read our super FAQ to see if you're covered. If not, we're always looking for new problems to solve! Email yours to mac911@macworld.com including screen captures as appropriate. Mac 911 cannot reply to email with troubleshooting advice nor can we publish answers to every question.