At a Glance
Expert's Rating
Pros
Warm, natural lighting built into an iPhone case
Long-lasting rechargeable internal battery
Dimmer switch controls illumination intensity
Cons
Bulky
Very difficult to remove iPhone from case
Dimmer switch easy to press by accident
Our Verdict
Best Prices Today: LuMee Duo for iPhone 8, 7, 6s, 6
The iPhone camera has come a long way, but as good as Apple's quad-LED True Tone flash may be, it's still no match for external lighting.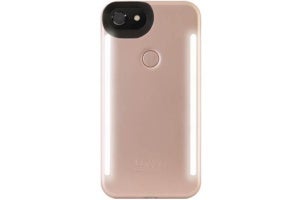 LuMee Duo ($69.95 MSRP; available on the Apple Store and on Amazon) is a case for iPhone 6, 6s, 7 or 6/6s/7 Plus that supplants Apple's built-in flash with pro-quality light of its own. Available in Black, Gold, or Rose, the Duo features a thin strip of LED lighting built into soft rubberized front edges and a rugged plastic shell, which sports a center dimmer switch on the back.
At 3600 Kelvin temperature, the lamps are significantly brighter and warmer than the iPhone's own. Pressing the switch once provides 2000 Lux on the front for higher quality selfies, while a second press lights up the back at 2600 Lux; only one side works at time. Initially it's an eyeball-searing blast of light, but you can dim to the desired illumination by holding the switch down.
Incredible bulk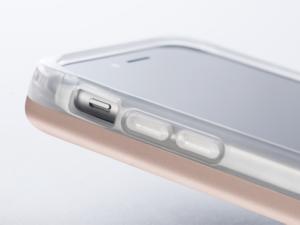 LuMee Duo draws power from a rechargeable Lithium ion battery of unspecified size built into the case, which adds considerable bulk to the smartphone. At more than a quarter-inch thick, the case alone weighs nearly three ounces, which was quite noticeable attached to the iPhone 7 Plus in my pants pocket.
Although I love the diffuse light emitted by Duo and my photos and videos benefit from using it, the case is such a tight fit that it's difficult to remove once attached, and not ideal for those who swap cases on a regular basis. LuMee doesn't provide estimates on how long Duo lasts on a single charge, but in my own unscientific tests, it was enough for 90 minutes of continuous use at full brightness before taking several hours to dim completely.
Bottom line
LuMee Duo makes any photo or video look better, but the tradeoff is a bulky case that's hard to remove.
Best Prices Today: LuMee Duo for iPhone 8, 7, 6s, 6