In a departure from the norm, Apple just announced the dates and location of its annual Worldwide Developers Conference. This year, the event will be at San Jose's McEnery Convention Center instead of San Francisco's Moscone Center, though Apple is keeping its usual June time slot.
Apple unveiled the dates and venue change in a Thursday press release. The company typically holds off on revealing WWDC details until much closer to the event, but Apple execs wanted to give developers plenty of time to make travel arrangements, according to The Loop.
The convention center in San Jose is comparable in size to Moscone and will still be able to fit about 5,000 developers and 1,000 engineers, who flock to WWDC every year to learn about Apple's latest updates to iOS, macOS, and now watchOS and tvOS, along with efforts like HealthKit, CareKit, SiriKit, and more.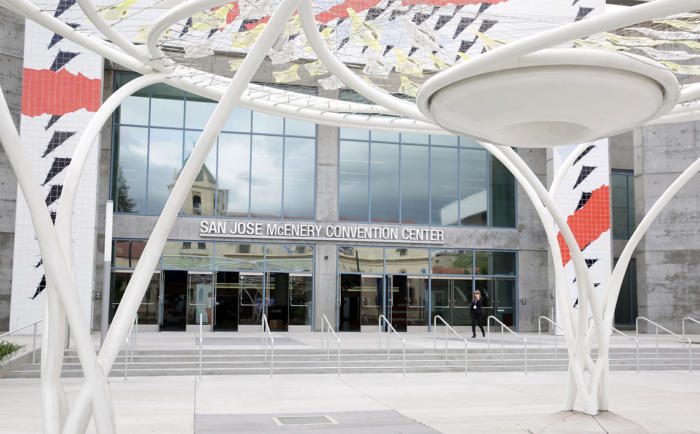 "Technology alone is not enough," Apple said in its announcement. "Technology must intersect with the liberal arts and the humanities, to create new ideas and experiences that push society forward. This summer we bring together thousands of brilliant minds representing many diverse perspectives, passions, and talents to help us change the world."
So why is Apple abandoning San Francisco? Well, it's exactly not that unusual a move: San Jose hosted the first WWDC in 1988, and the company held it there every year until 2002. The last time Apple held the conference in San Jose, the iPod was a brand new device and Steve Jobs held a funeral for Mac OS 9.
"It feels like WWDC is going home," Phil Schiller, Apple's senior vice president of marketing, told Daring Fireball's John Gruber.
But Apple isn't the only tech giant to move its annual event to the South Bay. Google's annual I/O event moved from San Francisco to Mountain View last year and will be held at the Shoreline Amphitheatre again this year. Facebook is moving its developers conference, F8, from San Francisco to San Jose this year. Google, Facebook, and Apple are not based in San Francisco, so holding events closer to their own headquarters makes it easier for their employees to attend. San Jose is minutes away from Cupertino, while San Francisco is an hour's drive.
Tickets will be available through the customary lottery system, which opens March 27 at 10 a.m. Pacific. Ticket prices will be the same as usual. If you can't make it to this year's event, Apple will live-stream conference sessions online and make them available to watch on-demand after WWDC ends.