What is now known as iOS first debuted as iPhone Software 1.0 almost 10 years ago. Given how huge the iPhone has become over the past decade, it's pretty fun to go back to the way Apple explained the software that drove the iPhone way back then.
"It runs Mac OS X," we wrote (and put on the cover!) at Macworld. Apple was showing that the iPhone was a real computer at its core, with the same underpinnings that ran the Mac. Of course, we know now that Apple's two primary operating systems are pretty different, though they share a common core.
In the intervening years, iOS–as it was renamed when it became clear that this platform was going to extend beyond the iPhone–has grown and expanded. If we define the iOS family broadly, Apple currently sells five different classes of device with iOS inside: iPhones (and the iPod touch), iPads, the fourth-generation Apple TV (tvOS is a variant of iOS), Apple Watch (watchOS, likewise), and MacBook Pro with Touch Bar (the software that runs the Touch Bar is derived from iOS and watchOS).
It got me thinking: What will Apple's next devices be that run iOS, or a derivation thereof?
Coming Soon
Rumors abound that a new 10.5-inch iPad Pro is on the horizon. I assume this is the iOS device that is closest to reality. Let's also grant the existence of an Apple Watch Series 3 this year or next. Those are the easy ones.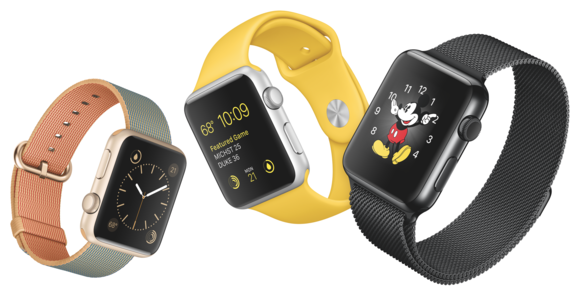 I've been advocating for a Siri Speaker for some time now, and there are rumors that Apple is working on an Amazon Echo-style device that would be controlled by voice using Siri, play music and podcasts, and perhaps even serve as a HomeKit hub. Such a device would almost certainly run a derivative of iOS, just as the Apple TV does.
I also want to believe that Apple will make a Magic Keyboard with Touch Bar. If you've got a Touch Bar, you've got a device with an Apple-designed ARM processor and a variant of watchOS, just like on the current MacBook Pro.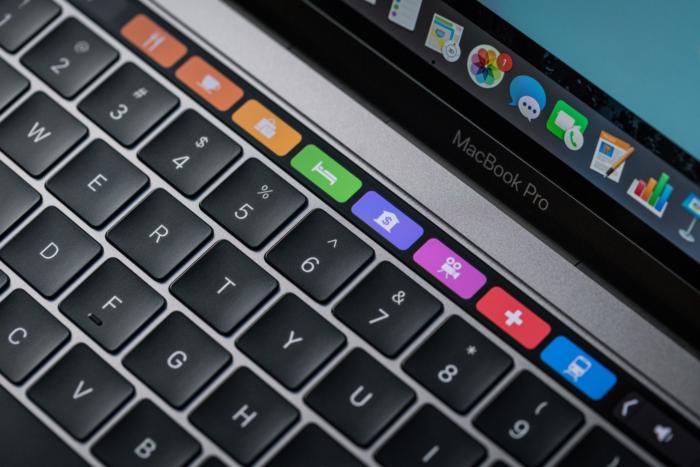 It's not coming in the next year, but eventually there will have to be a MacBook with Touch Bar, because Apple will want to extend the Touch Bar across the entire laptop line. Still, that's gonna take some time. Touch Bars (and their accoutrements) aren't cheap. Is it possible that the MacBook would gain a Touch ID sensor–but no Touch Bar? If Apple deems the Touch Bar a success, it's hard to imagine it not eventually going everywhere.
Coming Later
Now we enter the realms of wilder speculation. I've got to think that a set of next-generation AirPods will add to their existing intelligence by integrating touch controls, network connectivity, and Siri control–without the need of attaching to a separate device.
Tim Cook has spoken several times that augmented reality is an area of interest for Apple. It's possible that Apple AR glasses would need to be tethered to an iPhone or other device, but my gut feeling is that Apple would prefer such a device to stand alone as much as possible, just as the Apple Watch and AirPods aspire to do.
Where does standard iOS go from here? First, I wouldn't be shocked if there's a larger iPad for artists, perhaps a 15-inch iPad Pro, because there's always someone out there who wants more screen real estate. But at some point, the screen size increases so much that the device becomes impossible to hold without support.
That's when the iPad goes to the desktop with the iPad Studio line. (Thanks for the name, Microsoft!) This would be a series of iOS-driven devices optimized for stationary use, at large sizes. 24 inches may be the sweet spot, but there could be 17-inch or 27-inch models, too. This product would let people who can do real work on iOS do real work at the revolutionary location of a desk.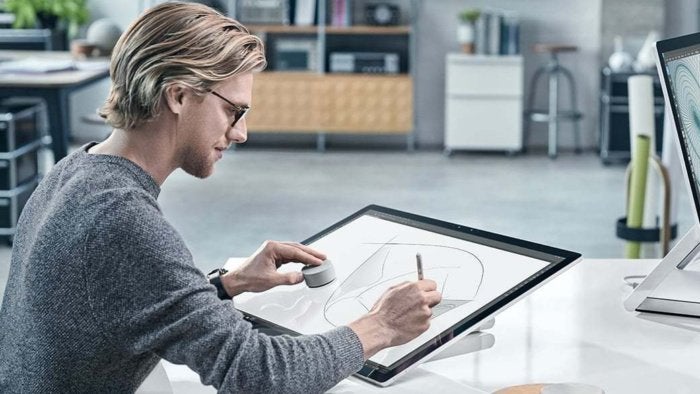 I'd imagine an iPad Studio would feature some interesting ergonomic features to allow people to position it in any number of orientations, from conventional to unconventional, just like Microsoft's Surface Studio. I admit, I'm trying to imagine an iPad that doesn't need a battery and doesn't need to keep all of its intelligence right behind the screen–Microsoft's Surface Studio keeps its brains in its base. It's a big leap, but I do think that it's inevitable. If iOS is going to be a platform for serious work, eventually iOS is going to need a device that fits comfortably on a desk and offers a large amount of screen space. If it's good enough for the iMac, it's good enough for iOS.
And then there's the Apple Car, or at least the infotainment system inside of it. How could an Apple Car not run a variant of iOS somewhere? It's almost as inconceivable as the idea that Apple would make a car at all.