There are a few pretty good MFi-approved game controllers for iOS, but most of them seem more ideally designed for iPad than iPhone. It makes sense to prop up your iPad and use a gamepad from a few feet away, but would you do the same with an iPhone and squint at the smaller screen? Some controllers offer iPhone-holding clips, which is a fair solution, although it can be awkward depending on the size of the phone and/or controller.
Thankfully, the Gamevice is a better solution for bringing physical controls to your iPhone. The newly-released second-gen version supports the iPhone 7 and 7 Plus (as well as 6/6s and 6/6s Plus), and as the name suggests, it clamps around the top and bottom of your phone to surround the screen with buttons and analog sticks. The end result can't help but look like a PlayStation Vita or PSP—or the new Nintendo Switch.
Mentioned in this article
Gamevice Controller for IPhone 6/7 and 6/7 Plus
Price When Reviewed:
$99.99
For the average iPhone owner, touch controls are fine for most games, and you don't need to bring a physical add-on and $100 into it. But for anyone who craves an analog stick and real buttons for navigating Minecraft worlds, blasting through The Binding of Isaac, or playing old-school classics like Sonic the Hedgehog, the Gamevice brings serious perks. Here's a look at the versions for both the iPhone and iPad.
What it does
If nothing else, the Gamevice is well named: it's built to grab onto both ends of your landscape-oriented iPhone and squeeze itself snugly around your handset. The peripheral is a single unit, with the two controller halves connected by a rubberized strap that spans the backside of the iPhone. One model is available for both standard and Plus-sized iPhones—you're out of luck, iPhone SE owners—and it can expand and contract to fit either.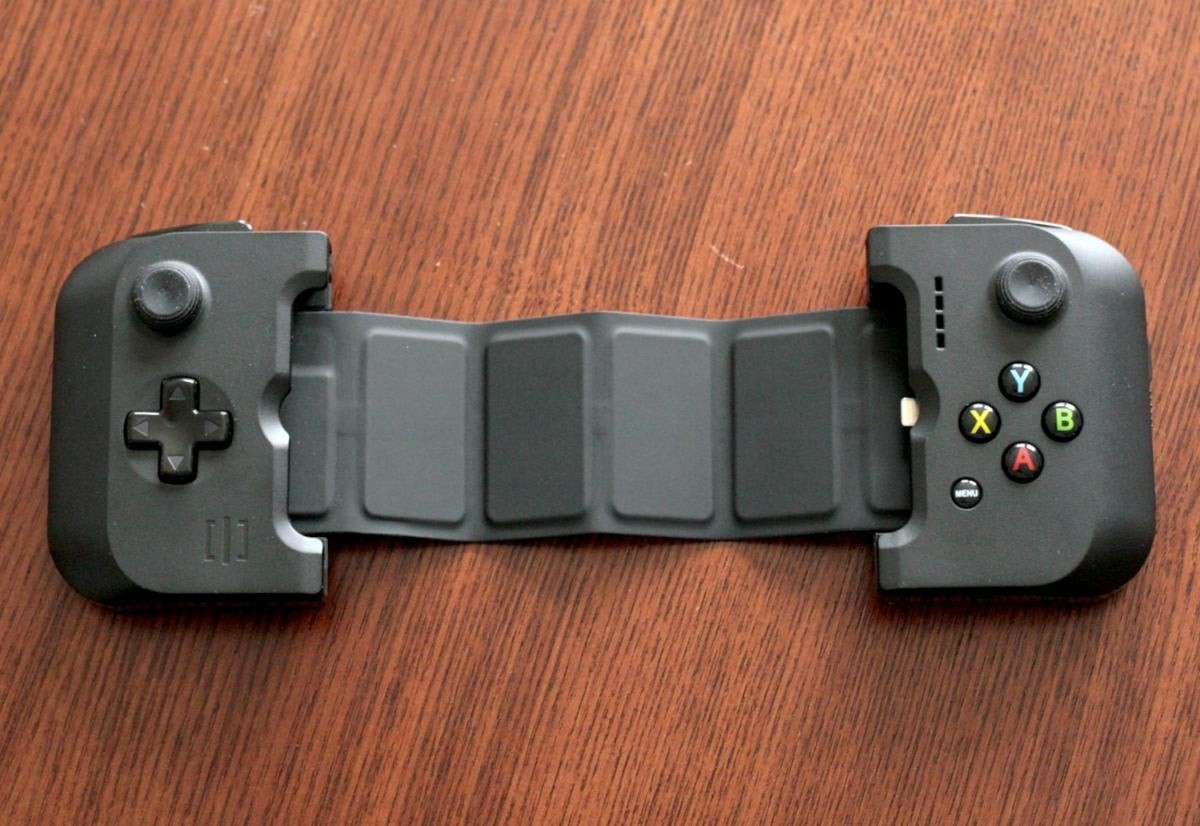 Just plug the bottom half of your phone into the Lightning port on the right end of the Gamevice and then tug lightly on the left end to pull it over the top of your phone. In a matter of seconds, you have a makeshift gaming handheld. And once plugged in, you don't have to go through any kind of pairing process: the Gamevice is recognized automatically by iOS, and will work with compatible games with little or no menu tinkering needed.
I never got my hands on the original model, but this second-generation revision brings in some obvious improvements. The biggest of them is the aforementioned Lightning port, which means the Gamevice is powered by your phone battery. That can be a drawback, since it'll suck away some precious extra battery life in the process, but eliminating a separate battery inside the controller saves hassle and also trims down the size of the unit.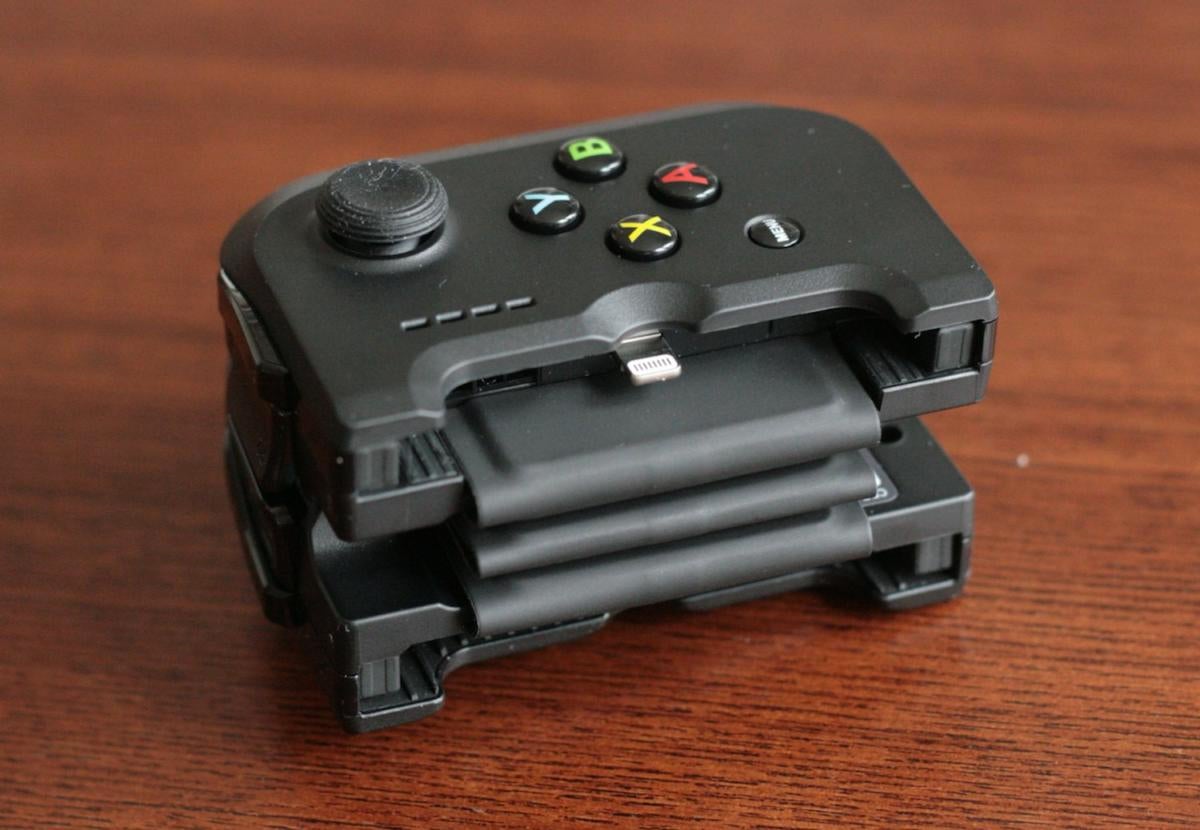 And since there's a Lightning port on the bottom of the Gamevice, you can also charge your iPhone during use by plugging in a cable. Furthermore, there's a nice perk for iPhone 7 owners: the Gamevice has its own standard, 3.5mm headphone jack, so you won't need to use an adapter, Lightning headphones, or Bluetooth earbuds to plug in while gaming.
The one big downside to such a form-fitting device is that it's useless with any iPad: there's no way to plug in a larger device, and since it connects via Lightning, you can't even pair via Bluetooth and use it with the tablet. Gamevice sells separate models for the 12.9-inch iPad Pro; the 9.7-inch iPad Pro, iPad Air, and new iPad models; and the iPad mini, but each one is priced at $100 apiece and only work with the designated tablets. (More on the Gamevice for iPad below) In other words, if you have multiple iOS devices in your home, you may need a separate Gamevice for each.
How it works
The Gamevice is a pretty clever solution for adding physical controls to iPhone games, and while it fits fairly tightly around your phone, the nature of its design means the marriage isn't wholly harmonious. It feels a little creaky as a single unit, and there's still some flex to the controller halves even when docked around your phone. I'm not concerned about it damaging my phone or falling off during use, but I also wish it felt more firmly affixed when I'm gripping it. Just go gentle on it.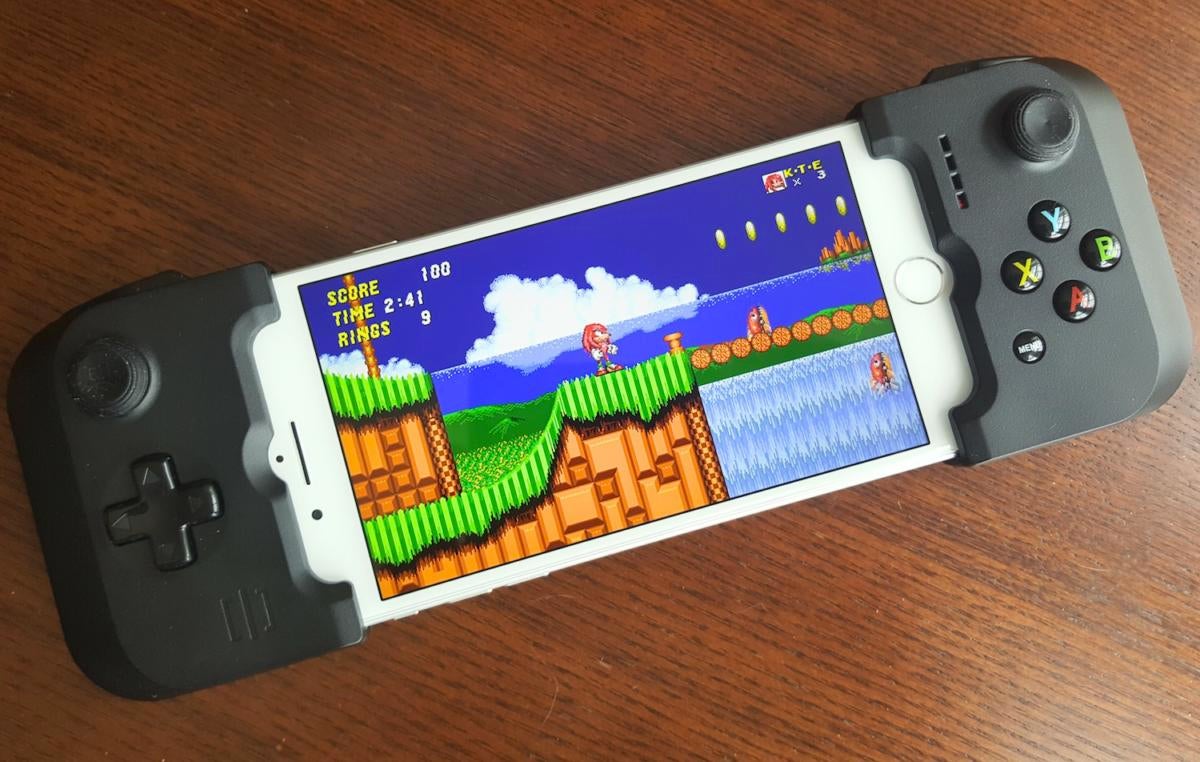 Luckily, the actual device is well stocked with inputs: you'll get four face buttons, four shoulder buttons, two analog sticks, and a directional pad (d-pad), as well as the menu/start button. That's surely enough controls for any iPhone game you can throw at it.
The improved analog sticks here are very responsive, as exemplified by 3D games like Minecraft: Pocket Edition or any of the classic Grand Theft Auto ports. Gaining fluid movement in those games is such a huge and immediately beneficial upgrade, and using both sticks at the same time makes shooters like Geometry Wars 3: Dimensions and The Binding of Isaac much, much more satisfying than using their touch equivalents. Being able to play my beloved Pacifism mode in Dimensions on my phone—with real analog sticks—has been a revelation.
I'm not as crazy about the buttons and d-pad, however. All must be pressed firmly to register an action in any game, which means that a light or speedy tap might not be recognized. That's a fairly common trait for MFi controllers that I've experienced with other gamepads. As someone who regularly wields the ultra-refined, super-precise controllers of the PlayStation 4 and Xbox One, it's sort of baffling to use something that's less responsive in 2017.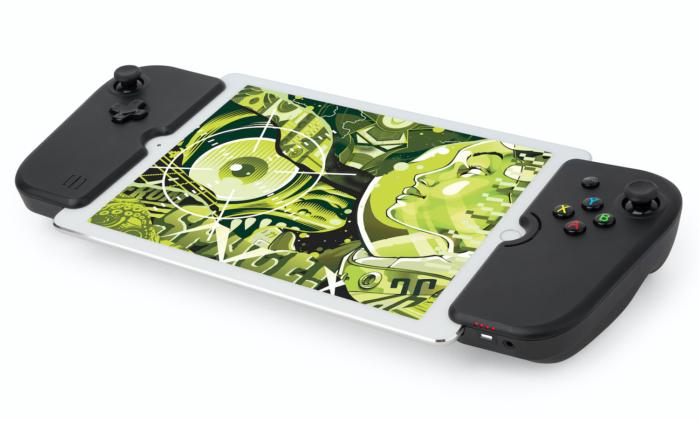 It's a frustration, but not one that ruins the gamepad's value: you'll have to press hard with each tap, and the lack of subtle inputs might come back to haunt you in, say, a fighting game. But so long as you get in the habit of jabbing the buttons and d-pad, they do work. And really, I suppose that buttons that you have to press firmly are still better than not having buttons at all. Being able to use real buttons for retro greats like Sonic the Hedgehog 2, Metal Slug, and Rayman Classic brings such a clear enhancement in both interactions and fun.
What about the iPad?
As for the iPad version, there are three separate controllers for various iPad sizes: one for all iPad mini models, one for certain 9.7-inch iPads (the Air, Air 2, Pro, and the new 2017 iPad), and another for the 12.9-inch iPad Pro. All three look about the same from the press images, but seem to have tiny variances to accommodate the different tablet sizes. I got my hands on the middle model to use with my first-gen iPad Air.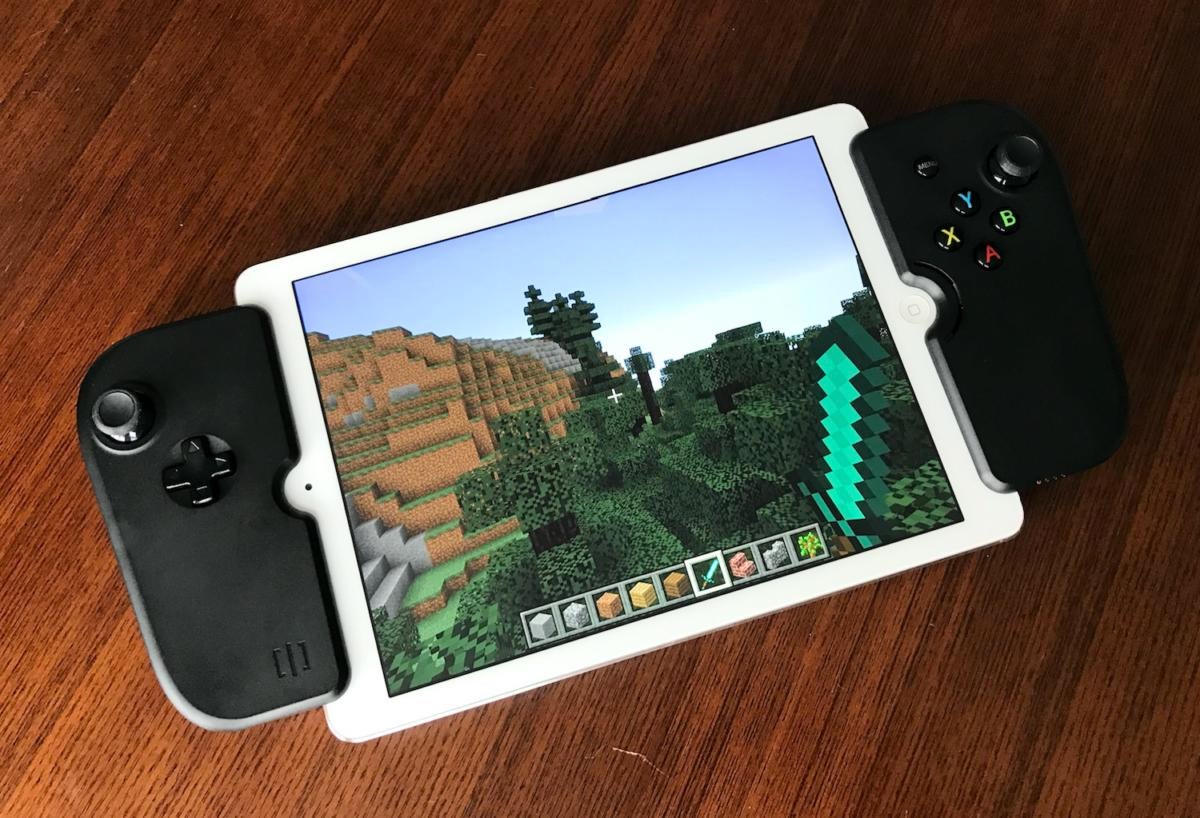 Functionally, it's very similar to the iPhone peripheral: this Gamevice also has two controller halves that clamp on to either side of your landscape-oriented iPad, with one attaching to the Lightning port on the right for connectivity and power, and the other holding firm on the left. There's also a thick rubber strap that runs along the back of your iPad and keeps the controllers connected, although this strap doesn't have the neat foldable design of the iPhone one.
That makes sense, because the tablet Gamevice is quite a bit larger than the iPhone version—and with the iPad attached, the complete device feels enormous. At its widest, the entire contraption is 14 inches across, and the controller halves themselves have really hearty, palm-filling grips. The overall size isn't a complaint, necessarily, but it was a bit startling at first. It feels dramatically larger than the iPhone 7 Plus and Gamevice duo, not to mention a Nintendo Switch or PlayStation Vita.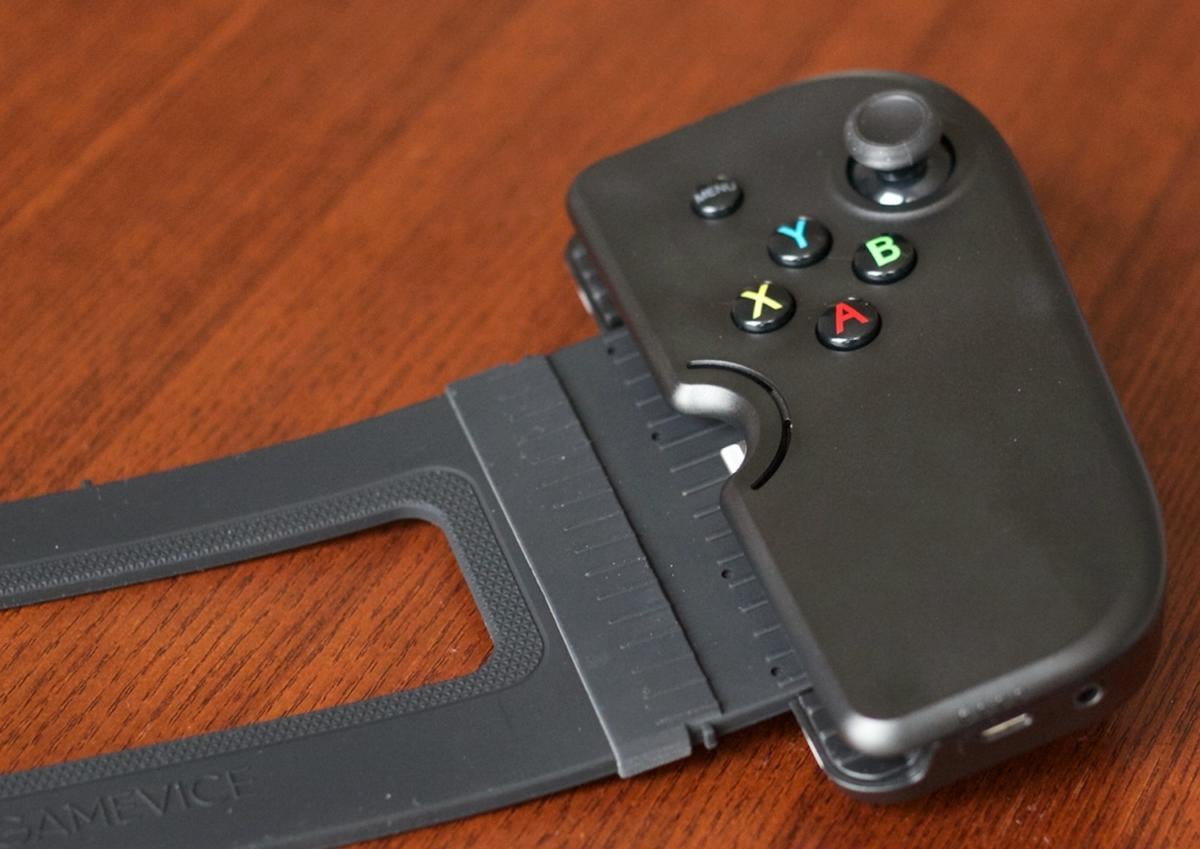 Could I comfortably use while crammed into a coach seat on a flight? Maybe not. But does it work when I'm chilling on the couch or sitting in bed? Absolutely. The Gamevice makes the iPad an absolute dream machine for Minecraft: Pocket Edition fans, and I fell right back in love with Geometry Wars 3: Dimensions Evolved all over again (to be fair—this happens regularly).
Each tablet Gamevice is priced the same as the iPhone version at $100, but the iPad device actually feels like an upgrade in terms of build quality. The large grips are sturdier and seem to be made of thicker plastic, but the biggest enhancement comes with the full analog sticks.
While the analog nubs on the iPhone model are plenty responsive, they're short and stubby to keep things compact. Here, the larger sticks are comparable to those on Xbox One controllers and provide perfect nuance for controlling characters or aiming weapons. Likewise, the fuller shoulder and trigger buttons feel great, and while the directional pad still whiffs some very light taps here and there, it wasn't as much of an issue as on the iPhone peripheral. Any solid press will be recognized.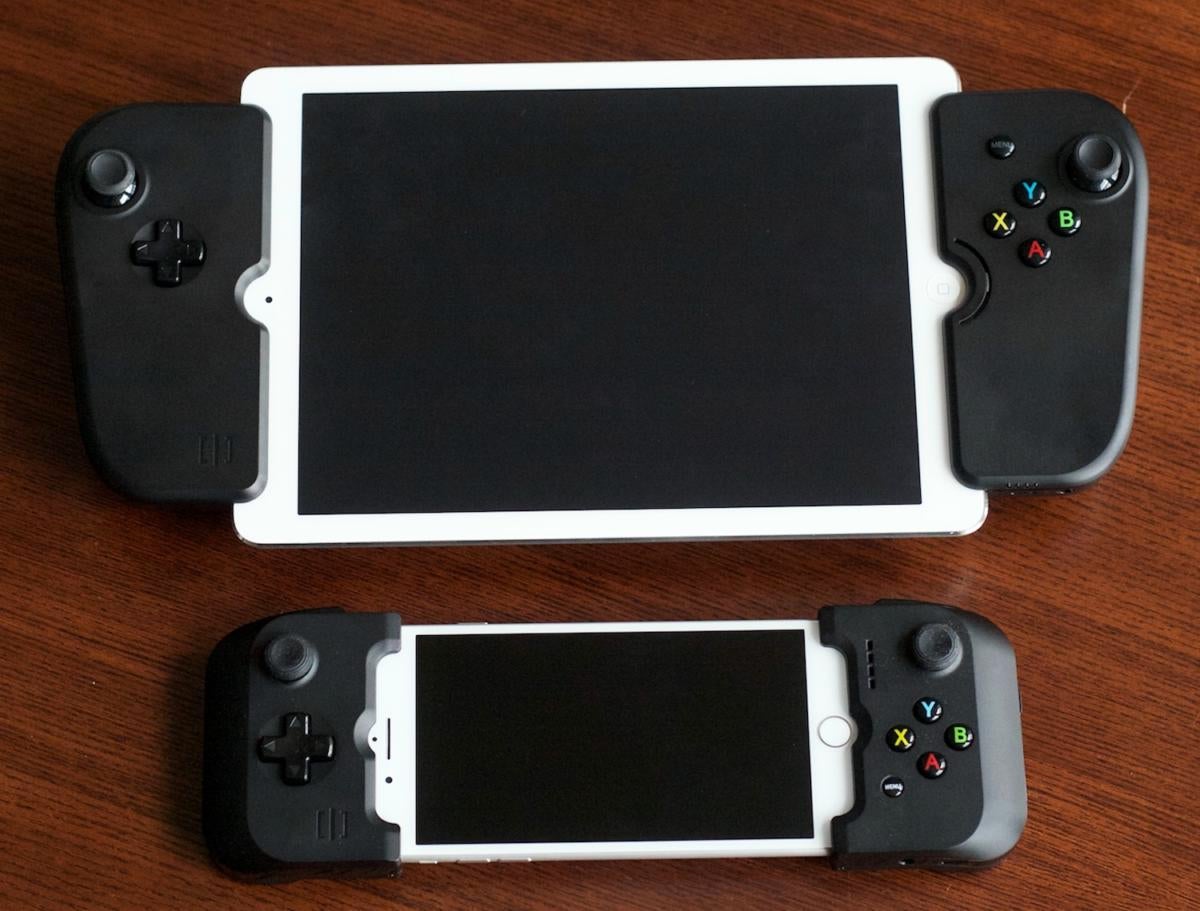 It's funny: while the tablet Gamevice feels like the higher-quality device, it's a slightly tougher value proposition in my eyes. That's because a standalone controller like the SteelSeries Nimbus is only $50, and it's ideal for iPad play with your tablet propped up in some manner, plus it works with your Apple TV and iPhone. The Gamevice, on the other hand, will only ever work with this size of iPad and it sells for twice the price.
Meanwhile, the iPhone version is ultra-portable and provides a comfortable scenario for using a gamepad with a pocket-sized smartphone. Buying a controller like the Nimbus is cheaper and gives you more options and flexibility, but if you do most of your gaming on the iPad and want something you can hold as a single, cohesive device, then the Gamevice has a lot of upside. It's still pricey for a game controller, but if you're deep into Minecraft, shooters, sports simulations, or other console-style games, there's lots to love about the new Gamevice for iPad.
Is it worth it?
At $100, you'll pay a very steep price for the Gamevice, and that's for a peripheral that only works with an iPhone. It's a lot of money to spend on an enhancement for iOS games, particularly when the great SteelSeries Nimbus controller is just $50 and works with all iOS devices. That said, I'm not actually going to use the Nimbus with my iPhone. I'd switch screens and use it with my iPad Air instead, but it's just not worth the hassle to use a free-standing gamepad with an iPhone.
On the other hand, I'll totally use the Gamevice with my iPhone in the future. It's compact, it snaps on in seconds, and I don't have to worry about charging it—I can keep it in my nightstand and pull it out whenever I'm playing a game before bed, or tuck it into my bag for my next trip. For its myriad hang-ups, including those not-fully-responsive buttons, the Gamevice is a near-perfect fit for the iPhone. And fit is such a key attribute for something like this.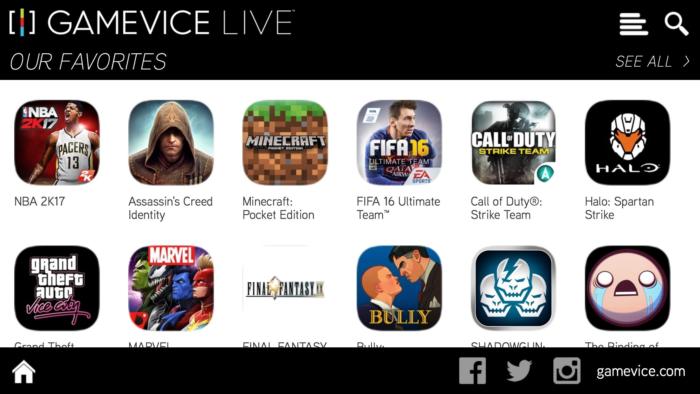 Still, at that price, you'd better make sure that you play enough games that actually utilize MFi controllers. The easiest way to find out is to download the official Gamevice Live app, which provides an updated listing of the 900+ supported games. Nearly any game ported over from consoles or PC should support the Gamevice, as do a lot of games modeled after console/PC experiences. And some of the titles might surprise you: endless roller Impossible Road, one of my absolute favorite iOS games, allows MFi controllers and is so great with an analog stick.
Your value may vary, of course, and it's a significant amount of money to spend even if you do play plenty of iOS games. It's a lot cheaper to augment your iPhone than to buy a Nintendo Switch or PlayStation Vita, however, and the Gamevice gets a lot of things right with this new model. Given how much better games like Minecraft: Pocket Edition and Geometry Wars 3: Dimensions are with a real controller in hand, it's an investment worth considering.
Editor's note: This story originally ran on February 23, 2017 and was updated on March 28, 2017 to include our impressions of the Gamevice controller for iPad.