It's time for the latest rumors about the Apple TV—the set-top box that we love to be "meh" about. A report from Bloomberg suggests that Apple is at work on a new revision of the device, which will bring support for 4K (Ultra High Definition or UHD) video as well as a feature with "more vivid colors," which is probably something related to High Dynamic Range (HDR).
But is this too little too late for the Apple TV? While the set-top box probably does fine by Apple's standards, it's hardly the kind of category-defining product that we've seen even the Apple Watch or iPad be, much less aspiring to the heights of the iPhone. Historically, Apple's TV attempts have always been a bit on the lackluster side, and these latest rumors don't do much to change that perception.
By the numbers
Here's the thing about those UHD and HDR features: at this point, they're just table stakes. At $149, Apple charges more for its entry-level streaming box than competitors like Amazon and Roku. ( Amazon's Fire TV, which goes for just $90, even has 4K support already.) It's tough to figure out what that extra cash buys you, beyond the Apple brand. The previous version of the Apple TV, which was less powerful though still perfectly capable at its primary function of streaming video, cost a more comparable $99. Frankly, though I use the Apple TV every day, I'd be hard-pressed to find $50 more worth of functionality on the new model. (Most of that cost increase is probably attributable to the Siri remote, which I have mostly ditched in favor of a harder-to-lose and more user-friendly Logitech Harmony universal remote.)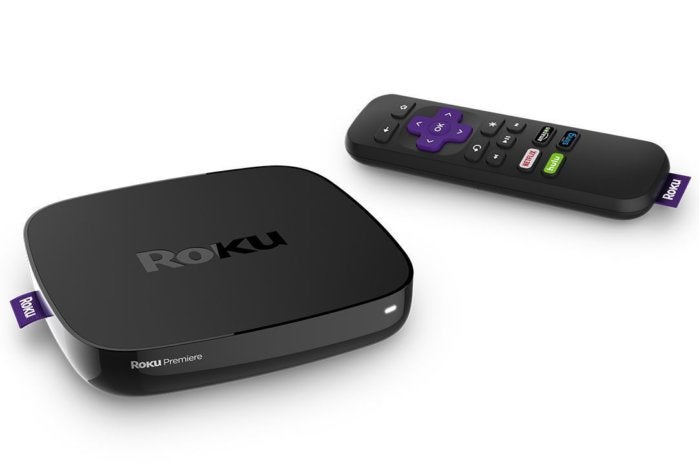 Meanwhile, on the hardware front, Apple's competitors have added handy features like the ability to listen via headphones connected to a remote or mobile device, as well as offering more versatile line-ups with lower-priced streaming options, such as the Amazon Fire TV Stick and the Roku Express. I have a first-generation Fire TV hooked up to my TV as well, and I could switch over to that without losing anything more than access to the iTunes Store (a fair trade for access to Amazon Video) and AirPlay (which is mostly better than Fire TV's Cast support, since I'm primarily an Apple device user, but not by much).
Apple, meanwhile, only offers an upsell on the Apple TV, which gives you twice as much storage for another $50. Never mind that storage differentiation on a set-top box isn't exactly a clear concept for most users, who will probably equate it with the idea of DVR space for storing shows rather than for what it's actually there for: space for apps.
The proof is in the future
The future of TV may be apps, as Apple is fond of telling us, but the future of apps definitely isn't TV. The vast majority of apps that I use on my Apple TV are for the same streaming of video content that I had on my old second-generation Apple TV. And while it's nice having a native Plex app in the mix, I definitely haven't spent more than a few minutes trying out apps like GrubHub or NetNewsWire Today.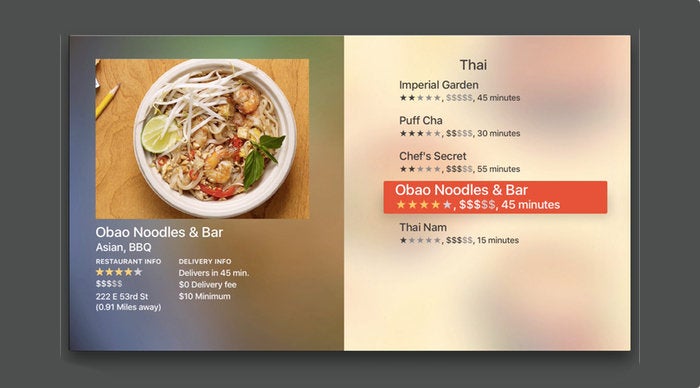 Why? Easy: because I pretty much always have another device within reach, and that device is usually superior at whatever non-video-streaming task those apps offer. Most Apple TV apps are already pretty limited, because a remote—even the Siri remote with its schmancy multitouch surface—isn't as good at complicated interactions as an iOS device's touchscreen. (There's a reason the Apple TV app on iOS prompts you to use it any time you have to enter text.) If you want to accomplish anything in or beyond the small subset of actions that most of those apps offer, you're probably better off with another device.
We talk a lot about the "second screen" experience of people sitting in front of the TV: how they're checking Twitter or looking actors up on IMDb or Wikipedia while watching. But when it comes to apps, it's not the iPhone or iPad or MacBook that's the second screen—it's the Apple TV.
More to the story
In fairness to Apple, there is more to this story, because these rumors mostly focus on the hardware of the Apple TV box, and not about the software or the service. Hardware is far more subject to leaks and, as Apple likes to stress, it's about the whole device, not simply one part.
That not to say that the Apple TV's software game has exactly been firing on all cylinders either. After taking the "future is apps" sandbox approach, the company backtracked slightly to offer its TV app as a more centralized experience for the platform. But not only is it uneven, the fact that it's simply one app among many means that it just doesn't go far enough.
For all the fighting over the future of technology in the living room, it still seems as though most people mainly want to watch TV and play games on their TVs—that's about it. And you know what? It's okay to limit the scope of your device if it turns out that's what people want. This is about making choices and saying "no" to things, and that's the greatest of Apple traditions.