At a Glance
Expert's Rating
Pros
Single menu full audio control for Mac
Audio source monitoring without resetting system audio settings
Cons
Doesn't allow persistence while changing multiple options from the menu
Can't choose AirPlay destinations
Our Verdict
Best Prices Today: SoundSource 3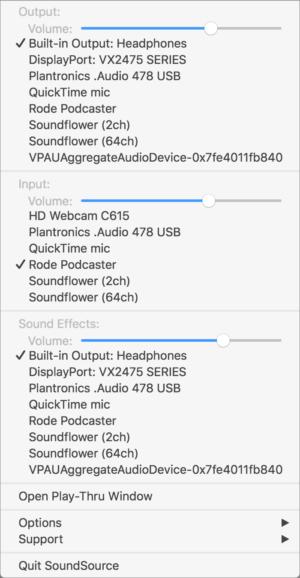 Shaving off annoyances in macOS is always worth a few bucks, and if you manipulate audio sources and volumes frequently, it should be worth $10. Rogue Amoeba's SoundSource 3 provides splayed-out, easy access to the settings divvied up in the Sound system preference pane, and only partly available through the system audio menu item.
In the Sound preference pane, options are split among Sound Effects, Output, and Input. These are shown instead as separate sections in a long menu from a system menu bar icon that belongs to SoundSource. From this menu, you can see every audio input and output source available; switch system input, system output, and sound effect output; and change the volume of each of those as well. (Some devices reserve volume controls to hardware settings, and SoundSource doesn't override them. I have a DisplayPort-connected monitor that requires use of its on-screen display.)
As a podcaster, I frequently have to change among mic, headset, and speaker/headphone options, and it's a delight to be able to do this in one place. While you can change the Output setting and its volume from Apple's built-in Volume menubar item, and hold down Option to switch the Input source, you have to use the Sound preference pane to change Input volume or Sound Effects volume and output device.
Unlike the Sound menu, however, SoundSource doesn't let you select AirPlay destinations for audio output—it's focused entirely on built-in or plugged-in hardware.
While switching among sources, the menu isn't persistent: you click a new option and it retracts. I'd prefer it remain open, as it does when adjusting volume. However, that's an Apple interface limitation, not to do with SoundSource. Still, you might need to click its menu icon a few times to make all your changes, even though they're shown in one place.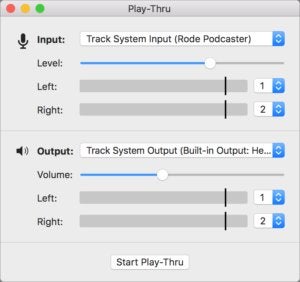 SoundSource's extra bit of oomphf is in the Play-Thru palette, which lets you pick an input source and the output through which it should play. You can choose the level of the input, the volume of the output, and left/right balance and levels, and also choose to start and stop the playthrough with a click. This allows you to monitor audio input temporarily or for a while without changing your input and output settings, again useful for setting up any kind of audio recording workflow.
Rogue Amoeba has made SoundSource free for any owners of current versions of its other products. Users visit a link at the company's website to paste the serial number of a qualifying product and then proceed through a "$0.00" order completion to get the serial number.
Best Prices Today: SoundSource 3