Free-to-play games often look appealing, but it's difficult to know at a glance whether the business model is insidious and fun ruining, or reasonable and worth pumping a few bucks into. With Freemium Field Test, we'll take a recent free-to-play iOS game, put it through its paces, and let you know if it's really worth your time (and money).
There's something slightly unsettling about the name "WarFriends"—like, warfare isn't a thing you do with pals for kicks. And this is very much a game about killing people, even if doused in a cartoonish, big-headed style. The title itself just sends a slight chill down my spine; it feels ill-considered.
And yet the actual game itself is absolutely inviting from the start: WarFriends is lightweight but decently strategic, and it's tactical without being complex or overbearing. This is an entertaining combat game that you can play in three-minute spurts, which makes it perfect for mobile. Yet WarFriends is also a game in which spending real money brings immediate and significant benefits, and it doesn't do much to hide that obvious advantage.
The pitch
WarFriends seems to find the ideal middle ground between hands-on combat and hands-off battlefield management. You control a single, hardened soldier who must take down the rival soldier on the other side of the map, but you'll never rush through the bullets and engage in any sort of close-quarters action. Instead, you'll hang back and try to stay safely covered behind shields, only popping out to fire a weapon, lob a grenade, or sprint to another, hopefully less-bullet-riddled shield.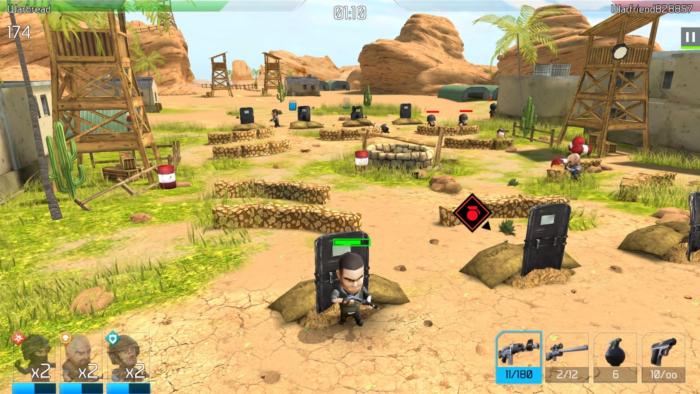 Instead, you'll summon squadmates into combat on your behalf, and these machine-gunners, shotgun-blasters, and explosive-tossers will gradually advance on the enemy position, attempting to force him/her into plain sight and ultimately secure your victory. It's a one-on-one battle waged by upwards of a couple dozen soldiers at once, but again, you'll never take active control of anyone except your customizable hero.
Success in WarFriends requires a blend of picking the right allies to send into battle at any given time, taking shots across the map at your foe when possible, and staying out of the line of fire. It also depends a lot on gradual upgrades, whether it's making your allied units more powerful or making your weapons more effective.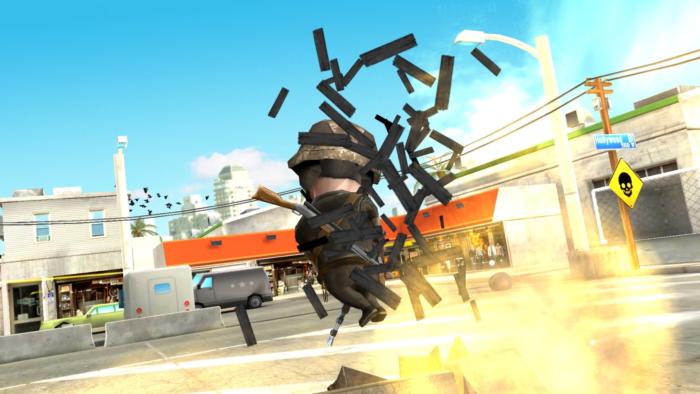 The live online multiplayer matches are frenzied and entertaining, and as you unlock new weapons, new battle locations, and eventually power-up cards, the showdowns become all the more intense and varied. But at the same time, this free-to-play game's paid benefits start to seem all the more essential, especially when facing foes who may have cashed in for their own ample benefits.
The catch
As mentioned before, upgrades are a huge part of securing success in WarFriends. True, a less-equipped player can win by being more accurate, playing more defensively, or using the right WarCards benefits. Yet a player who has significantly more powerful weapons, whose allies cause much more damage per shot, and who wields more beneficial power-up cards surely has the better chance if the skill level is about equal.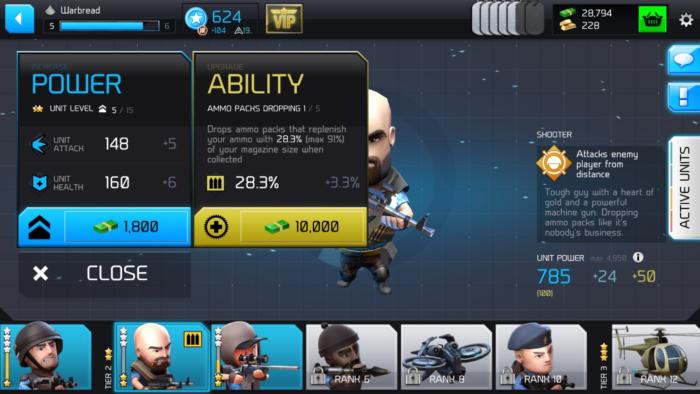 Of course, you can pay real money for speedy access to upgrades. You'll earn a decent amount of in-game cash (WarBucks) by playing matches, as well as small parcels of the premium Gold here and there, mostly through completing daily missions. Upgrades require a chunk of cash to begin, and then you'll wait for a timer to tick down before it completes—or you can pay gold to skip the timer. That's true for both soldier and weapon upgrades.
If you buy a bunch of Gold and WarBucks, you can quickly blast through upgrade levels and max out your squad and weapon levels, giving you a noticeable edge in combat. Both currencies are sold in bundles ranging from $2 to $100, but there are other options for amassing wealth here. You can, for example, watch a video ad for a free extra Lootbox or free WarCard, or to help refill your energy meter.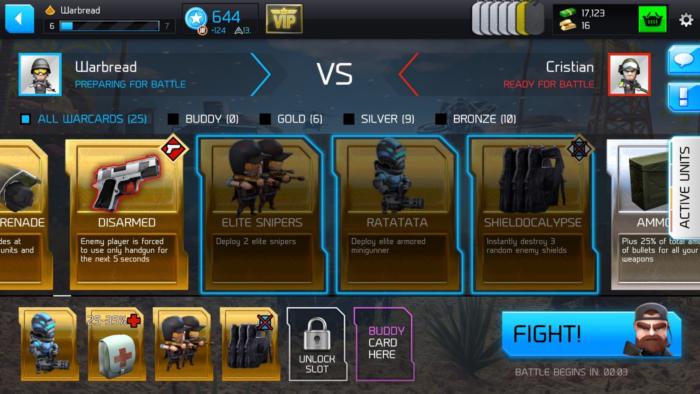 WarFriends also focuses a lot of attention on its VIP membership, which gives you 50 percent more cash and player XP for playing matches, gives you an extra Lootbox after every fourth battle, offers two free daily WarCards, lets you bring an extra card into each battle, and extends your energy meter.
VIP subscriptions are sold by the timeframe, whether it's for as few as 12 hours or as many as 30 days. Paying for 12 hours requires about $1 worth of in-game gold, while 30 days is about $30. Thirty bucks a month for gradual perks is pretty significant!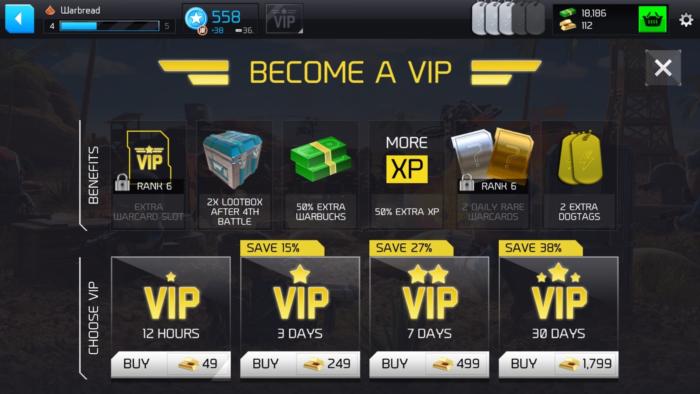 There's another option, too: you can pay $1 to be granted 50 gold per day for a full week. You'll have to play daily to take full advantage of this offer, but it's the cheapest way to gradually build a trove of purchased gold for upgrades and buying packs of WarCards. I spent my dollar there… but once the competition seemed to have a stronger advantage, I dropped another $5 for a pack of 275 gold to speed through some additional upgrades.
The verdict
And if I play much more, I imagine I'll be tempted to spend again and again. True, upgrades can be unlocked slowly for free with gradual play, and the energy meter isn't too obnoxious. But you'll face off against players who have bypassed potentially weeks or months of slow upward progress by simply spending a chunk of cash, which makes some battles seem hugely lopsided.
WarFriends isn't a pay-to-win game, since skill still means something in these battles, but you can pay for very significant enhancements in a lot of different ways—whether it's having the stronger soldiers, more powerful weapons, or more useful WarCards. As such, I'd say it's a tough game to commit to playing seriously, since there's little hope for competitive balance amidst all the freemium opportunities. But played occasionally for kicks, WarFriends entertains.