At a Glance
Expert's Rating
Pros
Familiar gameplay to regular Leo gamers
Impressive graphics
Family-oriented fun
Cons
Interface bugs
Perfomance issues towards the end of the game
Our Verdict
Best Prices Today: Star Wars: The Force Awakens
Even after a slew of Lego video game adaptations over the years, Lego Star Wars: The Force Awakens ($40 on the Mac App Store) is able to offer new elements and add humor and replay value. Beginning with the Battle of Endor from Return of the Jedi, the game has you and your Ewok allies take on the Imperial forces while Luke Skywalker and Darth Vader team up against Emperor Palpatine aboard the second Death Star, the game running you through its tutorial segments all the while.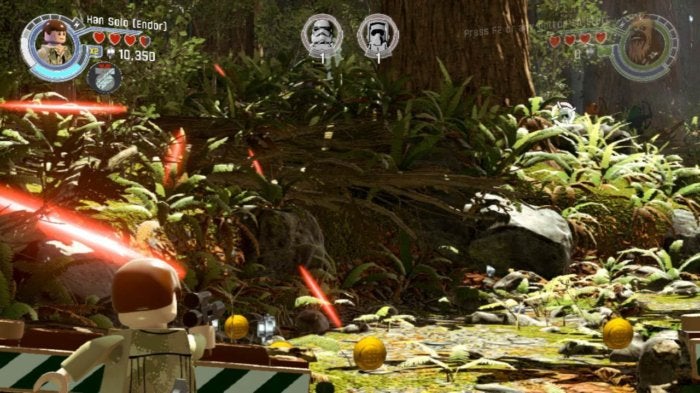 From here, you then hop into the plotline of The Force Awakens, taking on the roles of Poe Dameron, Finn, Rey, Han Solo, Chewbacca, BB-8, and others. Like its Lego adaptation predecessors, the basic gameplay style of "enter a new screen, smash everything, collect the Lego pieces and see what you can build in order to solve the puzzles to advance to the next section" remains familiar. Even so, the game designers have added a new multi-build feature, expanding on the number of solutions available for the puzzles.
Along with impressive graphics, sound and vocal work, Lego Star Wars: The Force Awakens is able to entertain on all levels, functioning as a good platform, action and puzzle game while also possessing a sense of humor that works across all ages. The characters are able to keep a fun sense of slapstick humor going, complete with characters snagging coffee and pastries from each other during the cut scenes and silly mission objectives (such as having to find a shipment of Wookie Cookies for Chewbacca) were added to a level's objectives. It's the game's sense of humor that helps work through the dark moments from The Force Awakens, such as replacing the blood on Finn's helmet in the early stages of the story to green goop from a beverage that was spilled, which helps make it more suitable for a family audience.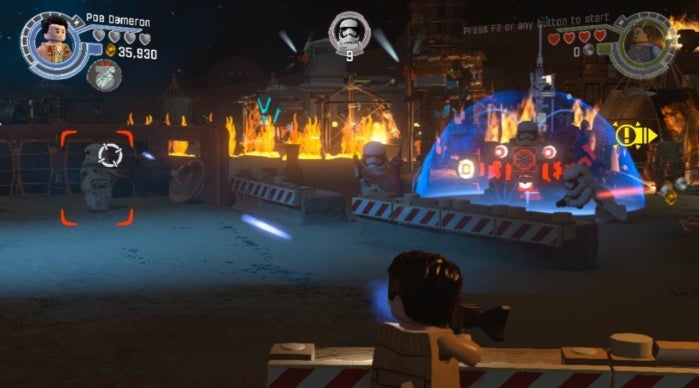 Like the previous Lego titles, there's a focus on replay value as well as unlocking playable characters—some sections of each level can only be accessed by certain characters. A Free Play mode allows you to explore at will, and support for gamepads as well as simultaneous two-player gameplay allows for different play styles. There's generally something new to unlock upon replay, which should keep players that love to fully complete a game completely happy.
There are a few bugs to iron out, but nothing that serves as a deal breaker. Occasional user interface bugs surfaced when the game flashed the wrong key to press to perform an action and you have to work around this. Finally, in one sequence, the frame rate slowed dramatically during one of the fight sequences on the Starkiller Base level towards the end of the game.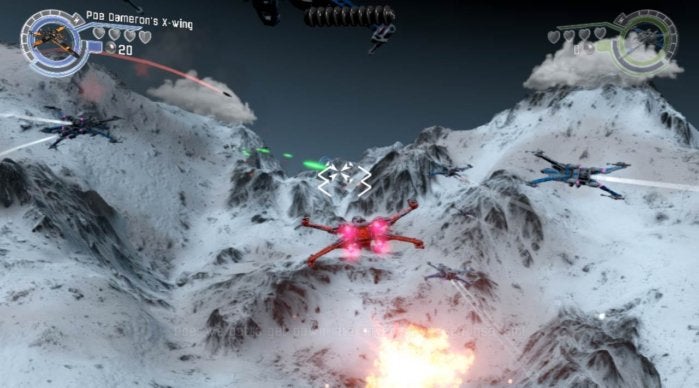 Bottom line
Even if the Lego video game formula has become familiar, Lego Star Wars: The Force Awakens still manages to add some interesting new aspects and enough replay value to make you want to go back and play the game with characters that can open every portion of a level. This, combined with Lego's warmth and humor, only make it better and a worthwhile title.
Best Prices Today: Star Wars: The Force Awakens