In this column, I generally present questions from readers and offer solutions or workarounds to resolve their problem. But this isn't always possible. Sometimes, when I receive a question about iTunes, such as "Can I do…?" my answer is "No." In this week's column, I want to present a number of questions where the answer is negative, in order to highlight some of iTunes' limitations. So this week, I bring you the No column.
Can I get rid of the play button?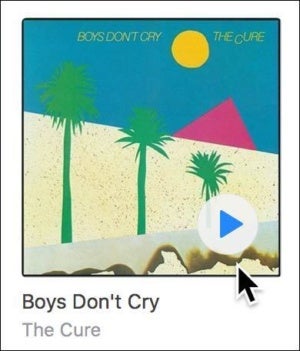 Q: Is there any way to get rid of the play button that displays when I hover over artwork in iTunes? I often move my cursor over the artwork and an album starts playing because I inadvertently dragged my cursor over the button.
No.
The button you're talking about displays when you hover your cursor over an album in certain views, and over other items, such as movies and TV shows.
This button is useful because it lets you play items with a single click. However, you can also double-click an album or a movie to start playing it, so it's not essential.
No repeat, please
Q: I'd like to make a smart playlist where no songs by the same artist come up within, say, 25 songs. Is there any way to do this?
No, you can't.
I get this question often. People want to have more varied smart playlists than what iTunes's random selections serve them. Some people want to ensure that no songs from the same album come up in a playlist; others want to exclude artists from repeats.
It's an interesting idea, but it's a bit difficult to imagine how it might be implemented. There could be a condition in the smart playlist dialog allowing you to avoid repeats by artist, album, etc., but how would that be applied? Since smart playlists—in most cases—regenerate as you play them, and since the number of tracks they contain can vary depending on your settings, how would you define the no repeat period?
I think it's a great idea, but I feel that adding this type of condition to smart playlists would be confusing.
Whither play counts on my iPhone?
Q: Is there any way to see play counts for my music on iOS?
No, not possible.
The iOS Music app doesn't show you as much metadata as iTunes does. It only shows such things as the name of the artist, album, and track.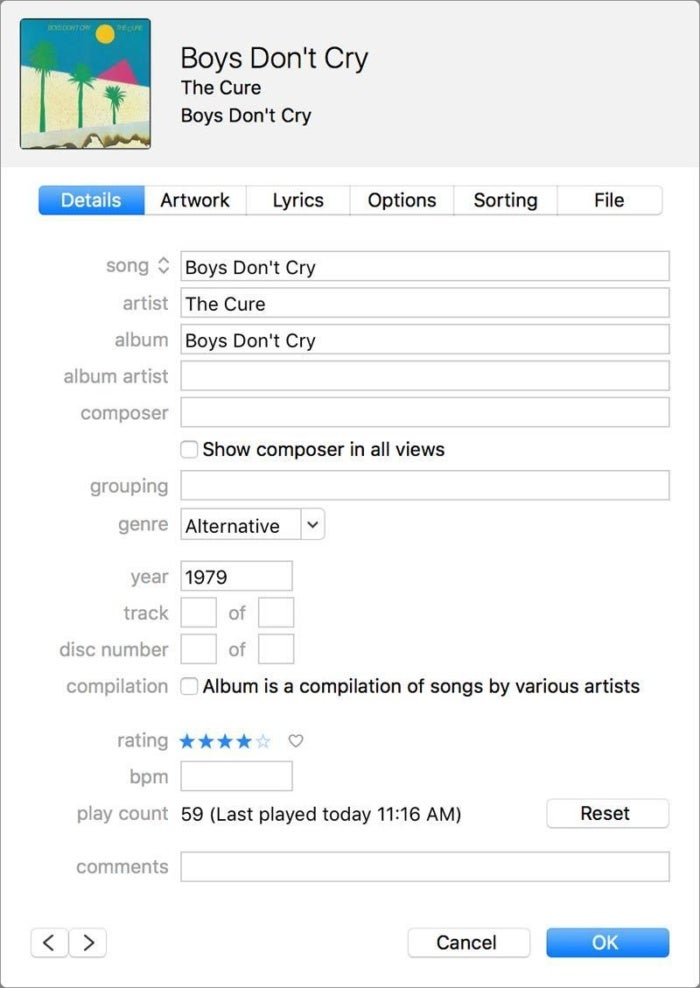 Adding this might be useful to some people, but the Music app is already cluttered enough. I don't think most people need to see this information, and Apple is right to not display it.
Too much recently added music
Q: Is there any way to remove items from the Recently Added list in iTunes or in the iOS Music app? Sometimes I add a lot of new music, but I really don't want to see it there.
Nope.
The Recently Added lists, in both iTunes and the iOS Music app, are a sort of smart playlist that shows all your music (or other content in iTunes) from most recently added to the oldest. This view doesn't give you any display options; you can't change the size of the artwork or the scope of "recently."
What's the track?
Q: You used to be able to see track numbers for each track on a playlist on the iPhone, but the iOS Music app removed this a while ago. Is there any way to view track numbers in playlists?
No, sorry.
And I don't know why. Perhaps Apple thought that those track numbers were distracting. I never found them useful, to be honest. If I could see, for example, 7 of 10, rather than just 7, might be useful, but within a playlist I don't see this as being pertinent information.
Change the date
Q: Can I change the date added that shows up on my media in iTunes?
Nope.
I get this question from people who use the Date Added tag in their music files to create smart playlists, such as ones that contain music added in, say, the past month. Many people use such playlists to have a sort of rotation list of recent music.
You could, of course, remove the music from your iTunes library, then re-add it, but most people don't want to do that, because they'll lose their play counts, ratings, and more.
Have questions of your own for the iTunes Guy? Send them along for his consideration.