At a Glance
Expert's Rating
Pros
Inline remote plus Siri control gives you options.
Deep integration with iOS, including battery level readout in Today view.
Comfortable fit and good sound.
Cons
Cable that connects the earbuds is a little awkward.
Our Verdict
BeatsX boast the best features of AirPods, plus a more comfortable, customizable fit, and a handy inline remote so you don't need to rely on Siri for control.
The BeatsX headphones fix my biggest annoyance with the AirPods, which is their reliance on Siri. BeatsX has a microphone so you can use Siri to queue up music or make a phone call, but since the two earbuds are connected with a wire, there's room for a three-button remote, which lets you adjust the volume and control playback without getting Siri involved.
That's a really big deal. The BeatsX also offers superior comfort, longer battery life, and more convenient charging, but just the existence of the inline remote makes these the winner over the $159 AirPods. BeatsX even costs $9 less and comes in colors. It's barely a contest, unless you're totally hooked on the AirPods' wire-free style.
Comfort first
I've always preferred silicone-tipped earbuds like the BeatsX over Apple's hard-molded plastic options like the EarPods and AirPods. In my testing, I've found the AirPods surprisingly stable—they stay perched in my ears no matter what, even when I'm running, jumping, and headbanging. But the BeatsX earbuds are more comfortable, since they come with four sets of silicone tips, and two sizes of optional wings you can slip on over the tips if you want extra help keeping the earbuds in place.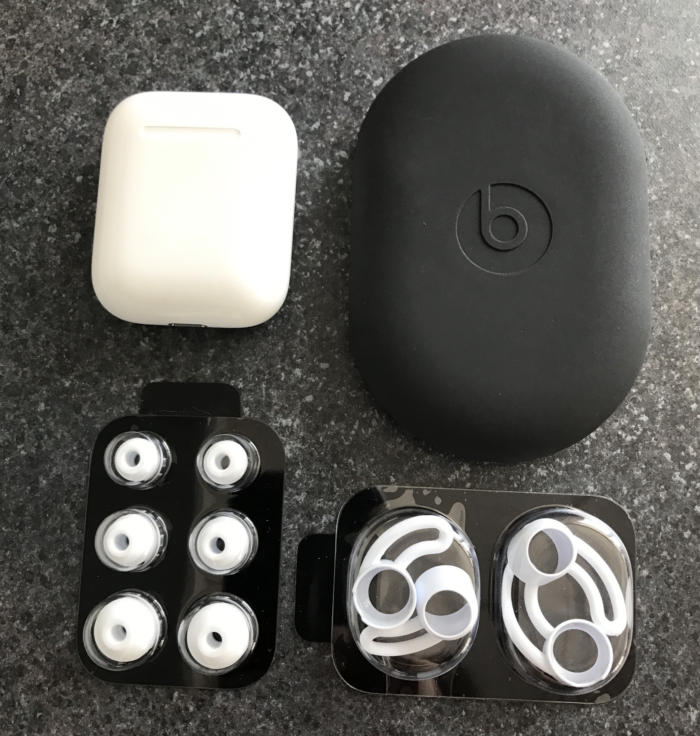 Even the quality of the silicone tips seems top-notch—the tips grip the insides of my ear canals firmly and don't slide out. They don't even get sticky or greasy like other earbuds can after they've been exposed to your earwax for a while.
The wire that connects the two earbuds wraps around the back of your neck, and plastic pieces on either side act as anchors to keep the whole thing stable. One of the plastic pieces has the on/off button, and the other has a Lightning port you'll use to charge the BeatsX. (You can't listen to them while charging.) Then the inline remote is a little further up the cable on the left side, which puts it right below your chin in a pretty easy spot to reach up and grab.
It took me a while to get used to the remote being on the left side, which is common with Beats headphones, even though it's on the right side on other Apple headphones. The buttons on the remote are easy to click, and it supports the standard button-presses: One click on the center button to play or pause, two clicks to advance, and three clicks to go back.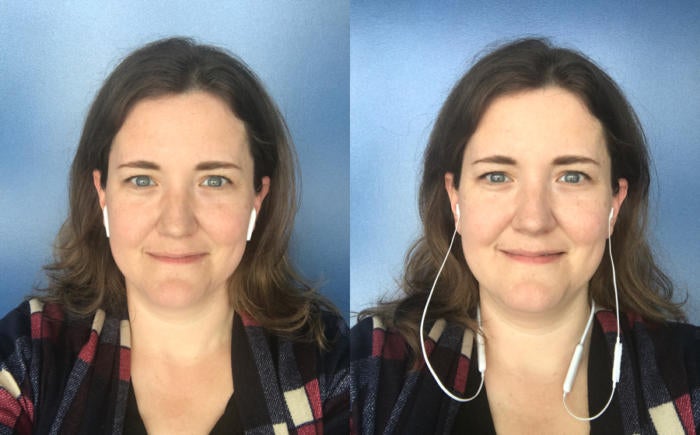 I love having a remote on these so much that I don't even mind how they look. Totally wireless earbuds like the AirPods are still new—they stand out, even while the lack of wire hanging down lets them blend in. If my hair is down or I'm wearing a hat, you might not even notice the AirPods, but if you do see them, they kind of look like futuristic earrings, and of course they only come in white. People still stop me to ask me how I like them.
On the other hand, the BeatsX look like more traditional Bluetooth headphones. There's no wire to your iPhone of course, but you wind up with a big wire loop on either side of your head, where the headphone cable hangs down from your ears before then snaking around behind your neck. While the overall look is less attention-grabbing than the newness of the AirPods, it's also a little clunky and cheaper-looking. Then again, I got the stark white BeatsX—the other colors (black, gray, and blue) might blend in with clothing and hair a little more and not stand out so much.
When I asked coworkers which look "cooler," opinions were split. I think the AirPods look a little cooler, personally, but I still like the BeatsX better.
Easy pairing and awesome battery life
Thanks to the same W1 chip that's in the AirPods, the BeatsX is easy to pair to your iPhone. When you press the power button on the BeatsX, the earbuds go into pairing mode, and you can connect them to any Bluetooth device in the usual way.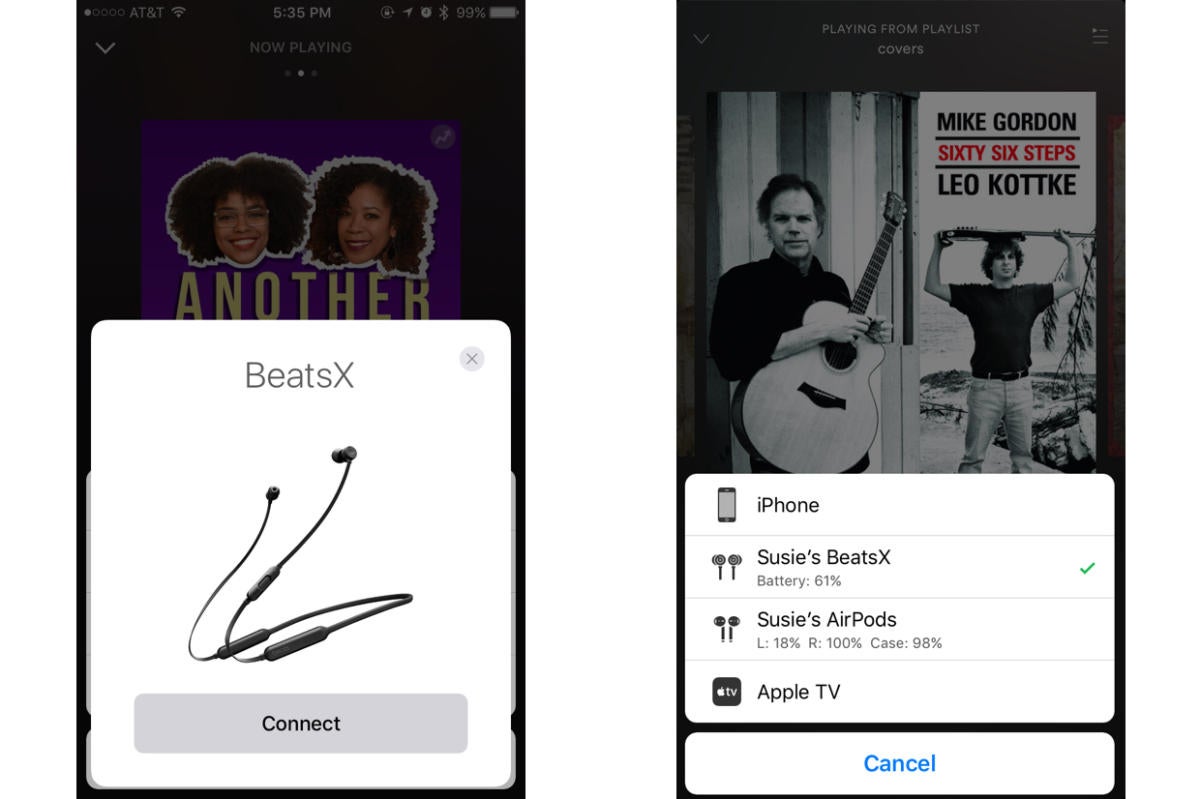 If you're trying to connect to an iPhone or iPad running iOS 10, a popup will offer to pair them automatically, and then they'll show up as an available device in other iOS 10 and macOS Sierra devices you're signed into with the same iCloud account. On my Mac, I had to go to the Bluetooth menu and select Connect next to the BeatsX to switch, rather than the BeatsX showing up in the audio menu automatically. On other iPads and iPhones, they just appear as a potential audio source right away.
All in all, pairing and switching is just as easy with the BeatsX as with the AirPods, and like the AirPods, the BeatsX's battery life will appear in the Batteries widget in iOS's Today view. The battery life is also viewable on the Mac, if you Option-click the Bluetooth icon in your menu bar and then mouse over the connected BeatsX.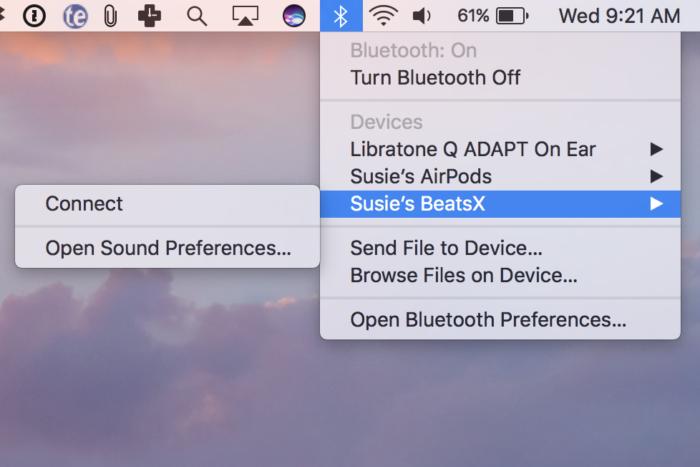 And speaking of battery life, the BeatsX delivers. Apple estimates 8 hours per charge, but mine can routinely squeeze out closer to 9. The AirPods last 5. And in my tests, a quick 15-minute top-up boosted my BeatsX from totally dead to 73 percent charged—let's hear it for the W1 chip's killer quick-charging feature.
The BeatsX charge with a Lightning cable, and one is included. This isn't quite as cool as the AirPods' charging case, but it's certainly more convenient. Most iPhone users own multiple Lightning cables, and you could use a portable USB battery to top up on the go. The package of battery, cable, and BeatsX (even in their little rubber carrying case) is bulkier than the AirPods inside their case, that's true. But I once left my AirPods case at the office and then walked out wearing them, which resulted in unusable, dead AirPods for a whole weekend, something that just wouldn't happen with these.
Great sound
The sound of the BeatsX is full and clear, similar to the AirPods' sound. I like the sealed-off feeling from silicone earbuds that fit snugly into my ear canals, and I think it gives a more complete bubble of sound that doesn't need to be quite as loud to be effective at shutting out the world.
The AirPods stay put in my ears, but they aren't designed to seal off your ear canals, so more outside sound bleeds through and the music feels a little airier, in my opinion. But both sound good to my ears, and worth their premium price. I've heard people complain that Beats headphones tend to be too bass-heavy, but I like a bass-heavy sound, so I either didn't notice or didn't mind.
Bottom line
If you aren't using these with exclusively Apple devices, definitely get BeatsX because of the inline remote. The button-less AirPods are too reliant on Siri or the controls on your phone. If you are all-in with Apple gear, either is a fine option, but the BeatsX has the comfort, long battery life, and convenient charging that give it the edge.