At a Glance
Expert's Rating
Pros
Easy setup, works up to 984 feet away
Supports video resolutions up to 1080p HD at 60fps
IR blaster for remote control over connected source device
Cons
Degraded picture quality
Finicky connectivity depending upon existing power lines
No support for 5.1 surround audio or 4K UHD video
Our Verdict
Best Prices Today: IOGEAR HDMI Over Powerline PRO Kit
The walls of our homes are already wired for electricity, so it only makes sense that consumer electronics manufacturers would try take advantage of those existing cables to provide easier Ethernet and HDMI connectivity. After all, no one likes to have unsightly cables strung all over the place, especially in a fancy home theater setup.
As enticing as a cord-free lifestyle sounds, it rarely turns out to be very practical. Internet speeds drop precipitously once ethernet is funneled through power lines that weren't designed for such use, so you can image that high-quality HDMI video and audio signals don't fare much better.
Powered transmission
The Iogear HDMI Over Powerline Pro Kit ($399.95 MSRP; $300 on Amazon) includes two nearly identical black plastic boxes measuring 5.9x 3.7 x 1 inches thick. The front LED lights indicate when the device is powered on and transmitting data, and a reset button is used on rare occasions to restart mischievous connections. The build quality is good, aside from four rubber feet on the bottom which tend to pop off and get lost easily.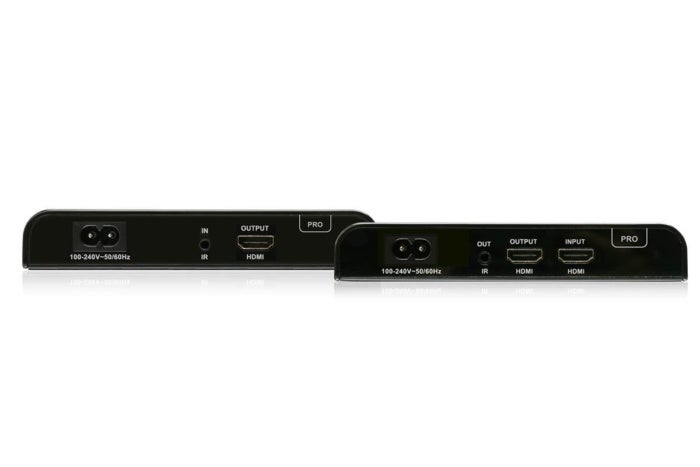 The first box is a transmitter, with HDMI in and out ports on the back; the second is a receiver, which offers HDMI out only. With both plugged into 100-240V wall outlets on the same unbroken electrical circuit, the transmitter sends video and audio signals over existing power lines to the receiver. Although designed for use in the same room, under the right conditions HDMI Over Powerline allows the transmitter and receiver to be up to 984 feet away from each other.
That sounds like an impressive feat, given how HDMI cables become notoriously fickle beyond 25 feet. But the kit imposes a few rather strict hardware requirements: For starters, the transmitter and receiver must be plugged directly into wall outlets—extension cords, power strips, and surge protectors are a no-no, and in my tests simply wouldn't work at all.
Depending on how your home or office is wired, the electrical circuits themselves will be your biggest impediment to success. The original owners of my house spent a great deal of money on additions, which explains why I had no luck using HDMI Over Powerline in the kids' playroom or our sunroom. The rest of the house fared better, sending a signal from the master bedroom at one end of our single-story residence to my home office more than 80 feet away on the other side.
Signal loss
Although the kit is marketed as a solution for reducing the amount of cables, the irony is you'll really wind up with more wires; each side of the connection requires AC power as well as an included HDMI cable. There's also an HDMI out on the transmitter for connecting a nearby HDTV, but you'll have to provide that cable. You can also buy up to three additional receivers (priced at $200 each) to throw a single source to as many as four televisions.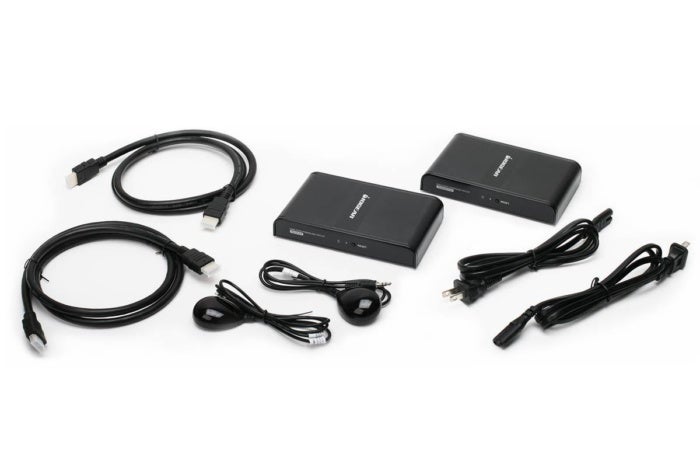 Iogear thoughtfully includes IR blasters with each box, which allow viewers at the receiving end to control devices even when they're in another room. I tested the kit with a variety of media sources: Blu-ray players, Apple TV, Roku, and even my iPhone 7 Plus using a Lightning Digital AV adapter. They all worked fine with up to 1080p HD video at 60fps and Linear PCM audio, but 5.1 surround and 4K UHD lovers are out of luck.
There is a bit of a playback delay (less than a second), and picture quality varies depending upon the placement of the transmitter and receiver, but even using the same wall outlet, the image was never as sharp or clean as the source material. Distance didn't seem to impact the picture as much as how electrical wiring is laid out, and the wrong wall outlet sometimes caused chunks of the screen to break up or display green pixels until the receiver was relocated.
While it won't appeal to demanding videophiles, there are other practical uses for HDMI Over Powerline where quality isn't as much of an issue. Schools and churches come to mind, but in general I'd recommend buying from vendors with a consumer-friendly return policy, just in case your placement needs and electrical wiring wind up being incompatible with each other.
Bottom line
When it works, the Iogear HDMI Over Powerline Pro Kit provides convenience and welcome relief from hiding long cables, but the degraded picture quality ultimately isn't worth the expense.
Best Prices Today: IOGEAR HDMI Over Powerline PRO Kit