Heather Dowdee would like to see less of her daughter—her daughter's selfies, at least. She and four other people in her family share a single Mac to which everyone uploads their media. That copy of Photos has iCloud Photo Library enabled, syncing and backing everything up.
She writes:
The iPhones all have separate names, and in iTunes they all are separate entities. But Photos just puts all the photos together. Now we're up to 60,000 photos and when I look at my library, I don't want to see all my teenage daughter's headshots.

We tried separate Photos libraries, but it just took a few mistakes—not logging out of one—and our libraries were a mess.
You've already tried one of the most obvious ways to deal with it, which is creating separate Photos libraries and selecting them on launch. With five people, that's obviously both a pain and didn't work.
You could set up separate macOS logins so that each family members logged into their own Mac account, which was then associated with a separate iCloud account and thus a separate iCloud Photo Library. That can wind up adding a few dollars a month in cost to have enough storage for each account. (Apple offers inadequate basic iCloud storage and doesn't let families pool storage, even if you're using Family Sharing.)
In that scenario, nobody's media mingles with anybody else's, and everyone just remembers to log out when they leave the computer. You can also enable Fast User Switching (in the Users & Groups system preference pane), which allows multiple accounts to remain effectively logged.
A simpler strategy, which still requires management, is to use smart albums combined with keyword tagging. Whenever anyone imports photos and videos, they have to mark them with their name as a keyword.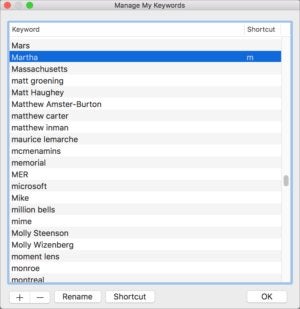 First, create a keyword for each family member in the Keyword Manager:
Open the Keyword Manager (Window > Keyword Manager).
Click Edit Keywords in the lower left.
Click the + sign at lower left.
Photos weirdly deselects the new entry. Double click it to then type in the name.
Photos assigns a keystroke to the keyword, which you can double click to the keywords right to change or delete.
Repeat steps 3 to 5 for each family member.
Click OK.

Now you can create a smart album for each person:
Select New > New Smart Album.
Name the album some easily descriptive, like "Heather".
From the conditions line, select Keyword, Is, Heather.
Click OK.
Repeat steps 1 to 5 for each family member.
With every subsequent import, here's what to do:
Heather imports photos.
Switch to the Last Import item (show in the sidebar near the top) if it's not already selected. (Press Command-Option-S if the sidebar isn't showing.)
Select all.
Use the Info palette (Window > Info) to type Heather in the Add a Keyword section. After the first time each name is typed in, the keyword will autocomplete the next time you start typing the name into the field.
Press Return.
Now to see just your photos, you click on your smart album.
This works even if other family members aren't fully with the program so long as you tag all your own images correctly.
Ask Mac 911
We've compiled a list of the most commonly asked questions we get, and the answers to them: read our super FAQ to see if you're covered. If not, we're always looking for new problems to solve! Email yours to mac911@macworld.com including screen captures as appropriate. Mac 911 cannot reply to email with troubleshooting advice nor can we publish answers to every question.